The Hawkeyes set the tone—and the tune—at the plate.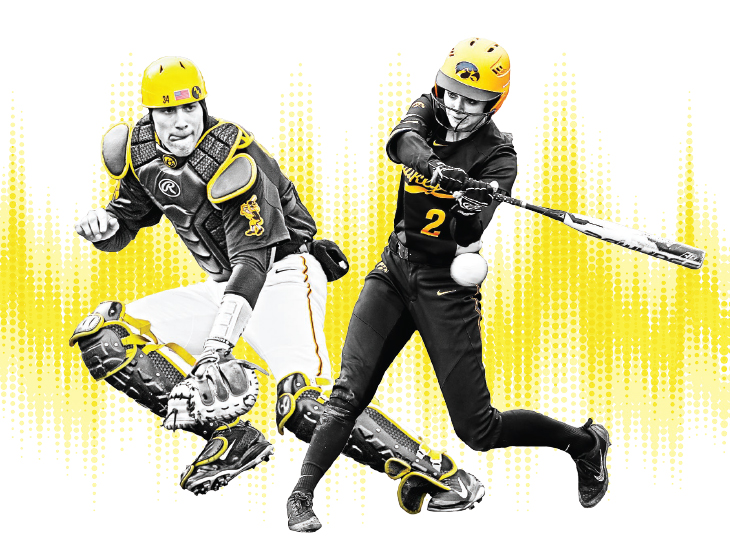 PHOTOS: BRIAN RAY/UI ATHLETICS
University of Iowa baseball player Austin Martin and softball player Aralee Bogar share their favorite walk-up songs.
Forget old-timey organ music. Nothing gets a batter's adrenaline pumping and the crowd energized quite like a pitch-perfect walk-up song. For baseball and softball players, selecting an at-bat anthem is no small matter. First off, it's a rare chance in a team sport to let their personalities shine. But more importantly, the right song when striding to the plate can give a batter extra motivation to knock the cover off the ball. From Kanye West to Panic! at the Disco, here are a few of the tunes that pumped from the speakers at Duane Banks and Bob Pearl fields this past season.
Editor's note: Some of the songs below may contain explicit lyrics.
---
Hawkeye Softball Walk-Up Playlist
---
Aralee Bogar -
sophomore, second base
A fleet-footed Texan, Bogar couldn't have picked a more appropriate walk-up track. The Hawkeyes' lead-off hitter is virtually unstoppable on the base paths, leading Iowa in steals and giving opposing catchers nightmares all season long. In a win against Fordham she swiped three bases and drove home three runs.
Liz DeShields -
junior, utility
Ashley Hamilton -
sophomore, utility
Hallie Ketcham -
freshman, outfielder
Mallory Killian -
senior, utility/pitcher
Abby Lien -
freshman, utility/catcher
Donirae Mayhew -
junior, infielder/pitcher
Havyn Monteer -
junior, outfielder
Sydney Owens -
freshman, infielder
Lea Thompson -
junior, infielder/outfielder
---
Hawkeye Baseball Walk-Up Playlist
---
Austin Martin -
junior, catcher
One of the Hawkeyes' top sluggers, Martin turns to a '90s hip-hop classic for inspiration. The Altoona, Iowa, native spent his first two seasons at Southeastern Community College, but his "next episode" has been his best yet: fueling the Hawkeye offense with his ability to hit for both power and average. Among his many highlights was a 4-for-5 outing against Illinois State.
Mitch Boe -
senior, infielder
Lorenzo Elion -
junior, infielder
Izaya Fullard -
sophomore, infielder
Justin Jenkins -
junior, outfielder
Connor McCaffery -
freshman, outfielder/ first baseman
Ben Norman -
junior, outfielder
Tanner Padgett -
sophomore, first baseman/outfielder
Tanner Wetrich -
senior, infielder/outfielder