Hawkeye long snapper, 2010-13
VIDEO COURTESY DENVER BRONCOS
Casey Kreiter fondly remembers his visits as a Hawkeye football player to UI Stead Family Children's Hospital, where he played board games with kids, brought smiles to children and their parents, and sat in a toddler chair for an interview from a patient. Last fall, the Denver Broncos' long snapper returned to Iowa City to witness the Iowa Wave from the field inside Kinnick Stadium. Those experiences were just a few of the reasons Kreiter chose to raise awareness for UI Stead Family Children's Hospital and the Children's Miracle Network this past December through the NFL's second annual "My Cause, My Cleats" campaign. Says Kreiter: "Just brightening the kids' and families' days and letting them now that we're thinking about them is important."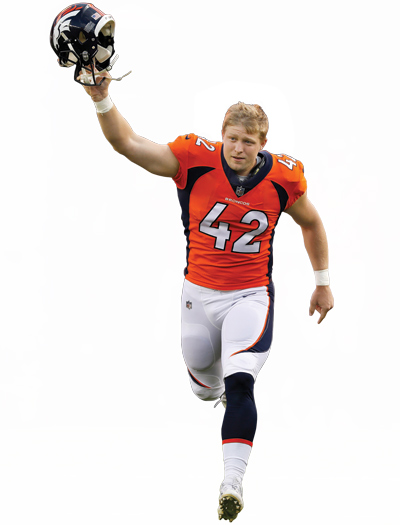 PHOTO COURTESY DENVER BRONCOS
In NFL Week 13, Kreiter joined hundreds of players in promoting good causes through footwear. But unlike most participants who wore cleats with vivid colors or designs, the former three-year UI starter simply placed a QR code on each shoe that links to a personalized message from Kreiter.
Kreiter, who also raised awareness for Children's Hospital Colorado, recently donated one shoe to each hospital. The UI's cleat will be auctioned at the Iowa Children's Open (iowachildrensopen.com) May 31 and June 1 at Coralville's Brown Deer Golf Club, and the proceeds will support UI Stead Family Children's Hospital and the Iowa Children's Museum.
An Iowa City schools substitute teacher before landing a job with the Broncos in 2016, Kreiter continues to use his new platform to support others. He shares his passion for STEM (science, technology, engineering, mathematics) education at local events through the Broncos' Tackle STEM program, and he signs autographs, takes photos, and visits with patients at Children's Hospital Colorado. Next season, he plans to combine his interests in STEM and pediatric care once again for the "My Cause, My Cleats" campaign, bringing attention to the patients he's met through an elaborate STEM-inspired design concept. "It grounds me," says Kreiter of the hospital visits. "I might be going through tough times or have a bad practice, but there are real life issues out there."