After the Hawkeyes #FreeTheLee, the freshman sensation joins an elite group of grapplers who made an immediate impact.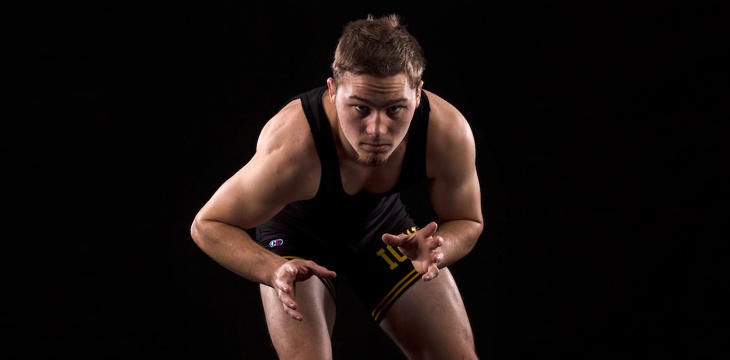 PHOTO: BRIAN RAY/UI ATHLETICS
Freshman 125-pounder Spencer Lee
Coach Tom Brands takes a conservative approach when it comes to breaking in freshmen, no matter how talented. Newcomers traditionally must prove themselves in the ultra-competitive Hawkeye wrestling room during a redshirt season before donning an Iowa singlet for the first time.
Or at least that was Brands' approach in the 11 seasons before Spencer Lee arrived on campus. The 125-pound dynamo became the first true freshman to crack the starting lineup under Brands (92BS) when he made his Hawkeye debut earlier this winter. One of the most decorated recruits in program history, Lee was a fan favorite long before stepping onto the mat at Carver-Hawkeye Arena. On social media, a #FreeTheLee campaign clamored for removal of his redshirt—and for good reason. A three-time high school state champion in Pennsylvania, Lee was dubbed a once-in-a-generation talent after winning a cadet world title and two junior world championships.
The freshman phenom didn't disappoint in his first match as a Hawkeye in January. Lee needed just 46 seconds to flatten Michigan State's Rayvon Foley—the fastest pin for the team at that point in the season. And the wins kept coming, including a stretch of five-straight victories over top-10 opponents.
Still, Lee did his best to tune out the hype. "You can't be caught up in all that, or you'll almost be overwhelmed," he says. "You just have to relax and do your thing and listen to your coaches, teammates, friends, and everyone who believes in you."
First-Year Phenoms
Spencer Lee is among a select group to wrestle for the Hawkeyes as true freshmen in recent decades, and the first under Coach Tom Brands. Here are seven notable UI grapplers who found success in their first year on campus.
| | |
| --- | --- |
| | Randy Lewis (88BGS), 1978: Captured second in the NCAA Tournament in his first year. Finished his career with two national titles and won gold at the 1984 Olympics. |
| | Rico Chiapparelli, 1983: Recorded 18 pins as a freshman. Went on to win an individual title in 1987 and ended his career with 49 pins—tied for fourth on the UI's all-time list. |
| | Jim Heffernan (87BGS), 1983: Went 23-7-1 in his first season and placed fourth at the NCAA Tournament. Graduated after winning four Big Ten titles and a 1986 NCAA title. |
| | Bart Chelesvig (92BS), 1988: Placed fifth at the Big Ten Tournament in his freshman season, then went on to capture third at the NCAA Tournament three times. |
| | Lincoln McIlravy (98BS), 1993: Went 22-2 and won a national title in his debut season—the first of three NCAA crowns. Left Iowa with a .970 career winning percentage. |
| | Jeff McGinness (98BA, 01JD), 1994: Became the Big Ten's freshman of the year and took fifth place at nationals in his debut season. Won NCAA titles in 1995 and 1998. |
| | Joe Williams (98BA), 1994: Went 30-7 as a freshman and placed seventh at NCAAs. Only lost two other matches the rest of his career and became a three-time NCAA champion. |