UI student helps children with HIV/AIDS.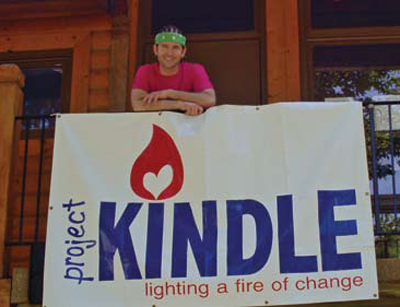 UI student Robert Cormeny watches the little boy hesitate at the edge of the high-dive. For a flickering moment, the jump ahead is the biggest fear in the child's life—not HIV/AIDS .
With the support of Cormeny and fellow campers, the 12-year-old takes the plunge. Watching the boy resurface with a proud smile reminds Cormeny why he chose to spend the summer as a counselor at Camp Kindle.
A free weeklong camp outside of Fremont, Nebraska, Camp Kindle serves young people aged 7-18 who are affected by HIV/AIDS . Some campers have been infected by the virus; others have a family member with HIV/AIDS or have lost a loved one to the disease. Since it began in 1998, the camp has helped more than 1,000 children share their struggles and build self-confidence.
In his first year as a counselor, Cormeny met children who had been bullied, forced to use a different bathroom or water fountain at school, or faced the death of a parent or sibling to HIV/AIDS . One boy changed schools because of threats made against him after a letter was sent to parents announcing he was HIV-positive.
"In some ways, these kids lose out on the opportunity to enjoy their childhood because of the responsibility and stigma of HIV," says Cormeny, a business and French sophomore from Melcher. "What's amazing is that these kids are so resilient, compassionate, and forgiving—even though they have to deal with so much in life."
Cormeny arrived at Camp Kindle in advance of the children for training on HIV and how to deal with accidents, discipline, and emotional issues. This year, more than 100 campers participated in activities such as basketball, rock climbing, theater, and character education and health classes. Older kids volunteered for SPEAK OUT, a program where they tour the country educating their peers about HIV/AIDS . Cormeny plans to raise money to bring SPEAK OUT to Iowa City—and he intends to return to camp next year.
"[The campers] want people to know that you can share a hug, a kiss, or a sip of water with them and not have to worry about infection," says Cormeny. "At Camp Kindle, they find knowledge and acceptance, which they want to take out to the rest of the world."