Hawkeye football fans will long remember the incredible, record-breaking 2009 season. Here, Iowa Alumni Magazine celebrates some of the magic moments.
Why Iowa is Good for College Football," the headline blared enthusiastically. Below it, two journalists described Iowa's "improbable winning streak [as]...one of the most stunning-if not inspiring-stories in the recent history of college football."
The prominent article didn't appear in a publication like Sports Illustrated (actually, the Hawkeyes landed on the cover of that magazine), but in the Wall Street Journal. It's been that kind of year for the Iowa football team.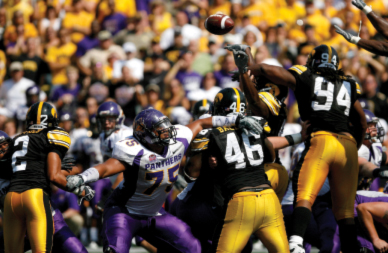 PHOTO: JULIE KOEHN/DAILY IOWAN
Ordinary Turns Extraordinary
In 2009, the Hawkeyes rewrote the record books, upturned expectations, and played with a type of courage and perseverance that silenced critics and drove fans wild. In the kind of high-octane drama, rags-to-riches success story that usually plays out in Hollywood movies, they achieved the nation's second-longest winning streak, Iowa's highest BCS ranking, and opened the season for the first time ever with nine straight wins. They suffered the agony of injury and crushed dreams, felt the ecstasy of new beginnings, and mustered once-in-a-lifetime plays.
Along the way, they earned fans in unexpected places-and even new nicknames, such as the "Cardiac Kids" and "Heart Attack Hawkeyes." Their fourth-quarter comebacks sent fans into joyful refrains of "In Heaven There Is No Beer"-and the team to the BCS's prestigious FedEx Orange Bowl.
Congratulations, Hawkeyes, on your amazing achievements this season. Iowa Alumni Magazine is proud to offer this celebration of some of the moments that will live forever in your fans' hearts and memories.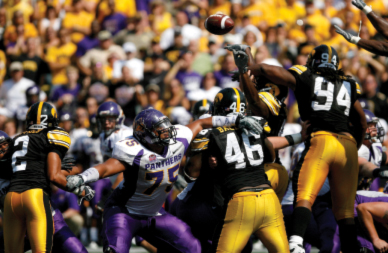 PHOTO: JULIE KOEHN/DAILY IOWAN
Ordinary Turns Extraordinary
Almost losing against the University of Northern Iowa in the season's first game, Iowa blocked not one but two field goal kicks in the last few seconds. UI sophomore defensive end Broderick Binns prevented a UNI 40-yard field goal, but in a rare move, a Panther retained possession of the ball, giving his team another try. With just one second on the clock, UI junior linebacker Jeremiha Hunter blocked the next kick, and Iowa squeaked by UNI with a 17-16 win. "I've never seen [two consecutive blocked field goals] before in my career as a coach...and my guess is that all of us there to witness it won't see another one in our lifetimes," says Coach Kirk Ferentz. "That was unscripted."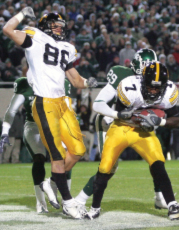 PHOTO: DAN WILLIAMSON/IOWA CITY PRESS-CITIZEN
Senior wide receiver Trey Stross celebrates as sophomore wide receiver Marvin McNutt makes the game-winning catch at Michigan State.
A Shot of Confidence
Down by ten points after the first quarter, the Hawks struggled in the Penn State game. Then, in what Ferentz called a "Kodak moment," junior defensive end Adrian Clayborn blocked a punt and returned it 53 yards for a touchdown early in the fourth quarter. Ferentz says the play not only gave Iowa the lead, but also "a shot of confidence" that lifted hopes for the season. With the 21-10 win against No. 5 Penn State, the Hawkeyes rejoiced with Iowa fans in the stands and exchanged high-fives in the locker room.
Down to the Wire
In a heart-stopping game against Michigan State, Iowa took possession with only 1:32 left on the clock. Three incomplete passes preceded Iowa's fourth and goal from the seven with just two seconds left. Junior quarterback Ricky Stanzi then threw a pass to sophomore wide receiver Marvin McNutt for a touchdown that ended the 15-13 nail-biter.
A Halloween Scare
Halloween in Iowa City started downright scary. Stanzi threw five interceptions during the Indiana game, and Iowa trailed by as many as 14 points. The frightful game turned delightful in a miraculous third-quarter interception, where the ball ricocheted four times among three players before bouncing off sophomore defensive back Tyler Sash's helmet and into his arms. Sash dashed 86 yards for the touchdown. Stanzi then opened the fourth quarter with two phenomenal touchdown passes, which helped seal a 42-24 victory. It was an ugly win, but it preserved Iowa's 13-game winning streak and No. 4 BCS ranking.
The Curse of Sports Illustrated
A week after Iowa appeared on the regional cover of Sports Illustrated with the headline "Still Perfect," the Hawkeyes faced their greatest test yet: losing their starting quarterback. Stanzi was sacked in Iowa's end zone during the second quarter of the Northwestern game, suffering a severe ankle sprain. "I've seen him take some shots, but he doesn't stay down," says redshirt freshman quarterback James Vandenberg. "I grabbed my helmet before the trainer even got there."
Stanzi eventually limped off the field to the moving applause of the home crowd. In the back of their minds, fans feared the worst-that the Hawkeyes' Rose Bowl or national championship dreams had left with their star quarterback-but Stanzi never doubted Vandenberg. "I knew something was wrong and I couldn't come back to play," says Stanzi, who was out for the rest of the regular season. "I was devastated, but with a guy like James behind me, I knew we could get the job done."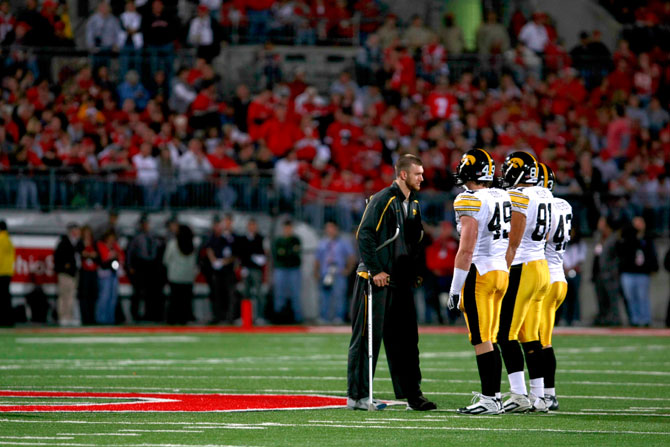 PHOTO: JULIE KOEHN/DAILY IOWAN
Thrown into the Fire
With a perfect record on the line, the Hawkeyes' fate rested in the hands of an inexperienced collegiate quarterback. Vandenberg had only played once before in a season filled with last-second victories. "There's nothing he could've done to prepare for that moment," says Stanzi. "As a reserve, you're only one step away from being a starter, so you're far and yet so close to the game."
Vandenberg says his teammates kept him cool. Stanzi reappeared on crutches to instruct him from the sidelines. Sash pulled the fresh-faced backup aside to remind him, "This is what you've been waiting for your whole life, and this is your time."
Unfortunately, confidence couldn't compensate for lack of experience. Vandenberg's first pass attempt was intercepted by the Wildcats, and the Hawkeyes went scoreless for the rest of the game. Northwestern handed Iowa its first loss of the season. "Typically, your reserves get to play a significant amount when you're undefeated, but that wasn't the case, because we had so many close games," says Ferentz. "James got thrown into the fire."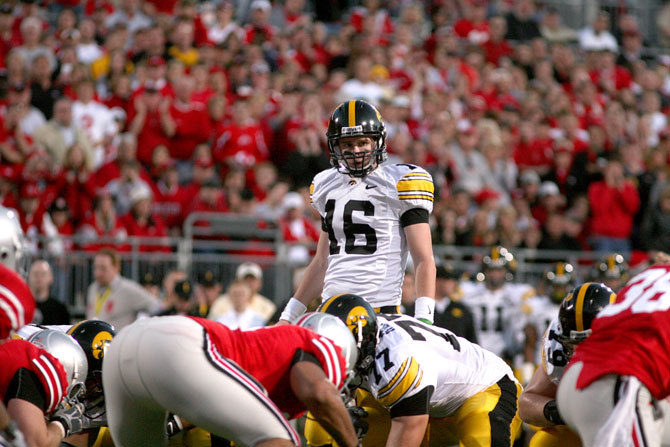 PHOTO: AMY OLESON/DAILY IOWAN
No Time to Be Nervous
Thrust into the spotlight overnight, Vandenberg handled the attention with humor and grace. During a weekly football press conference, he told reporters about a birthday getaway to Bass Pro Shop in Altoona following the Northwestern game. As Vandenberg tried on a pair of hunting waders, a man inquired whether he'd witnessed Stanzi's injury and the Hawks' first loss at Kinnick Stadium. "Did it look as rough in person as it did on TV?" the guy asked, unaware he was speaking with Stanzi's stand-in. Vandenberg replied, "You have no idea."
Vandenberg had only a week to prepare for Ohio State, a notoriously tough environment where the Hawkeyes hadn't won in 18 years. A Big Ten title and Rose Bowl bid hinged on the kid from Keokuk.
Stanzi became like another coach to the young quarterback. They lived in the film room, watching game clips late into the night before Stanzi's surgery. Vandenberg knew he had 120 teammates and much of the Hawkeye state counting on him. "There's no time to dwell on being nervous anymore," he said during a Northwestern post-game press conference. "There's too much at stake now."
No Regrets
Hawkeye fans could almost smell the roses as Iowa bounced back late in the fourth quarter from a 14-point deficit against Ohio State. The Hawkeyes put forth a championship effort that included junior wide receiver Derrell Johnson-Koulianos' 99-yard kickoff return for a touchdown and an impressive performance by Vandenberg that Ferentz says "exceeded all expectations."
With the score tied at 24-24, the ball at Iowa's 33-yardline, and 52 seconds left on the clock, Ferentz sent the game into overtime. The team that made the impossible seem plausible all season was at it again. Stanzi remembers thinking, "We got a shot to win this, just like at the beginning when it was 0-0."
But, the team that Sports Illustrated deemed "Good and Lucky" had run short on its luck. An Ohio State field goal in overtime sent the Buckeyes to the Rose Bowl and the Hawkeyes to their knees. "We weren't looking for a moral victory," says a disappointed Vandenberg.
Still, Ferentz was pleased with the young quarterback's performance. "It's ironic that perhaps one of our best efforts of the season came on a losing effort," he says. "I've got no regrets about that game, just because of the way the guys prepared and played."
A Win Makes Ten
After two consecutive losses, the Hawkeyes had grown weary of the motivational posters plastered around the Hayden Fry Football Complex that read "Get that tenth win." Then Vandenberg earned his first victory as a starting quarterback when Iowa shut out Minnesota for the second straight year. The Hawks nabbed their first dominating win since the September intrastate rivalry game against Iowa State to finish the regular season with a 10-2 record.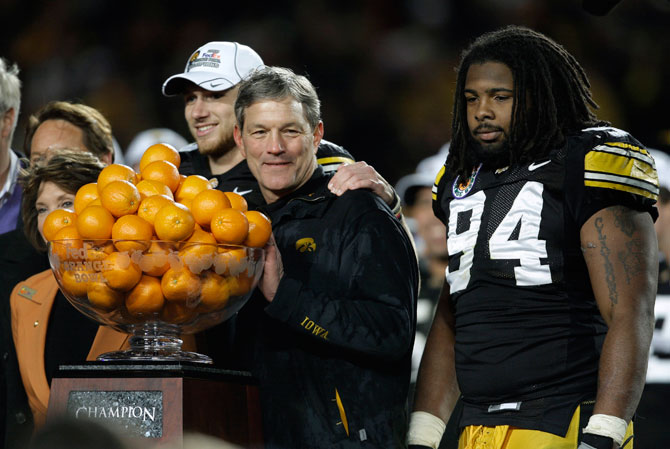 End-of-Season Accolades
Iowa fans weren't the only ones awed by the accomplishments of this year's football team. Ferentz was honored as the Big Ten's Coach of the Year for the third time in his 11 years at Iowa and was a finalist for Liberty Mutual's national Coach of the Year Award. Seven Hawkeyes were named either to the coaches or media all-Big Ten first teams, including junior offensive tackle Bryan Bulaga, who was voted the Big Ten Offensive Lineman of the Year. Senior linebacker Pat Angerer also earned a spot on the Football Writers Association of America's first all-America team.
Ferentz believes the Hawkeyes distinguished themselves from the competition with their ability to find a way to win, even against the odds. He says, "Every week it was someone different who would step up and give us a key play, ignite us into a successful situation."
Underdog Mentality
Iowa reaped the rewards of its dazzling season when it accepted an invitation to the FedEx Orange Bowl, the Hawkeyes' sixth January bowl game in the past eight years. Headed into the game, No. 9 Georgia Tech was listed as the four-point favorite over tenth-ranked Iowa. In a season where the Hawkeyes won four games by three points or less, trailed in all but two competitions, and rallied from a ten point deficit four times, this didn't bother Iowa. "We enjoy that underdog mentality-that we're not supposed to be here in the first place," says Vandenberg. "It keeps our heads on straight."
In the coldest Orange Bowl in history (temperatures dipped to 37 degrees in Miami), the Hawkeyes-led by a back-from-injury Stanzi-kept their cool, dominating Georgia Tech on the field. With the 24-14 victory, Iowa earned its first BCS win and its highest postseason ranking in 50 years.
Something to Prove
Now back on campus, the Hawkeyes will continue to work into the summer to strengthen the squad for 2010-11. After this spectacular season, football analysts will likely keep a close eye on Iowa for next fall, but the team insists it doesn't worry about outside expectations. "Chances are there will be more nice things written about us next year, but...anything that's significant or good has to be earned," says Ferentz. "We're going to have to prove it again next year."