Sarah Arens Wilhelmi, 03BBA, 05MA
---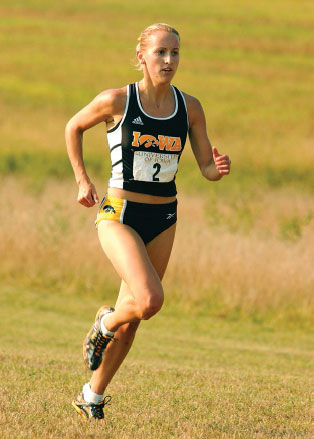 PHOTO: REGGIE MORROW
An Olympic Sized Career
Before they were Olympians, the majority of the 500-plus athletes who represented Team USA last month in Rio were college standouts. Looking to further strengthen that gown-to-gold pipeline, the U.S. Olympic Committee (USOC) recently hired a University of Iowa alumna to guide its relationships with Olympic sports programs on the university level. Sarah Arens Wilhelmi, 03BBA, 05MA, began work this past summer as the USOC's director of collegiate partnerships in Colorado Springs, Colorado.
Tragedy, Triumph
Wilhelmi was a distance runner for the Hawkeyes from 1999 to 2004, competing in track and cross country. Personal tragedy, however, struck twice during her time at Iowa. In 2001, Wilhelmi's brother died in a four-wheeler accident, and two years later, her fiancé's life was cut short by cancer. Running was an emotional outlet and a way for her to keep moving forward. Wilhelmi went on to a decorated career for the Hawkeyes, qualifying twice for the NCAA Championships in the steeplechase.
Unexpected Opportunity
An injury ahead of the Big Ten track championships in 2000 in Iowa City opened the door for Wilhelmi's career in athletics administration. Instead of running, she pitched in with the management side of the event at the invitation of longtime UI athletics administrator Paula Jantz, 80MA. Wilhelmi enjoyed the behind-the-scenes work, which served her well in an event-management internship with the USOC in 2002 and a job at the 2004 Paralympic Games in Greece. Most recently, she was the West Coast Conference's associate commissioner for governance and institutional services.
Achieving Dreams
Today, Wilhelmi is tasked with creating new strategies to support the pathway from college sports to the Olympics for student-athletes. She works with national sports governing bodies, as well as the NCAA and its member schools, conferences, and coaches to help them preserve and grow their Olympic programs. Among her first tasks was leading a first-ever pre-Olympic census of collegiate athletes competing on Team USA. The answer, she learned, was 80 percent—affirming the importance of collegiate athletics in the Olympic movement. Says Wilhelmi: "It's awesome being a part of the process to help student-athletes reach their Olympic dreams and working to ensure such opportunities exist in future. As a former student-athlete and mother of two daughters, I believe in the transformative power of Olympic sports and their importance to our youth."