Brandon Scherff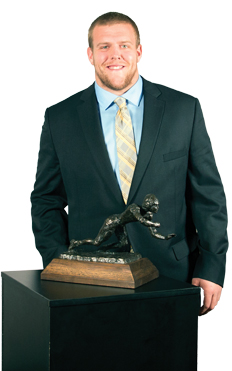 PHOTO:DARREN MILLER/HAWKEYESPORTS.COM
Brandon Scherff recently received the Outland Trophy as the nation's top college football interior lineman. Here's why the UI left tackle deserves a special place in the annals of Hawkeye history:
TRADITION-BUILDER
The Denison, Iowa, native became the latest in a string of UI linemen to win the Outland Trophy, joining Calvin Jones (1955), Alex Karras (1957), and Robert Gallery, 03BA (2004). Only Nebraska and Oklahoma have produced more award winners in this category.
UNCOMMON TALENT
Responding to the national buzz generated around Scherff in the preseason, the usually restrained Coach Kirk Ferentz said Scherff "could be one of the best players ever at Iowa." Ferentz's son, Brian, 06BA, a UI offensive line coach and former Hawkeye offensive lineman, adds, "Everybody has a different talent level, but what is so rare is to have what Brandon has: extreme talent level, physical ability, and work ethic."
NFL-READY
Scherff returned to the Hawkeyes for his senior year despite the lure of potentially earning big bucks as a first-round pick in the NFL. Now, the first-team all-American is predicted to be one of the top athletes in the 2015 NFL Draft. He'll likely play in the league with his Hawkeye predecessors Bryan Bulaga of the Green Bay Packers, Riley Reiff of the Detroit Lions, and Marshal Yanda, 07BA, of the Baltimore Ravens.
IN HIS OWN WORDS
"You have to be two different guys: on the field you have to be nasty and physical, and off the field you can be the nicest guy," says Scherff. "I fit the mold of both. I want people to be afraid of me [on the field]. When [my opponents] put on film of me, hopefully they don't want to play."