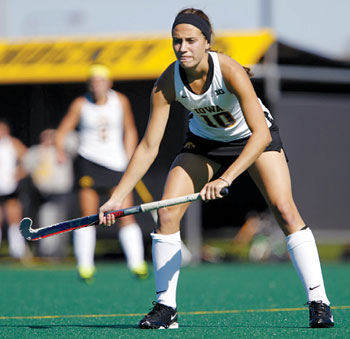 PHOTO: ATHLETIC COMMUNICATIONS
To see the Big Ten commercial that talks about Sara's relationship with her mother, click here.
Alone on Grant Field, UI field hockey forward Sara Watro glides across the turf to make a goal. The Big Ten TV commercial next shows a black-and-white photograph of her mother as a Hawkeye, then scrolls down a banner of Iowa's NCAA Tournament history to show the rich legacy that Sara has inherited.
"Every girl needs a strong female role model. For me, my mom is my rock," Sara says in the recent commercial, which airs nationally during Hawkeye football games. "Now I'm building my own legacy here, and these experiences will make our bonds even stronger."
Sara's mother, Wendy DeWane Watro, 82BBA, played a key role in the 1980 and 1981 Big Ten championship teams that established the Iowa field hockey program as a national powerhouse. Now Sara follows in her mother's footsteps, earning accolades as a Hawkeye letter winner and a two-time National Field Hockey Coaches Association academic squad selection.
Wendy introduced Sara to Iowa long before field hockey, dressing her in black and gold as a baby. Throughout Sara's childhood in Audubon, Pa., Wendy shared her college scrapbook of sports clippings, organized family vacations that included her UI teammates, and took her daughter to Iowa vs. Penn State football games. Despite her affinity for Iowa, Wendy didn't want to influence her daughter's college decision, and Sara visited several schools. Ultimately, she fell in love with the UI on her own, connecting with the coaches, the first-rate facilities, and the enthusiastic and committed fan base.
Though hundreds of miles away from her Pennsylvania home, where field hockey reigns supreme, Sara feels like she belongs—especially in the company of so many teammates recruited from the East Coast. Says Sara: "I'm like a sponge soaking everything in, sharing my knowledge and competitiveness with the underclassmen."
Now in her junior year, Sara continues to enjoy the support of her mother, who travels across the country to cheer the Hawkeyes and marvels at the changes to the program since the early days of Title IX. The team now recruits more competitively, plays on a field named after former UI women's athletic director Christine Grant, 70BA, 74PhD, and has more resources to help players both athletically and academically. But familiar faces remain, including longtime athletic trainer Faye Thompson, 78BS, 80MA, 98MA, who was there during Wendy's glory days and is now assisting her second generation of Hawkeyes.
After graduation, Sara plans to keep field hockey in her future, hoping to become a teacher and coach. Wherever Sara's path leads her, it's certain Wendy will be cheering from the sidelines, bursting with pride.