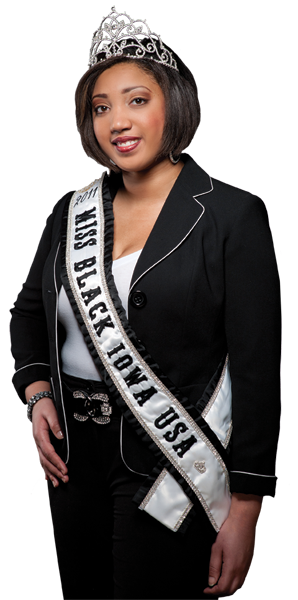 PHOTO: TOM WOOLERY/IKONIX STUDIO
L
ast spring, Alexcia James received an unexpected phone call that would shape her year—and render her speechless.
Three months earlier, James had charmed judges and fellow contestants as first runner-up and Miss Congeniality in the Miss Black Iowa 2011 competition. With the winner unable to meet her performance obligations, the pageant director called to award James the crown—and the opportunity to raise awareness for a cause dear to her heart.
Now, as Miss Black Iowa 2011, James uses her position to inspire children and women to take care of their health. She serves as a Go Red for Women ambassador, encouraging people to eat right, maintain a healthy weight, and develop good relationships with their doctors. "[My appearances are] not just about putting on lipstick, curling my hair, and going out," says James, 08BSN, a Doctorate of Nursing Practice graduate student and registered nurse in the UI Hospitals and Clinics' cardiothoracic surgery department. "I want to make an impact on people's lives."
James also represented Iowa at the 25th annual Miss Black USA pageant this past August in Washington, DC. For the event, she shared her fitness routine, showcased her singing talent, and learned to dance in heels from a Dreamgirls choreographer. "Movies portray contestants in competition-mode, but that's not what a pageant is all about—it's about forming relationships," she says. "We go through this tough experience together, and I never miss the opportunity to make new friends."
James competed in her first pageant at 18 months old, and her interest in health care also began early. Although she decided she wanted to become a doctor at age five, an experience as a teenager—when she underwent surgery to repair a congenital heart problem—pointed her towards nursing. Impressed by the life-changing care she received, the Arkansas native committed to becoming a nurse and was admitted early into the UI College of Nursing.
After her May 2013 graduation, James plans to open a health clinic. Until then, the future nurse practitioner will keep following her heart and inspiring others to do the same. "My friends say they feel like they can do anything, because of what they've seen me do," says James. "Even my mom wants to go back to school."