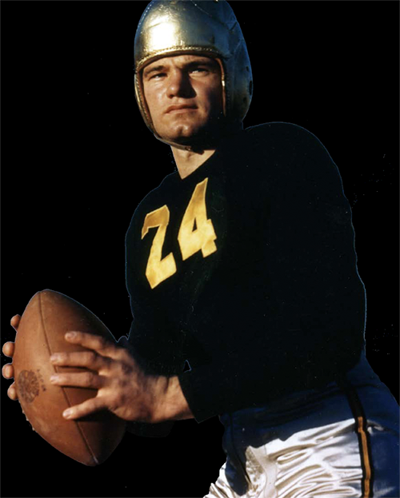 Which Iowa players deserve to be celebrated as ultimatestudent-athletes? The Big Ten Network thinks it knows.
They were national champions, all-Americans, even Olympians. As the oldest Division I conference in American college sports, for more than 100 years, the Big Ten has hosted thousands of athletes who were undoubtedly at the top of their game.
But which ones were the best?
That question fuels longstanding, passionate arguments among fans, and the Big Ten Network decided to jump into the fray by naming 50 "Big Ten Icons." To raise the excitement to fever-pitch, the list of selected studentathletes emerged slowly, in a process spanning several months.
During football season, the network revealed a new icon on its website each day, starting with No. 50 and working down to No. 21. A panel of sports experts deemed which athletes made the cut based solely on their collegiate careers. In January, the countdown resumed for the top 20, with a new athlete revealed each week and featured on a Big Ten Network television show. As the No. 1 spot grew nearer, fans' fervor peaked. Would their favorites be on the roster or permanently sidelined?
In the end, the top three athletes were named as Harold "Red" Grange, an Illinois halfback whom ESPN has called the "greatest college football player of all time," followed by Earvin "Magic" Johnson, a Michigan State basketball star who later led the Los Angeles Lakers to five National Basketball Association championships, and Jesse Owens, an Ohio State track legend who won four gold medals in the 1936 Berlin Summer Olympics.
Only the following four iconic Iowa athletes made the cut.
Nile Kinnick, 40BA Football (1936-39)
In the midst of the Great Depression, in a thrilling season that continues to inspire seven decades later, Nile Kinnick restored hope not just to Iowa sports fans-but to the entire nation.
In 1939, former Notre Dame star Eddie Anderson arrived at Iowa to coach a team with a dismal twoyear record of 2-13-1. Under his tenure, the team became known as the Ironmen for the players' legendary athletic prowess. Kinnick-called the "Cornbelt Comet"-shot to national fame.
The talented tailback won the Heisman, Maxwell, and Walter Camp trophies as national player of the year and the Chicago Tribune Silver Football as the Big Ten's most valuable player. He even beat Yankee Joe DiMaggio and heavyweight boxing champion Joe Louis to be named the Associated Press's Male Athlete of the Year.
Kinnick accepted the Heisman Trophy with an eloquent speech that brought more than 700 people to their feet and captured the mood of a nation on the brink of war. "I thank God I was warring on the gridirons of the Midwest and not on the battlefields of Europe," he said in words now replayed before every Iowa home football game. "I can speak confidently and positively that the players of this country would much more, much rather, struggle and fight to win the Heisman award than the Croix de Guerre."
"It was simply the best acceptance speech by an athlete in this country at anytime, anyplace, and anywhere," says longtime Iowa sportscaster Bob Brooks, 48BA. "I carry a tape of the speech in my briefcase and play it when I need to refresh my outlook."
After graduation, Kinnick turned down several professional football offers to enroll in law school at Iowa. The grandson of a former Iowa governor, he hoped to pursue a political career. Then came World War II. Kinnick enlisted in the Naval Air Corps and began serving three days before Pearl Harbor. A yearand- a-half later, when his plane developed mechanical problems on a routine training flight off the coast of Venezuela, Kinnick was lost at sea.
Iowa retired Kinnick's No. 24 jersey and named its stadium in his honor, while the Big Ten commissioned a coin bearing his likeness that is tossed at the beginning of every conference game. "If the NCAA could've bottled his attitude and demeanor, it would have the consummate student-athlete," says Brooks.
Kinnick's legacy extends far beyond the borders of Iowa or the football fields of America. In a Boston Post article published shortly after his Heisman Trophy win, Bill Cunningham wrote, "This country's OK as long as it's producing Nile Kinnicks. The football part is incidental."
Alex Karras Football (1954-58)
Mongo, the Wild West henchman whom Alex Karras played in Mel Brooks' Blazing Saddles, could knock out a horse with one punch. As an Iowa defensive tackle, Karras crushed the competition with a similar show of force and strength.
Karras displayed this might, along with speed, instinct, and fancy footwork, on the gridiron. Highly recruited out of high school, Karras originally battled homesickness at Iowa and a rocky relationship with Coach Forest Evashevski. But, he led the 1956 Hawkeyes to a 9-1 record, Big Ten title, and a 35-19 victory against Oregon State in Iowa's inaugural trip to the Rose Bowl.
During his senior year, Karras guided the Hawkeyes to a 7-1-1 record, including a third-place finish in the Big Ten. The two-time all-American received the Outland Trophy as the nation's top interior lineman. He also placed second to Texas A&M halfback John David Crow for the 1957 Heisman Trophy, the highest-ever finish by a defensive lineman.
The Detroit Lions snatched Karras in the first round of the 1957 National Football League Draft. He joined one of the best defenses in the league, but was suspended during the 1963 season for betting on games. After being reinstated in 1964, Karras played nine more seasons and became a four-time all-pro. He also spent three years alongside Frank Gifford and Howard Cosell as a broadcaster for Monday Night Football. Despite all his success on the field- he was named to the Iowa Sports Hall of Fame, the UI's All-Time Team, and the College Football Hall of Fame- Karras never considered football the highlight of his life. He found his true calling as an actor, writer, broadcaster, and film producer.
"Alex was born to be an actor and that's what he was," says Brooks. "When he played football, he was on the stage."
Chuck Long*, 85BBA Football (1981-85)
With a strong arm and accurate throw, Chuck Long became one of the leading quarterbacks to introduce a passing game to the Big Ten-a conference that had previously relied heavily on the ground game.
"The team that broke the ice was Iowa," UI Coach Kirk Ferentz told Big Ten Icons. "A lot of that was Coach Fry and a lot of it was Chuck Long."
In Iowa's 1982 season, the redshirt freshman set the school record for completion percentage-and then wowed fans by throwing 304 yards and three touchdowns in Iowa's 28-22 win over Tennessee in the Peach Bowl.
As a sophomore, the all-Big Ten quarterback led the Hawkeyes to a 9-3 season and a Gator Bowl appearance. During his junior year, he broke an NCAA record with 22-consecutive passes against Indiana and contributed a career-best six touchdowns in a 55-17 victory over Texas in the Freedom Bowl. Though Long finished seventh in Heisman Trophy voting and was eligible for the postseason NFL draft, he returned to Iowa for a fifth year that culminated in a Big Ten title and a Rose Bowl bid.
One of the most honored players in college football, Long took runner-up behind Bo Jackson in the closest vote in Heisman Trophy history. He received the Maxwell Award, the Chicago Tribune Silver Football, the Jesse Owens Award as the Big Ten male athlete of the year, and the Davey O'Brien Award as the nation's top quarterback.
"If you put up a cutout of what an NFL quarterback should be, he would step right in it," Brooks says about Long. "He had the height, the size, the accuracy, and the ability to get the ball to the right person and not make any bad throws."
Picked by the Detroit Lions in the first round of the 1985 NFL Draft, Long played eight injury-plagued seasons with the Lions and the Los Angeles Rams before retiring from professional football. In his coaching career, he went on to work at Iowa (assistant coach), Oklahoma (quarterback coach and offensive coordinator), and San Diego (head coach). He currently serves as an offensive coordinator for Kansas.
In 1999, Long was admitted to the College Football Hall of Fame. With many of his school records still standing, his legacy at Iowa continues today.
Tom Brands, 92BS Wrestling (1989-92)
The story of Iowa's rich wrestling tradition could scarcely be told without Tom Brands. A fierce competitor with an insatiable drive to win, Brands has represented the Hawkeyes as a wrestler, coach, and role model for more than 20 years.
Brands dominated the competition as a three-time Big Ten champion, three-time NCAA champion, and four-time all-American. He wrestled an undefeated season (45-0) in 1991 as a junior, finishing his college career with an unprecedented record of 158- 7-2.
The accolades continued after college. Brands won four U.S. championships, received gold medals at the freestyle world championships, World Cup, and Pan- American Games, and shared the honor of USA Wrestling's 1993 Athlete of the Year with his twin brother, Terry, 92BGS. The pinnacle of Brands' career arrived in 1996 when he earned a gold medal in the Summer Olympics. Only one opponent scored a point against him in four matches.
The world-class wrestler also proved to be an outstanding coach. After serving as an Iowa assistant under Dan Gable, Brands became head coach at Virginia Tech in 2004, leading the program to an Atlantic Coast Conference title. Brands returned to Iowa two years later to bring the Hawkeyes back to their former glory. His teams have won three of the last four Big Ten and NCAA titles and have produced six NCAA champions, eight Big Ten champions, and 28 all-Americans. The Hawkeyes also boast an unbeaten dual winning streak of 77, and Brands has earned multiple Big Ten Coach of the Year honors.
Gable says, "What really is incredible with Tom Brands is his discipline-and how he expects it from and instills it into his wrestlers."
Gable believes Brands' grit and resolve should have earned the current Iowa coach the No. 1 spot on the icons list, and that the lower ranking reveals a lack of awareness about their sport. "I doubt there's anyone above [Brands on the list] with more credentials," he says, "so it's up to us to move wrestling up the line."