They captured the imagination of the nation in the 2023 Final Four. Now, the Iowa women's basketball team is using its platform to make a difference in the community, inspire the next generation of players, and fill Kinnick Stadium.
Gabbie Marshall and her teammates were fresh off the Final Four when Iowa's coaches hinted that something special was in the works for the upcoming year. The buzz surrounding the Hawkeye women's basketball team had reached a fever pitch during last season's NCAA Tournament run, which brought a dizzying amount of national fanfare and accolades. For Marshall, it was hard to imagine things getting much bigger.
"We all were anxious about it for weeks," says Marshall (23BA), a fifth-year senior, recalling how coaches teased a major announcement at the team's annual summer golf outing. "Then, when they finally told us, we were just so shocked and excited."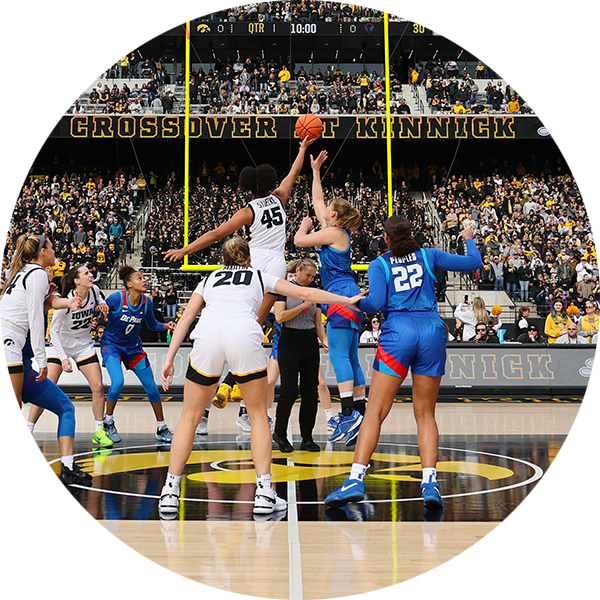 PHOTO: STEPHEN MALLY/HAWKEYESPORTS.COM
Iowa's Hannah Stuelke wins the tipoff at the Crossover at Kinnick, which drew an NCAA record 55,646 fans Oct. 15 at Kinnick Stadium.
Calling it a "once-in-a-lifetime opportunity for our women's basketball program and the sport," Iowa coach Lisa Bluder was planning something unprecedented, even for this precedent-shattering group. Bluder sought to topple the national attendance record for a women's basketball game of 29,619, a mark that had stood since the 2002 Final Four when Sue Bird and UConn won a third-straight title. To do it, the Hawkeyes would play an outdoor exhibition game at Kinnick Stadium—dubbed the Crossover at Kinnick—and use ticket sales to raise money for UI Stead Family Children's Hospital.
If any team could inspire the kind of goodwill needed to fill a football stadium for a charity game, it was this group of Hawkeyes. Led by legend-in-the-making Caitlin Clark, Iowa has become one of the biggest draws in all of sports and helped vault the profile of women's basketball to new heights. April's NCAA tournament final drew 9.9 million television viewers, the most ever for a women's basketball game, and Iowa sold out its season tickets for the 2023-24 campaign months ahead of the first tipoff at Carver-Hawkeye Arena.
"Whatever we can do to make an impact on this community that gives us so much—that's super important for us." —Kate Martin
At the same time, the Hawkeyes have used their platform to give back to their university and community, while inspiring the next generation of female athletes. Everywhere you look these days, members of the team are lending their celebrity for meaningful causes. Whether it's visiting children's hospital patients, hosting youth basketball clinics, or building houses for Habitat for Humanity, these Hawkeye do-gooders are winning hearts alongside trophies.
"It's bigger than basketball," says sixth-year senior Kate Martin (22BS). "Coach Bluder always preaches to us that basketball is important, but being a good person is even more important. Whatever we can do to make an impact on this community that gives us so much—that's super important for us."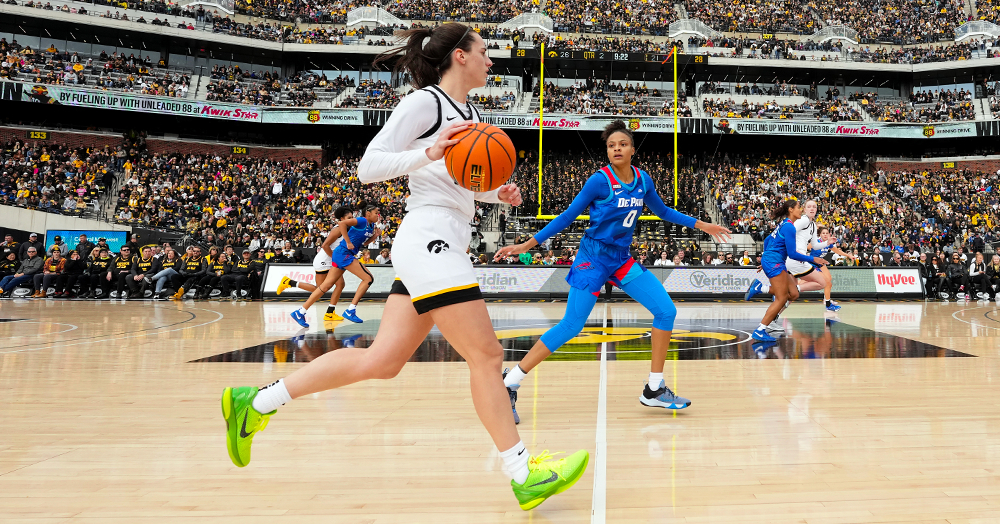 PHOTO: STEPHEN MALLY/HAWKEYESPORTS.COM
Caitlin Clark dribbles the ball up the court during the Crossover at Kinnick on Oct. 15 in Iowa City.
'Activating a New Generation'
Clark is no stranger to drawing a crowd. One afternoon this past summer, hundreds of fans flocked to the Coralville Food Pantry to donate money and goods to the small nonprofit—and to meet the reigning national player of the year.
PHOTO: BRIAN RAY/HAWKEYESPORTS.COM
Gabbie Marshall celebrates with young fans after winning the Big Ten Tournament title last season in Minneapolis.
The line spilled out the door, around the building, and into the parking lot as Clark posed for pictures and signed photos. The food pantry's director, John Boller (12BA), joked afterward that Clark's partnership was like having a "cheat code in philanthropy." By the end of the fundraiser, which started with a goal of $22,000 to match Clark's No. 22 jersey, the food pantry had collected $77,000, including online donations that poured in from around the country.
"We're really grateful to Caitlin for leveraging her position and celebrity to help the local community," says Boller, a UI School of Social Work alumnus and women's basketball fan who reached out to Clark after her freshman year with the partnership idea. "It's even more of an inspiration to everyone who looks up to her. We had a lot of young, first-time donors, so she's activating a new generation of people who want to contribute to this work."
"I'm glad I've given something that little girls can scream about at the top of their lungs." —Caitlin Clark
The magnetism of the Hawkeye senior has been dubbed "The Caitlin Clark Effect"—and for good reason. When Clark signed autographs in June before an Iowa Cubs game in Des Moines, fans lined up as early as 12 hours before she arrived. A month later at the John Deere Classic Pro-Am, she drew more attention than Ryder Cup captain and Iowa native Zach Johnson. Even when the Hawkeyes traveled to Italy and Croatia for an overseas tour in August, locals stopped Clark on the street for photos.
Clark has become one of the nation's top NIL earners thanks to high-profile endorsement deals with companies like Nike, Buick, and Hy-Vee. But she's also found time to host youth basketball camps in Coralville and her hometown of West Des Moines and sign countless items for local fundraisers. In October, she served as grand marshal of the UI homecoming parade in downtown Iowa City with another Hawkeye great, wrestler Spencer Lee (21BS). Afterward, a crowd filled the Pentacrest to watch Clark sit down for a Q&A with ESPN's Stephen A. Smith.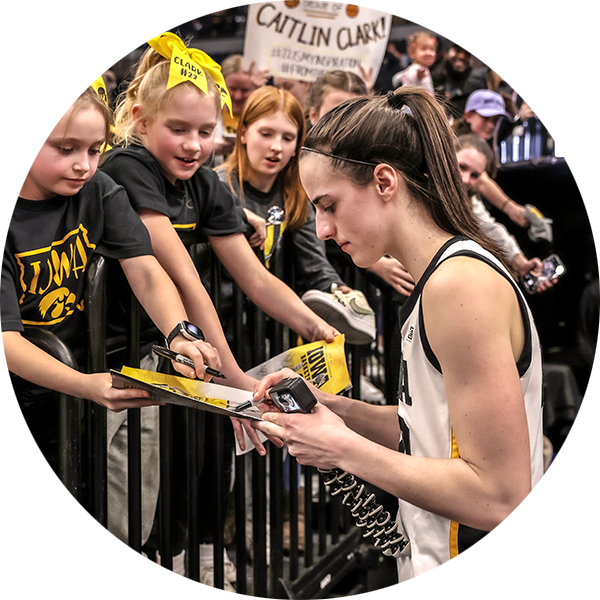 PHOTO: CALEB SAUNDERS/HAWKEYESPORTS.COM
Caitlin Clark's signature is in high demand after Hawkeye games.
"It's cool to see the amount of attention our team has brought to women's basketball," Clark says. "Going into this year, I hope to continue to do that and show people this is something you should continue to watch. And not only watch Iowa women's basketball—there's tremendous basketball all across the country."
Clark hopes her legacy at Iowa will be the new fans she's helped attract to the sport, particularly the Hawkeyes' youngest supporters. You can find Clark still on the Carver floor signing autographs for kids long after the buzzer sounds on her latest triple-double. "I'm glad I've given something that little girls can scream about at the top of their lungs," Clark said following her dramatic, game-winning 3-pointer to beat No. 2 Indiana last season.
Clark's teammates have likewise embraced their roles as ambassadors of the sport. Martin hosted a basketball camp this past summer in DeWitt, Iowa, where she was joined by Marshall and several other Hawkeyes who passed on their love of basketball to 160 starstruck kids.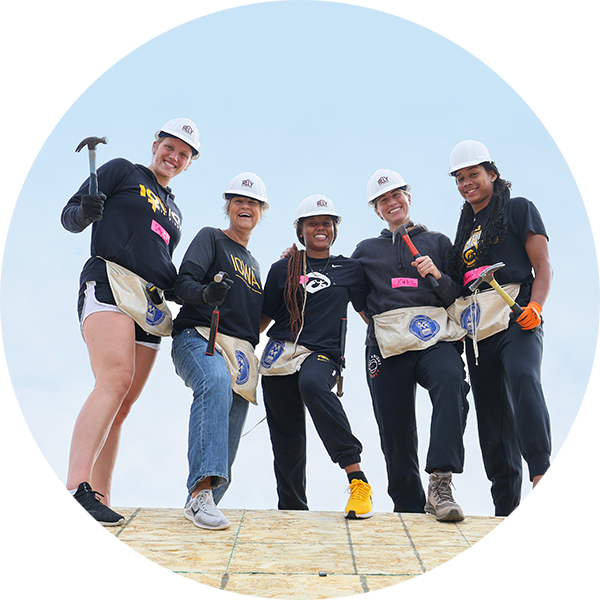 PHOTO: STEPHEN MALLY/HAWKEYESPORTS.COM
Hawkeye players and coaches volunteer each year on a home build with Habitat for Humanity.
"Not everybody gets to come to our Iowa team camp or gets to come to a game," says Martin. "So being able to get out in the state and give kids the opportunity to meet us and learn some basketball skills is really important for us. We were all in that position at one point in our lives—looking up to college players and thinking they were so cool. So to go out and put on a little camp, sign autographs, talk to them one-on-one, it's just super fun."
Their ability to inspire girls to dream big helped earn the team an Iowa Character Award, which was presented by the Robert D. and Billie Ray Center at Drake University earlier this year. Bluder and associate head coach Jan Jensen—a former coach and player at Drake, respectively—were on hand to accept the honor.
"As coaches, we love wins, but we also look at a lot of other things," Bluder says. "Do our kids graduate? Are our kids great human beings? Do they grow as women while they're here? Are we mentoring these women so they become the next generation of great female leaders? That speaks to me. That's what gets me up in the morning."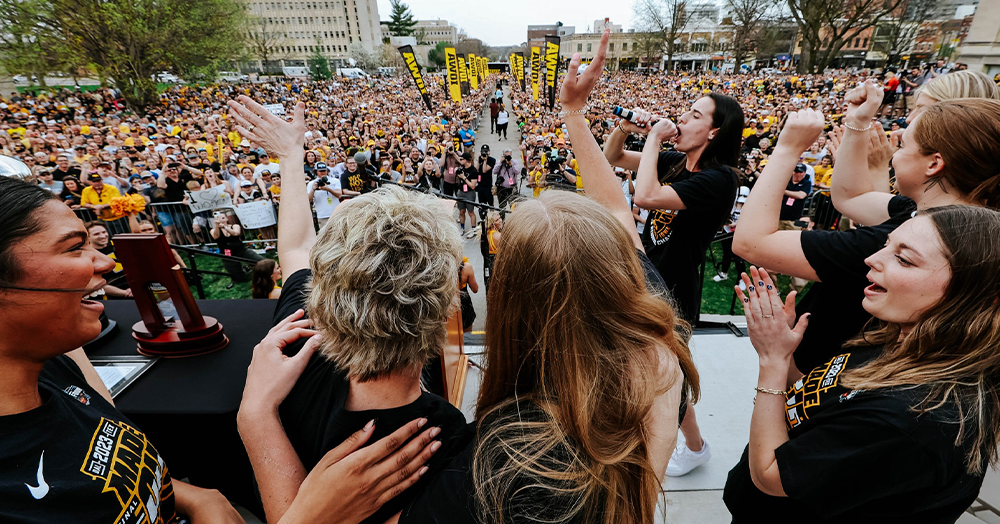 PHOTO: BRIAN RAY/HAWKEYESPORTS.COM
Iowa's coaches and players wave to thousands of fans who filled the Pentacrest for a celebration in April following the Hawkeyes' NCAA runner-up finish.
'It Gives Us More of a "Why"'
It was a classic October day in Iowa City. The tailgaters were out in force on Melrose Avenue. The Hawkeye Marching Band was in midseason form. And 55,646 fans inside Kinnick Stadium sent waves of love to patients next door at UI Stead Family Children's Hospital.
But even if it felt like a football game day, this was something entirely new. Not only did the Crossover at Kinnick nearly double the 21-year-old NCAA attendance record for women's basketball, the event raised $250,000 for the children's hospital. More than an exhibition game, Iowa's 94-72 victory over DePaul celebrated of the power of women's athletics and the deep connection between the Hawkeye program and their fans, as well as the pediatric patients they count as teammates.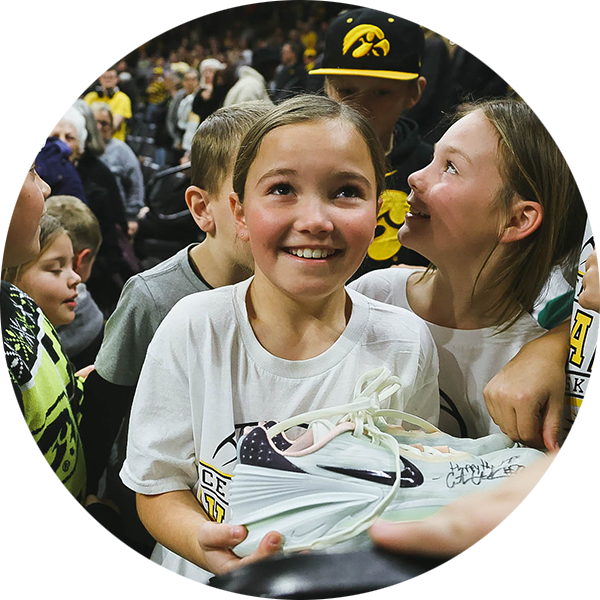 PHOTO: STEPHEN MALLY/HAWKEYESPORTS.COM
A young fan reacts after Caitlin Clark gives her an autographed shoe after a game.
"I think it just puts it in perspective how much of an impact we really have on these kids—and how lucky we are to be able to be playing this sport with people we love every day," Marshall says of the close bonds players have formed with children's hospital patients during their regular visits. "It's something bigger that we're playing for, and it gives us more of a 'why.'"
For longtime fans of the program, the Kinnick contest also brought back memories of February 1985, when former UI women's athletics director Christine Grant (70BA, 74PhD) and then-coach C. Vivian Stringer packed 22,157 fans into the 15,500-seat Carver-Hawkeye Arena—the first time Iowa set the NCAA single-game attendance record for women's basketball. The Crossover at Kinnick came less than two years after the death of Grant, a national force for Title IX, and at the start of an ambitious new era in UI women's athletics history.
Earlier this year, Iowa announced the launch of its Hawkeye Women: RISE campaign, a crucial piece of the university's comprehensive Together Hawkeyes campaign. The campaign will support the basketball program and the 13 other women's sports at Iowa by creating endowed scholarships, establishing named coaching positions, and funding international travel and other sport-specific needs. The RISE campaign will also fund two new facilities dedicated to women's sports: a gymnastics and spirit squads training facility, as well as a field hockey operations center at Grant Field.
"It's because we have great young women who are such good role models. They embrace the fans; they embrace the kids. I think people feel personally attached to them." —Lisa Bluder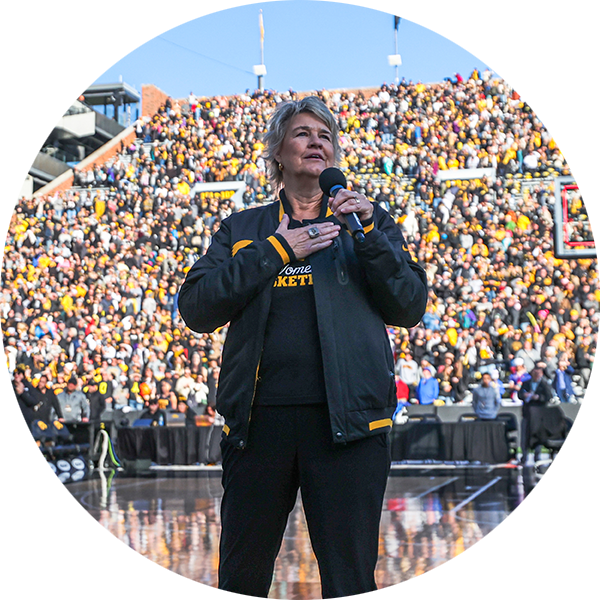 PHOTO: ANNA MOORE/HAWKEYESPORTS.COM
Iowa coach Lisa Bluder addresses the record crowd at Kinnick Stadium following her team's exhibition win in October.
For Bluder—whose official title is the P. Sue Beckwith, MD, Head Women's Basketball Coach, and who marks her 40th year of coaching this season—it's hard not to marvel at the growth of women's sports. During her time as a player at University of Northern Iowa and early in her coaching career at St. Ambrose and Drake, game attendance was often smaller than the line these days for a Carver cone.
"Nobody cared about women's basketball, so to see how far it's come, it's amazing," Bluder said after last season's NCAA Tournament, which set a record for attendance. "It's because we have great young women who are such good role models. They embrace the fans; they embrace the kids. I think people feel personally attached to them."
One of the most powerful moments of this spring's NCAA tournament run was one of its quietest. At a practice inside an empty Carver before leaving for the Sweet Sixteen, Bluder and her team sat in a circle, cross-legged at center court. Coaches and players closed their eyes and joined hands. Bluder's message was a simple one.
"We're stronger together," she said.