Artists visit the University of Iowa for a multidisciplinary exploration of the American story.

PHOTO: Scott Jackson
The self-directed chamber orchestra, Sphynx Virtuosi, will showcase diversity in the arts and a commitment to community engagement during its visit to Iowa City for Hancher's Infinite Dream Festival.
The Infinite Dream Festival isn't the first festival André Perry (08MFA) has produced, but it is the first of its kind.
Spanning 10 days and showcasing artists from around Iowa City and the world, Infinite Dream explores the accomplishments, failures, and possibilities of the American story.
"We wanted a series of events to celebrate the creativity that comes alive at Iowa," says Perry, executive director of Hancher and the UI Office of Performing Arts and Engagement. "And to feel that festival energy on campus."
That energy has already manifested in performing arts departments like dance, where students are using text from writers in the International Writing Program to inspire choreography. The performance will be another in the 10-year history of collaboration between the two programs, titled Uncharted Myths: Reckonings, Reflections, and Riffs on American Stories.
"This [collaboration] helps students use choreography as a way to investigate questions only choreography can help us investigate," says Rebekah Kowal, a professor and department executive officer for the UI Department of Dance.
Beyond the stage, students will have the opportunity to learn from working artists in and out of the classroom. Dance students are scheduled to take a master class from LaTasha Barnes, a New York Times-lauded "Best Dance & Breakout Star," and art students will get a behind-the-scenes tour of the N O W I S W H E R E W E A R E (the stars) installation by Andrew Schneider, a Brooklyn-based performer, writer, and interactive-electronics artist.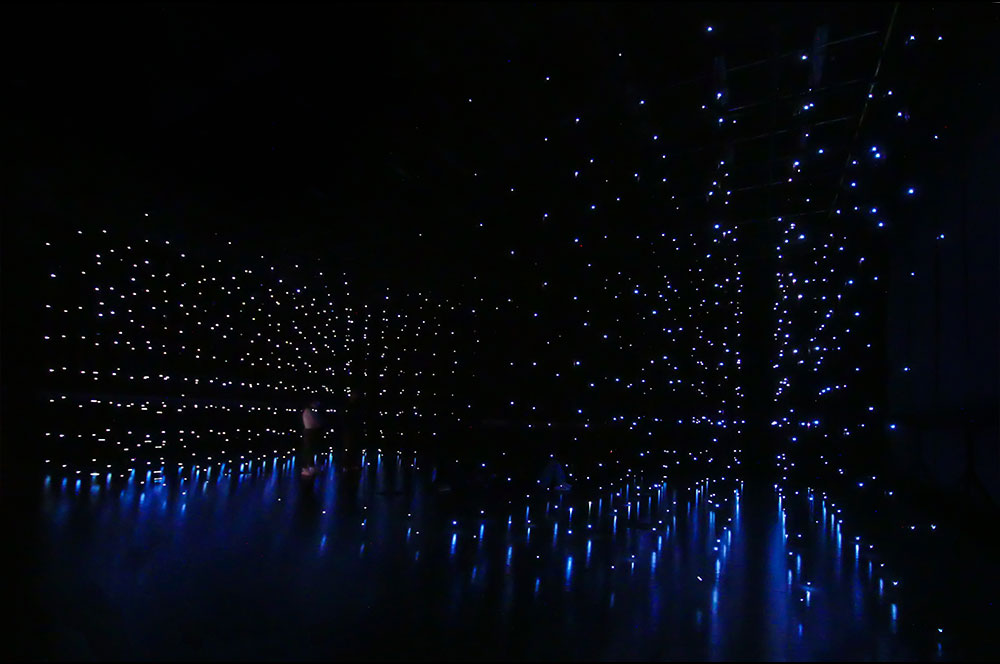 Photo courtesy Hancher
The N O W I S W H E R E W E A R E (the stars) performance installation will immerse visitors in an introspective, awe-inspiring cosmos.
Schneider will virtually present to an Installations and Interactive Performance class before the festival begins. These students will then meet with creative producer Jecca Barry for a primer on logistics, planning, and scheduling a traveling art installation.
These conversations help students move beyond classroom study to real-world application, which is particularly powerful for artists whose paths to success are rarely linear. It also gives them an opportunity to think about an installation holistically, from creation to business operation, notes Daniel Fine, an associate professor of digital media in performance whose students will meet with Schneider and Barry.
For a community rooted in artistic exploration and expression, the Infinite Dream Festival will showcase the UI's century-long tradition of engaging students, staff, and the Iowa City community in conversation about the arts and its impact on culture.
"We get to celebrate creative practice on campus and in the community and acknowledge that this has been going on for a while," says Perry. "We're part of a lineage in this story."
For the Infinite Dream schedule of events or to purchase individual tickets and festival passes, visit the Hancher website.