Get the most out of the weekend with this itinerary of things to see, do, and eat in the land of Hawkeyes.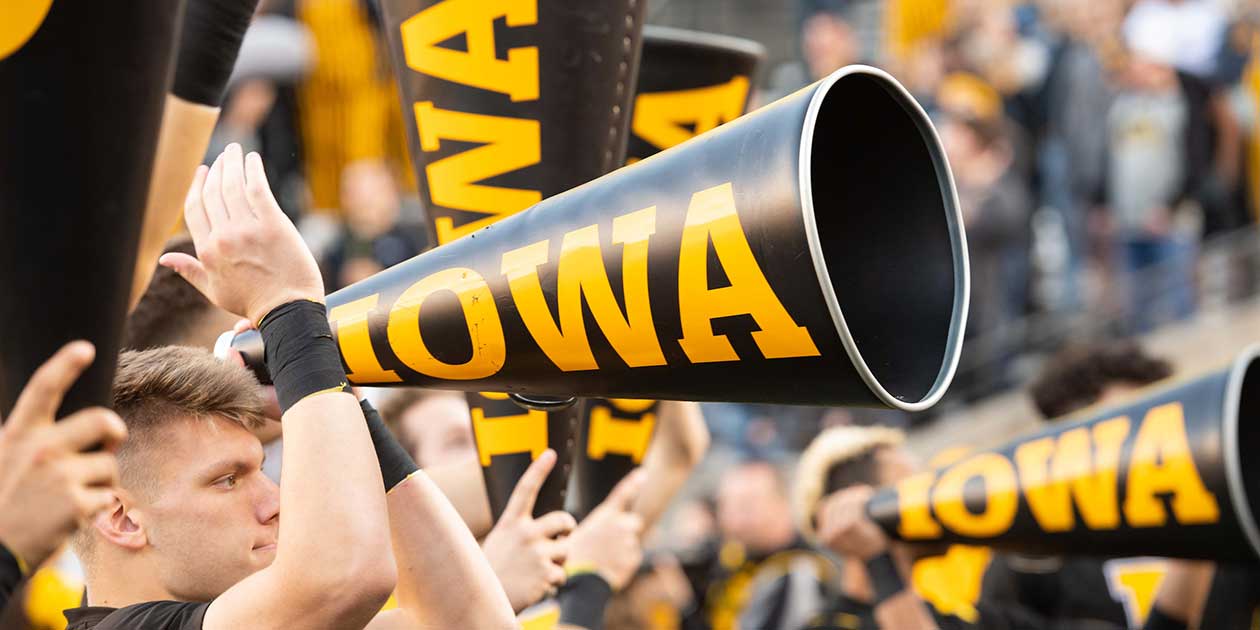 PHOTO: TIM SCHOON/UI OFFICE OF STRATEGIC COMMUNICATION
From literary readings to Big Ten sports, Iowa City is a small college town with plenty to do. Restaurants and attractions come and go, but even through the town's rapid growth and change, some traditions and landmarks have stayed the same. Whether you're a lifelong resident or a first-time visitor, take Iowa homecoming weekend to discover what Iowa City has to offer.
Friday, Oct. 6
PHOTO COURTESY IOWA HAWK SHOP
4 P.M.
Stock Up on Hawkeye Gear
Many Iowa City stores sell at least some black and gold merchandise, but a few stand out as convenient stops on a school-spirit shopping trip. Iowa City RAYGUN, on the corner of Washington and Dubuque streets, sells, in its description, "words on things"—mostly commentary on all things Iowa. The company, founded by a central Iowa native, also gives a portion of all sales to charity. A more classic option is Iowa Book on Clinton Street (pictured above); now owned by Barnes & Noble, it provides everything from licensed UI merchandise to coffee and treats through the attached Dunkin location. For even more official spirit wear and accessories, visit University Book Store in the Iowa Memorial Union.
7:30 P.M.
Dinner with Craft Beer
Open until midnight on the weekends, Big Grove Brewery is an Iowa City staple for both family dining and the craft brewery experience, with a rotating selection of locally sourced, sustainable drinks. With a large outdoor patio space, live music often adds to the evening. Big Grove is also closely involved in the community, with ongoing charitable efforts to support the environment, as well as equality and opportunity in Johnson County. Other local brewpubs with dining include ReUnion Brewery in Iowa City and Coralville, Backpocket Brewing in Coralville, and Field Day Brewing in North Liberty.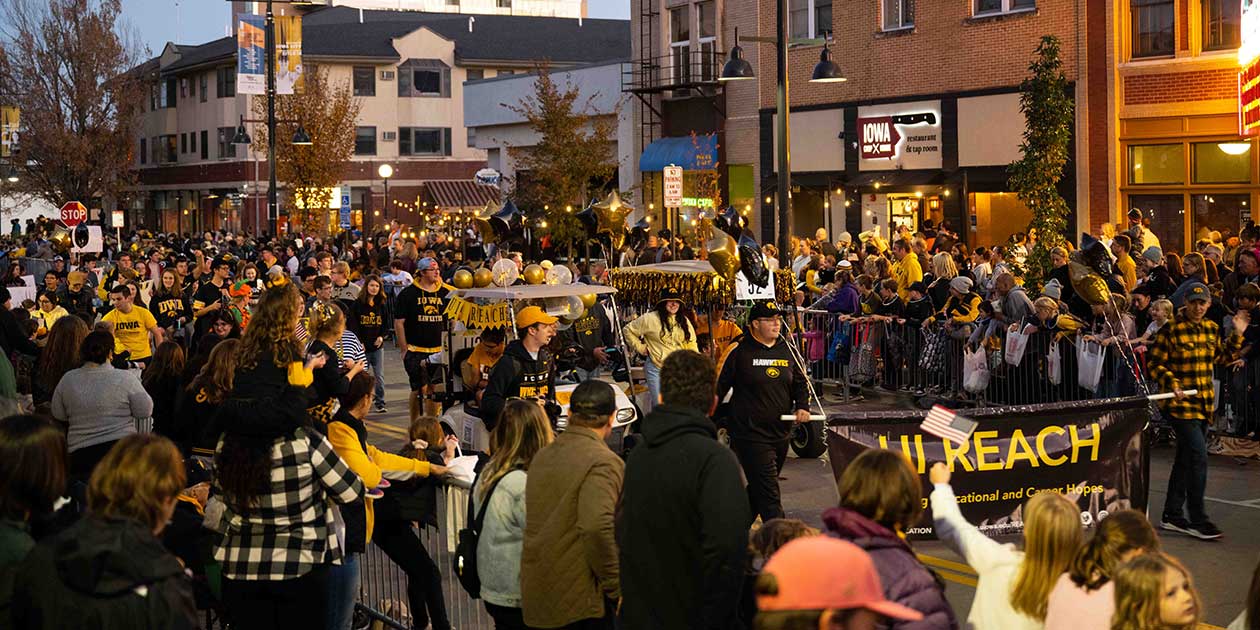 PHOTO: TIM SCHOON/UI OFFICE OF STRATEGIC COMMUNICATION
5:45 P.M.
Iowa on Parade
Gather downtown to watch the parade, one of the oldest homecoming traditions. This year's celebration features the student homecoming court, marchers from a variety of UI and community organizations, and Hawkeye superstars Caitlin Clark and Spencer Lee (21BS) as the parade's grand marshals. Afterward, go to dinner or head to the Pentacrest for a live concert.
Saturday, Oct. 7
9:30 A.M.
Farm Fresh
On Saturdays from May through October, the Chauncey Swan parking ramp and nearby Washington Street are transformed into the Iowa City farmers market, a hot spot for fresh fruit, vegetables, baked goods, and more from local vendors. Pick up a breakfast treat, scout ingredients to take home, or just enjoy a morning walk in friendly company.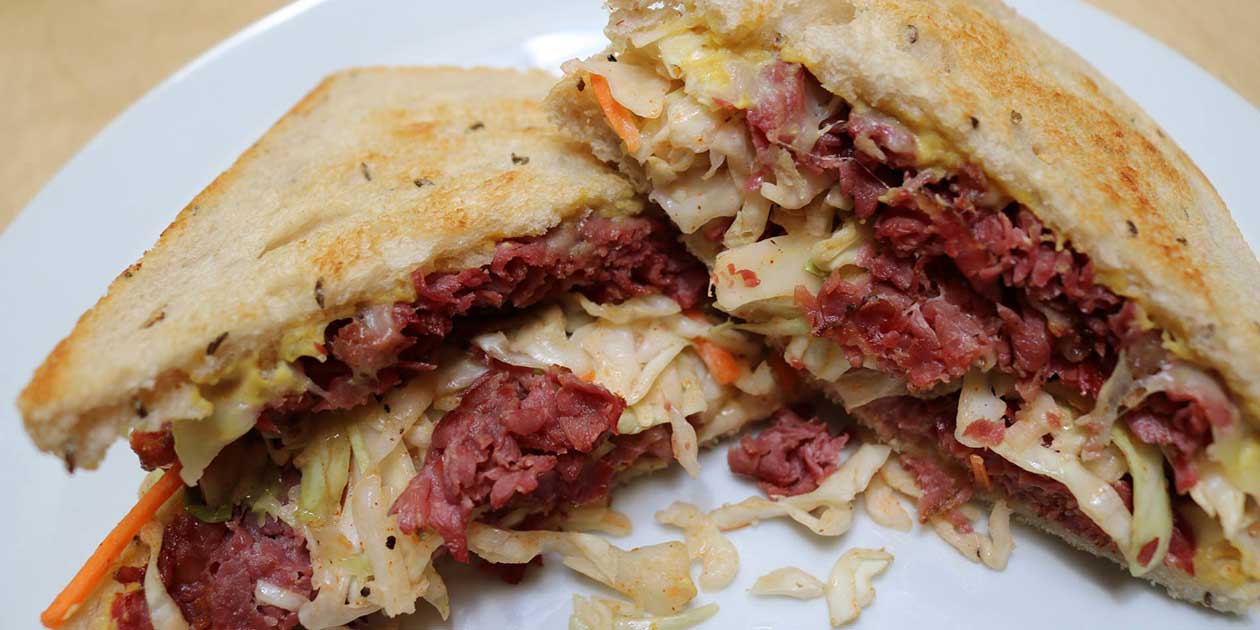 PHOTO COURTESY NODO
NOON
Sandwich Stop
Head to Nodo, a two-story sandwich and wrap restaurant on Dubuque Street, for lunch with a casual, quirky vibe. Snack on sides like Mel's Spicy Carrots while enjoying trendy décor, including local art for sale. Or, for more sandwich options, try another lunchtime favorite like Marco's Grilled Cheese or Cortado.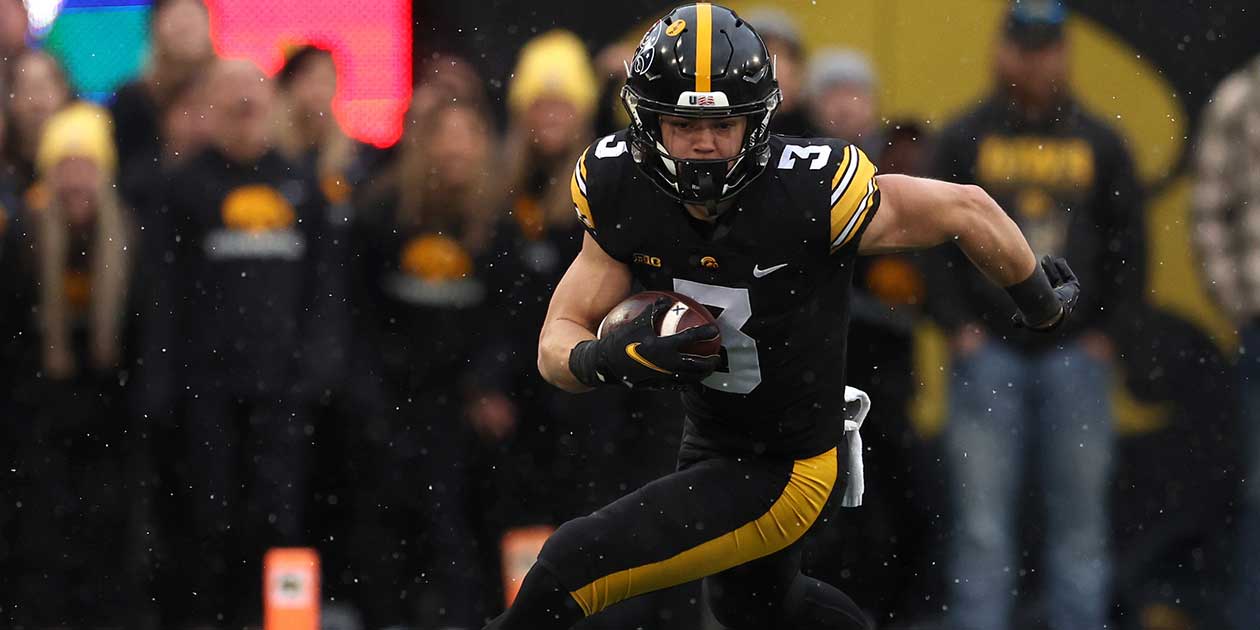 PHOTO: BRIAN RAY/HAWKEYESPORTS.COM
KICKOFF (TBD)
The Big Game
This year, Iowa football will face Purdue in the homecoming game, working to build on last season's 24-3 road victory. In addition to the halftime show, the Hawkeye Marching Band will perform an hour-and-15 minutes prior to kickoff at the Hawkeye Indoor Track Facility. Check the schedule for an updated game time.
EVENING
Meal with a Mascot
Perfect for staying in the Hawkeye spirit, St. Burch Tavern is named after Burch the bear, an early mascot of the UI football team (and an actual bear). The restaurant offers a mix of classic and elegant twists on bar food favorites. Though the main restaurant closes at 10 p.m. on weekends, The Den, a basement bar and lounge area, is open until midnight daily. Other restaurants steeped in Iowa tradition include The Airliner downtown and The Vine Tavern and Eatery in Iowa City and Coralville.
Sunday, Oct. 8
10 A.M.
Munch on Brunch
Opened in 2018, The Dandy Lion was originally intended to be an early bird breakfast option. Now, the restaurant is a cozy, classic breakfast and lunch spot located in the center of the Pedestrian Mall. Popular with students, the Dandy Lion tends to be busy, so check in ahead of time about the wait. No time for breakfast? Order a meal to go, or pick up some of its house-brand coffee beans. Other downtown brunch favorites include Bluebird Diner and Pullman Bar and Diner.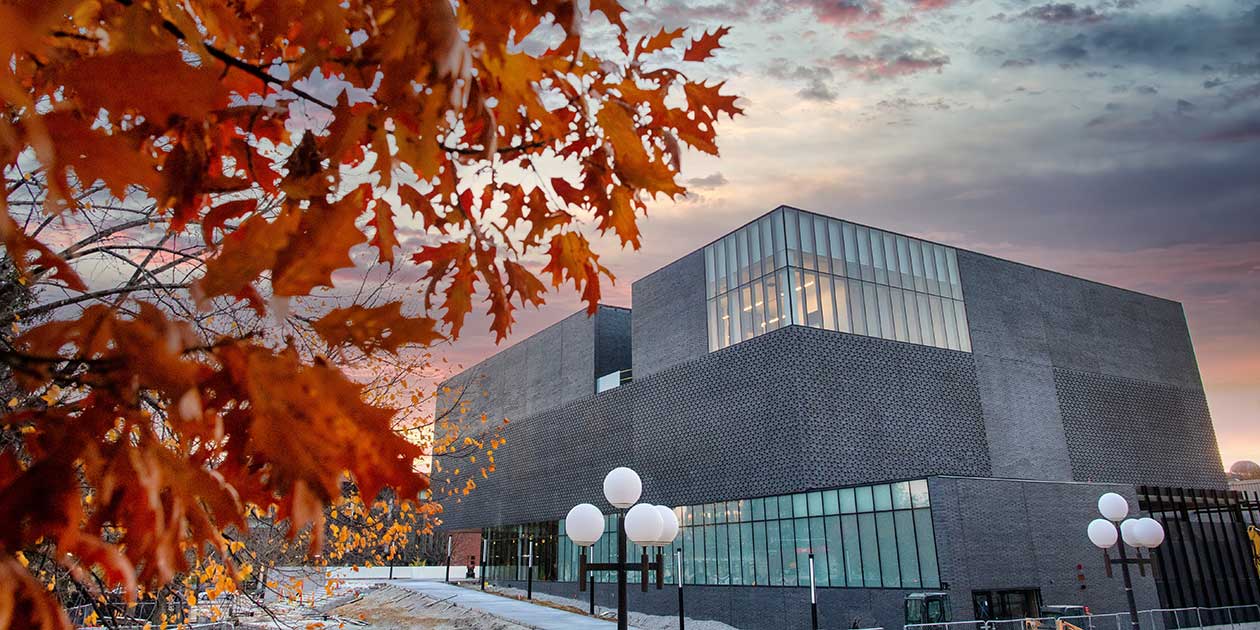 PHOTO: TIM SCHOON/UI OFFICE OF STRATEGIC COMMUNICATION
12:30 P.M.
Art on Campus
Opened in its new location last year, over a decade after flooding forced the previous building to close, the UI Stanley Museum of Art is a free gallery that hosts an impressive and diverse collection. Highlights include an extensive African art display, classics by Iowa artists such as former UI instructor Grant Wood, and Jackson Pollock's 8-by-20-foot Mural. The building itself, specially designed to house its collection, is also a striking work of architecture.
3:30 P.M.
Take a Hike
Stretch your legs with a visit to Hickory Hill Park, an urban wildland just a few miles east of downtown Iowa City. The 185-acre park features walking trails, picnic benches, natural views, and a break from the city's bustle and noise.
EVENING
Showtime
After dinner at one of Iowa City's many local restaurants, watch talented UI musicians perform in the Black Pop Music Ensemble at 7:30 p.m. at the Voxman Music Building, or enjoy a live version of the podcast "Welcome to Night Vale" at 7 p.m. at the Englert Theatre downtown. Depending on the length of your stay, you may also catch performances at Hancher Auditorium or Riverside Theatre, two longtime community staples with new homes.