Dozens of Iowa's most celebrated writers delve into the museum's collection for the new book, In a Time of Witness.
Using a work of visual art for literary creation—a writing approach known as ekphrasis—has the power to not only make a painting or sculpture more understandable, but also to allow viewers to see their own life's journey within the artwork. The poem "Öklid Dışı Uzay Tehlikelidir" ("Non-Euclidian Space Is Dangerous") by Turkish writer Efe Duyan does just that. Written in response to George Rickey's Two Lines Oblique, a stainless-steel sculpture that fronts the new University of Iowa Stanley Museum of Art, the love poem is inspired by the story of how Duyan met his future wife when he was a 2019 fellow at the UI's International Writing Program.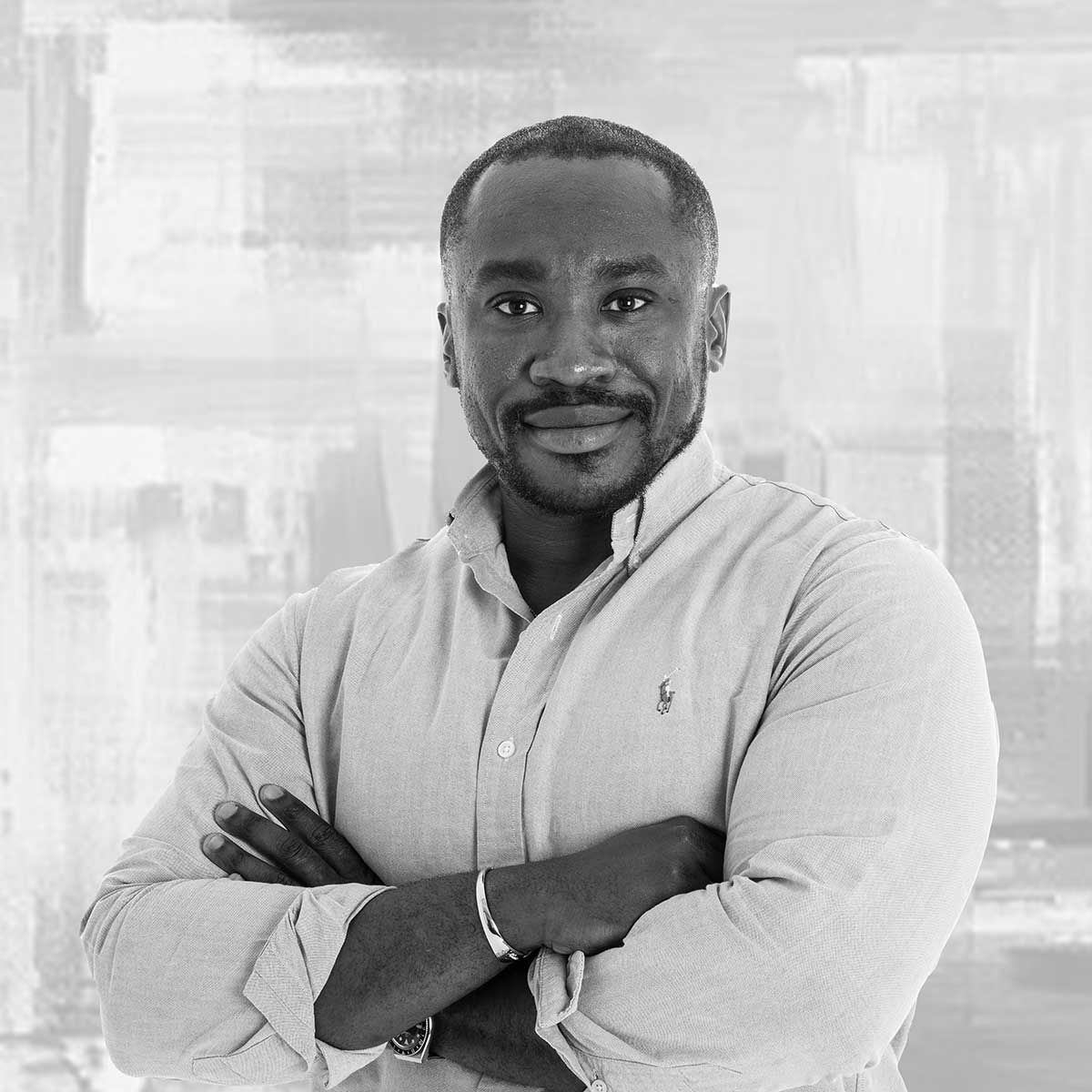 PHOTO: JASON SMITH
Derek Nnuro (16MFA), a graduate of the Iowa Writers' Workshop and author of What Napoleon Couldn't Do: A Novel (one of Barack Obama's 2023 Summer Reading List picks), is the curator of special projects at the University of Iowa Stanley Museum of Art. He served as the editor for In a Time of Witness.
Duyan's ekphrasis—equal parts ode to Iowa City and, of course, romance—is the opening piece of In a Time of Witness, a new book that the Stanley publishes in September and that is being distributed by UI Press in a partnership with Iowa's renowned writing programs. Beyond a traditional museum exhibition catalogue, this unprecedented interdisciplinary project features 31 writers—alumni of the Iowa Writers' Workshop, International Writing Program, and Literary Translation Program—who contributed original literary responses to artworks they chose from the Stanley's permanent collection.
These writers are among the most celebrated of our time, including former U.S. poet laureates Rita Dove (77MFA, 22LHD), Joy Harjo (78MFA), and Juan Felipe Herrera (90MFA); and groundbreaking fiction writers like Adam Haslett (99MFA), Carmen Maria Machado (12MFA), and Yiyun Li (00MS, 05MFA). Iowa Writers' Workshop professor emerita Marilynne Robinson (17LHD) writes the foreword.
Since opening its doors last fall, the Stanley Museum of Art has quickly established itself as a premier hub for cross-disciplinary activity on campus. Thirty departments and programs have made 175 class visits to the museum, including students from dermatology, management and entrepreneurship, nursing, and music. Museum director Lauren Lessing, believing art to be a catalyst, is committed to nurturing a museum environment that supports creativity, innovation, and discovery across disciplines. Lessing's vision has its origins in the "Iowa Idea"—when UI visionaries in the 1920s unified studio arts with the study of art history and theory—and Iowa's proud literary tradition.
"When university president Walter Jessup (34LITTD) and graduate dean Carl Seashore (27BSAS) brought artists and scholars together to create the first graduate degree programs in the arts anywhere in the world—the UI's twin MFA programs in studio art and creative writing," says Lessing, "they understood that art enables new perceptions, hones our ability to think critically, and opens a world of possibilities."
Eleven poets and 10 fiction writers make up the Iowa Writers' Workshop alumni featured in the book. Alumni of the International Writing Program include three poets and two fiction writers who contribute in Yoruba, Turkish, German, Argentine Spanish, and Japanese. Through their respective English translations, five writers—an Iowa Writers' Workshop alum, director of translation, and translation alumni—add another layer of response and interpretation.
Aron Aji, director of translation programs at UI, translated Duyan's poem from the Turkish to English. Duyan captures Iowa City—and more specifically, the UI—as one of its realities: an abundant, flora-marked global haven, where a Turkish writer can—and does—meet the love of his life, a Latvian writer. Rickey's Two Lines Oblique, a pioneer of kinetic sculpture in which two balanced arms twist and spin effortlessly in the wind, catalyzes a meditation on the free flow of budding love and inventiveness that marks the UI's ethos.
At its core, In a Time of Witness is a celebration of this ethos. The catalogue's distinctiveness embodies the UI's storied history of innovative arts and humanities education. The book also proudly celebrates the UI's long history as a home for diverse artistic voices by highlighting alumni whose literary practice centers lived experiences of Black, Indigenous, and people of color, LGBTQIA+, and economically underserved communities. In these ways, In a Time of Witness is quintessentially Hawkeye.