The latest University of Iowa alumni and faculty achievements, including a spotlight on U.S. House Clerk Cheryl Johnson and three new films with UI ties.
2020s
Addison Miller Faldet (20DDS) received the Young Entrepreneur of the Year award at the 2022 Entrepreneur Gala at the North Iowa Area Community College's John Pappajohn Entrepreneurial Center as co-founder and co-owner of Hometown Dental in Charles City, a dental practice that improves access to health care in rural Iowa.
Hajar Hussaini (21MFA) released Disbound: Poems, her debut poetry collection on themes of war, nationality, and family.
Matt Stahl (21PHR), CEO of Steel Therapeutics in North Liberty, Iowa, received Corridor Business Journal's 2022 Forty Under 40 Award, which recognizes those who have made a significant impact in their business and community early in their careers.
2010s
Noaquia Callahan Banks (12MA, 19PhD) is an assistant professor in the Department of History, Political Science, and Ethnic Studies at Long Beach City College in Long Beach, California.
Drew Bratcher (16MFA) released his book Bub: Essays From Just North of Nashville, a collection that explores his experience with the music and culture of the American South.
Brendan Crowley (12BA) is an associate at Willig, Williams & Davidson law firm in Chicago.
Reed Faldet (19DDS), received the Young Entrepreneur of the Year award at the 2022 Entrepreneur Gala at the North Iowa Area Community College's John Pappajohn Entrepreneurial Center as co-founder and co-owner of Hometown Dental in Charles City, a dental practice that improves access to health care in rural Iowa.
Elizabeth Moen (16BA), a singer-songwriter based in Chicago, released her indie album Wherever You Aren't.
2000s
Aaron Boes (03BS, 09MD, 09PhD), an associate professor of pediatrics and director of pediatric neurology at the Iowa Neuroscience Institute, has been appointed to the Roy J. Carver Professorship in Neuroscience.
Nicole Brogden (03BS, 07PHR) an associate professor at the UI College of Pharmacy, has been appointed to the UI Research Foundation board of directors.
Tiffany Armstead Flowers (00MA, 15PhD), an assistant professor of education at Georgia State University Perimeter College in Atlanta, launched the new Journal of Literacy and Urban Schools.
Liz Hollingworth (05PhD), a UI College of Education professor and director of the Center for Evaluation and Assessment, was honored by the National Football Foundation and College Hall of Fame's 2022 Faculty Salutes program, which recognizes the contributions of faculty athletics representatives in supporting student-athletes.
Amy Lillard (00BA), an author based in Des Moines, received the BOA Short Fiction Prize for her story collection Exile in Guyville.
Joseph Mirabella (04BA) is vice president of executive digital communications at WE Communications, a global public relations company based in Bellevue, Washington.
Keith Wilhite (07PhD), an associate professor of English at Siena College in Loudonville, New York, is author of Contested Terrain: Suburban Fiction and U.S. Regionalism, 1945-2020.
1990s
David Bissinger (90BA), a partner at the Bissinger, Oshman, Williams & Strasburger law firm in Houston, was recognized on the 2022 listing of the state's top business litigators by Texas Super Lawyers.
Steven Bucklin (93PhD), emeritus professor of history at the University of South Dakota in Vermillion, received the Larry Rowan Remele Award for his contributions to the Northern Great Plains History Conference.
Monica Friedman (91BBA) was named the 2022 Dentons Davis Brown HR Professional of the Year by the Des Moines Business Record for her work as executive vice president and chief human resources officer at LCS, the nation's second-largest senior living operator.
Rick Gates (95BSPh), senior vice president of pharmacy and health care for Walgreens, based in Deerfield, Illinois, received the UI College of Pharmacy's 2022 Distinguished Alumni Award.
Paul Houston (95BA) is deputy assistant secretary and assistant director of the U.S. Department of State's Diplomatic Security Service for threat investigations and analysis.
Scott Karolchyk (90BSPh, 95MS), director of formulation development for MedPharm Research and principal for Novel Drug Solutions, received a U.S. patent for eye drops that combine antibiotics and steroids for use after LASIK and cataract surgery.
Enrique Leira (98F, 07MS), a UI neurology professor, director of the Division of Cerebrovascular Disease, and head of the Comprehensive Stroke Center, has been appointed to the Stoppelmoor-Adams Professorship in Vascular Neurology.
Mark Levine (90MFA), a professor of poetry at the Iowa Writers' Workshop, released his latest collection, Sound Fury: Poems.
Shaoling Li (94PhD), vice president of chemistry, manufacturing, controls and quality at Revolution Medicines in Redwood City, California, received the UI College of Pharmacy's 2022 Distinguished Alumni Award.
Troy Peters (94BA), a comedy mentalist in Iowa City, runs a comedy mind-reading show as the Mind Meddler, performing for corporate shows, private parties, and UI campus events.
Jeff Robbin (91BS), an executive and software engineer for Apple in Cupertino, California, was named a tech leader in the 2022 Consumer Technology Hall of Fame for his work developing Apple's iTunes software.
David Schwebel (96MA, 00PhD), a professor, associate vice president, and director of the Youth Safety Lab at the University of Alabama at Birmingham, released his latest book, Raising Kids Who Choose Safety: The TAMS Method for Child Accident Prevention.
---
'An Unlikely Folk Hero'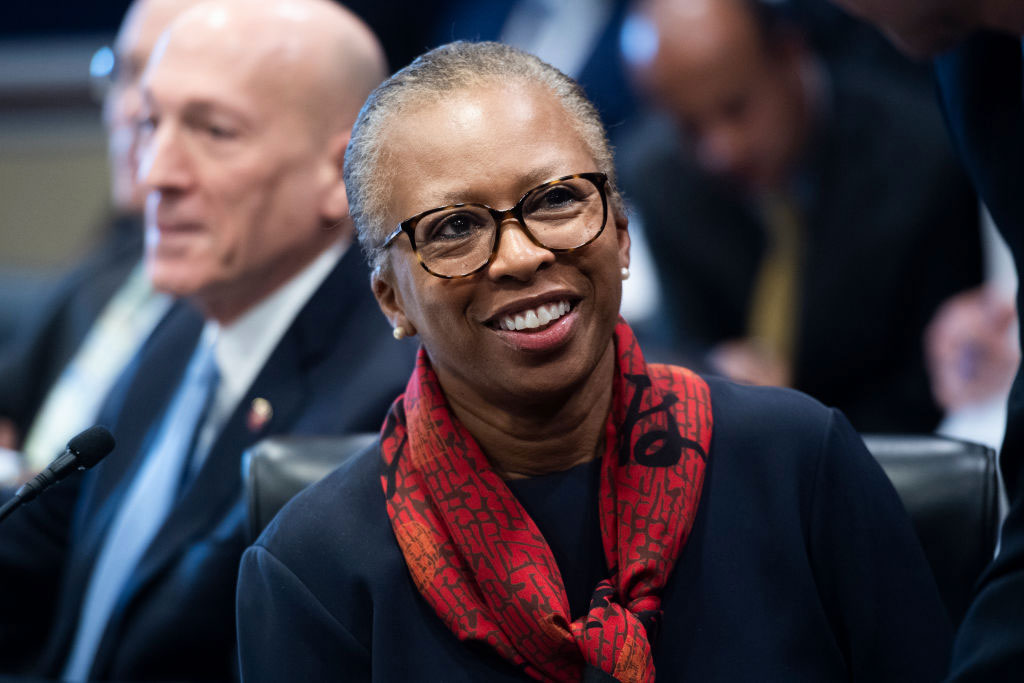 PHOTO: TOM WILLIAMS/GETTY IMAGES
In January, University of Iowa graduate Cheryl Johnson became the first Black woman to preside over the U.S. House of Representatives, overseeing a contentious speaker election as clerk.
When the speakership of the U.S. House of Representatives stood in limbo in January, an Iowa alumna stepped into the presiding role and national spotlight. House Clerk Cheryl Johnson (80BS) wielded the gavel for 15 contentious votes before Rep. Kevin McCarthy (R-Calif.) was elected speaker.
Johnson was sworn in as the 36th House clerk in 2019, then again in 2021. She became the first Black woman to preside over the chamber when the House struggled for four chaotic days to elect a new speaker, delaying the start of the 118th Congress. Bloom­berg News called Johnson "an unlikely folk hero," while the BBC declared that "with her calm and firm demeanour, Ms. Johnson and her gavel have at times felt like the only defence against total dysfunction." During the proceedings, Johnson received a standing ovation and praise from both parties.
A UI journalism and mass communication graduate, Johnson previously worked as chief education and investigative counsel for the House Committee on Education and the Workforce, as well as the director and counsel for the Committee on House Administration's Subcommittee on Libraries and Memorials. Before becoming clerk, she most recently served as director of the Smithsonian Institution's Office of Government Relations.
---
1980s
Stephen Baird (86BSPh, 90JD), a shareholder in the Greenberg Traurig law firm in Minneapolis, received the UI College of Pharmacy's 2022 Distinguished Alumni Award.
Candace McClendon Richardson (82BSPh, 84PharmD) is head of field medical psoriatic disease at the Janssen Pharmaceutical Companies of Johnson & Johnson in Horsham, Pennsylvania.
Peter Schmitt (83MFA), a senior lecturer in the English department at the University of Miami in Florida, has released his sixth collection of poems, Goodbye, Apostrophe, as well as edited and written the introduction for his late father's work, Pan Am Ferry Tales: A World War II Aviation Memoir.
Minda Zetlin (81BA), an author, speaker, journalist, and contributing editor at Inc., published her most recent book, Career Self-Care.
1970s
William Patrick Davey (75BS, 87R), chief of dermatology service at the Lexington VA Health Care System in Kentucky and president of Davey Consulting in Lexington, Kentucky, has been elected to a second three-year term on the board of directors for the Accreditation Association for Ambulatory Health.
Bill Glasgow (75BA), a Tampa Bay Iowa Club board member, sang the national anthem with the Tampa Bay Heralds of Harmony this past fall at the Tampa Bay Buccaneers vs. Green Bay Packers football game.
Linda Boyd Griffey (72BSPh), a retired partner in the law firm O'Melveny & Myers in Los Angeles who is active as an adviser and board member for many community organizations, received the UI College of Pharmacy's 2022 Distinguished Alumni Award.
Kerry Killinger (70BBA, 71MBA), founder and CEO of Crescent Capital Associates in Seattle, has received the Axiom Business Book Award for Business Commentary, the Nautilus Award for Journalism and Investigative Reporting, and the IPPY and INDIE Awards for Economics and Finance for his recent book, Nothing is Too Big to Fail: How the Last Financial Crisis Informs Today.
Susan Neely (78BA), president and CEO of the American Council of Life Insurers in Washington, D.C., has been elected president of the Global Federation of Insurance Associations.
Michael Welsh (71BS, 74MD, 77R), UI professor of internal medicine, received the Shaw Prize in Life Science and Medicine for his study of cystic fibrosis.
1960s
Joan Hand Axelrod (68MFA), a retired English instructor and poet based in Long Island, New York, recently published her fourth chapbook, Mommy and Other Poems, which celebrates a lifetime of family relationships.
Carol Havemann-Lynch (69BA, 72JD), who retired in 2012 as associate general tax counsel at ExxonMobil in Houston, received the UI College of Law's 2022 Alumni Achievement Award.
1950s
Anita Wildman Hockett (54GN), clinical director and founder of the free clinic Volunteers in Medicine in St. Charles, Missouri, has had a nursing career spanning 68 years.
faculty & friends
Shehan Karunatilaka, a Sri Lankan writer and graduate of the UI International Writing Program, received a 2022 Booker Prize for his 2020 satire novel, The Seven Moons of Maali Almeida.
Craig Kletzing, a UI physics and astronomy professor, has been named a fellow of the American Physical Society for his work developing plasma-based wave instrumentation and studies of Alfven waves.
Christine Petersen, professor of epidemiology at the UI College of Public Health and director of the Center for Emerging Infectious Diseases at Iowa, has been elected to the National Academy of Medicine in recognition of her work on zoonotic diseases.
---
Iowa On Screen
Three alumni-made films to add to your spring watch list
65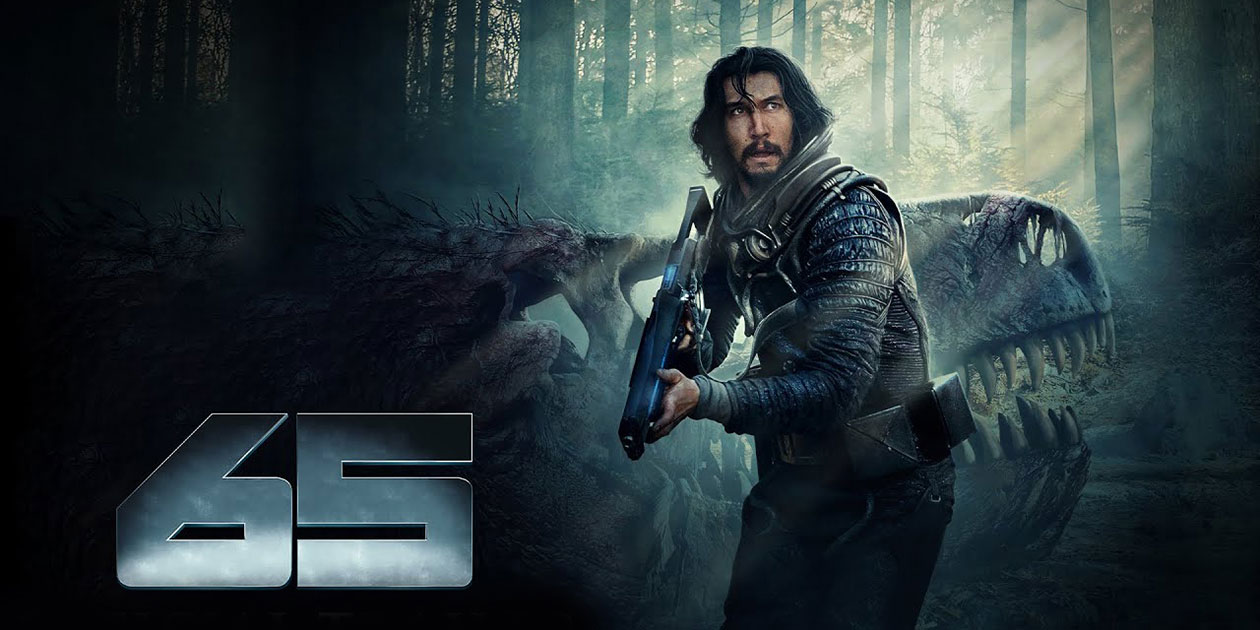 A new sci-fi adventure from A Quiet Place writers Scott Beck (07BA) and Brian Woods (07BA) hits theaters March 17. The Bettendorf, Iowa, natives are co-writers and directors of 65, which stars Adam Driver as a pilot who crash lands on an unknown planet, only to discover he's stranded on prehistoric Earth 65 million years ago.
Strange World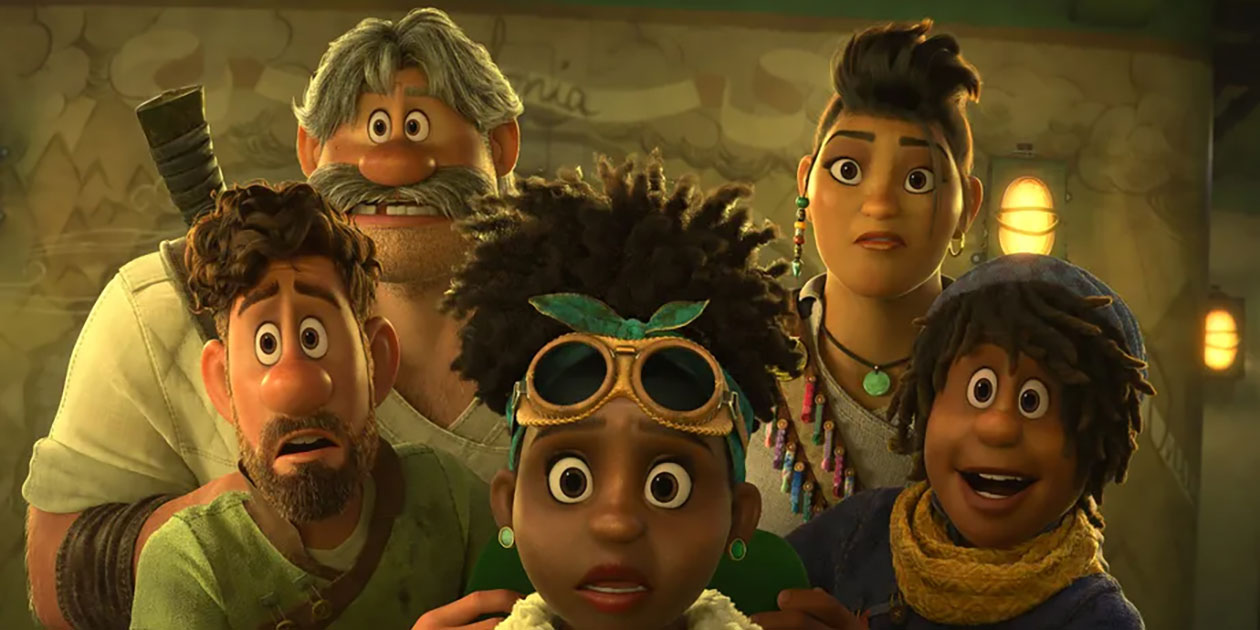 Don Hall (91BFA) co-directed Disney's recent animated adventure movie, starring Jake Gyllenhaal as Searcher Clade, a man on a hero's journey into a bizarre subterranean landscape. Hall has previously directed other Disney hits, including Raya and the Last Dragon (2021), Moana (2016), and Big Hero 6 (2014).
Standing Strong: Elizabeth Catlett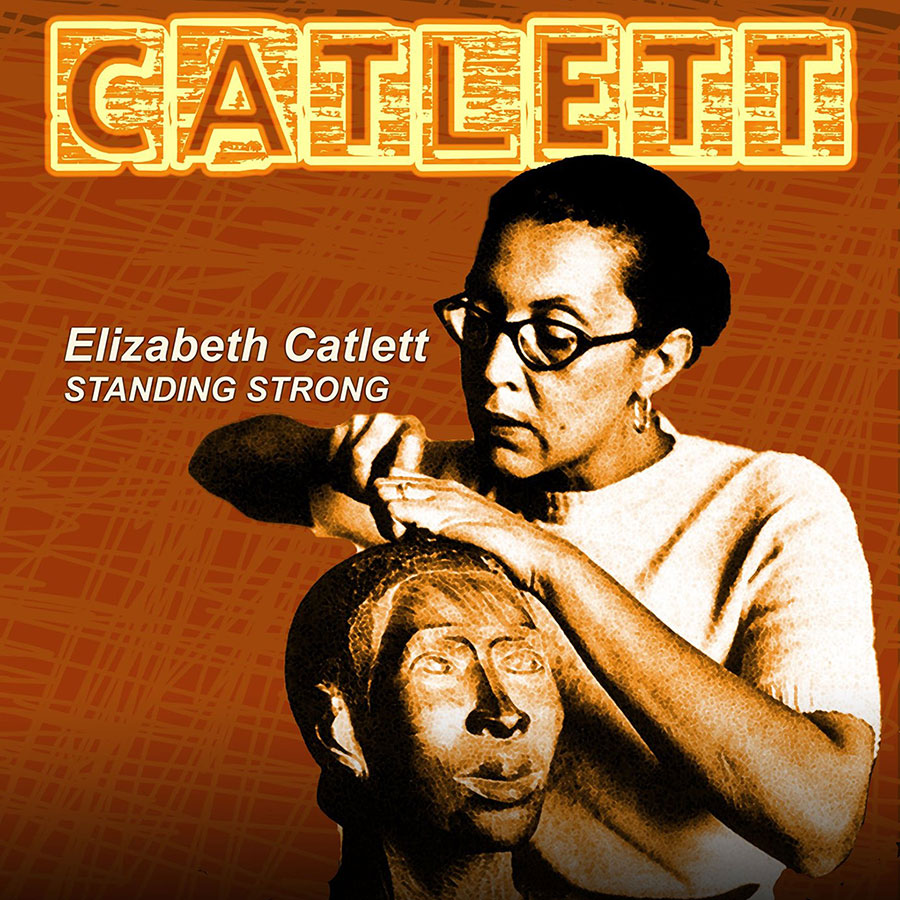 New Mile Media Arts filmmakers Marie Wilkes (90BA, 93MFA, 08MA) and Kevin Kelley delve into the life of artist and activist Elizabeth Catlett (40MFA) in their latest documentary. The film follows her life and struggle as a Black woman in the visual arts and her lasting impact as an educator and advocate for social change.
---