The latest University of Iowa alumni and faculty achievements, including the retirement of a NASA chief scientist, three new films with UI ties, and a Latino Hall of Fame inductee.
2020s
Jon Lensing (20MD), CEO and co-founder of the OpenLoop health care company, recently received the UI John Pappajohn Entrepreneurial Center's Young Alumni Entrepreneur of the Year award.
2010s
Colleen Campbell (10PhD), a clinical associate professor in the UI Division of Cardiovascular Medicine, has been elected the 2024 president of the National Society of Genetic Counselors.
Hillary Chappo (13BA, 16MHA), associate director of education and accreditation at UI Hospitals & Clinics, received a 2022 Forty Under 40 award from Corridor Business Journal.
Kristi DiClemente (15PhD) is the chair for history, political science, and geography at Mississippi University for Women in Columbus, Mississippi.
Daniel Elchert (17MA, 18PhD) is CEO of the National Register of Health Service Psychologists based in Washington, D.C.
Kaleb Fincher (16PharmD) is a clinical pharmacist and division trainer at PipelineRx in Denver.
John Heinemann (12MHA, 12MPH), executive service line administrator of children's and women's services at UI Hospitals & Clinics, received a 2022 Forty Under 40 award from Corridor Business Journal.
Hannah Infelt (16BSE) has been named one of the Top 25 Women in Technology by Mission Critical Magazine for her work in Chicago as a mechanical engineer with Syska Hennessy Group, a global consulting and engineering firm.
Maddy Osman (13BBA), founder of The Blogsmith, an SEO content strategy agency based in Denver, recently published her first book, Writing for Humans and Robots: The New Rules of Content Style.
Yvonne Seale (16PhD) has received tenure and a promotion to associate professor of history at the State University of New York at Geneseo.
Angela Kappeler Speers (11BA, 21MHA), TelePrEP coordinator for UI Health Care, received a Governor's Volunteer Award for her work helping Iowans with HIV navigate the Medicare system.
Joseph Upchurch (16BA) is an attorney at Lavelle Law in Schaumburg, Illinois.
Kaylee Williams (11BA), a shareholder and strategic adviser for VolunteerLocal in Des Moines, recently received the UI John Pappajohn Entrepreneurial Center's Young Alumni Entrepreneurial Leadership award.
---
A Voice for Voters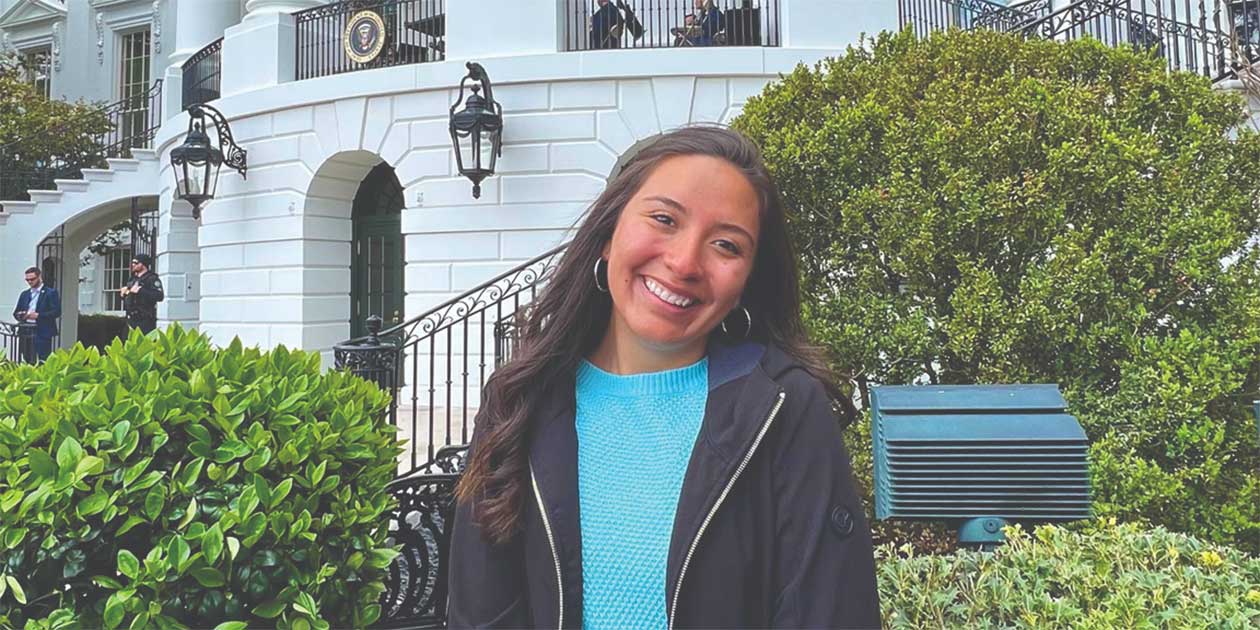 PHOTO COURTESY ALEXIA SANCHEZ
Alexia Sanchez
Alexia Sanchez (20BA) was inducted into the Iowa Latino Hall of Fame as the 2022 Iowa Latinx Youth Leadership Award recipient this past fall, recognizing her work to help women and Latinx voters have a voice in politics. Sanchez, who currently is a staff assistant for the White House Gender Policy Council, has also been a congressional fellow through the Running Start nonprofit, a public policy fellow at the National Immigration Law Center, and a legislative intern for U.S. Sen. Catherine Cortez Masto.
A first-generation college graduate, Sanchez has always been committed to giving back to her communities. During her time at the University of Iowa, she served in Undergraduate Student Government, organized a summit for first-generation college students, and was the founder of the Latinx Living Learning Community on campus. In turn, she attributes her accomplishments to those who have supported her: "It's all thanks to communities that believe in me and invest in me like Iowa did."
---
2000s
Jim Atty (05BBA, 09MBA, 09MHA), executive director of cardiology at Mercy Medical Center in Cedar Rapids, received a 2022 Forty Under 40 award from Corridor Business Journal.
Michelle O'Connor Fravel (06PHR), a clinical associate professor of pharmacy, was named a 2022 fellow of the American College of Clinical Pharmacy.
Lisa Schreihart (07MBA) is an associate attorney at the Polsinelli law firm in Washington, D.C.
Bruce Teague (01BA), Iowa City mayor and owner and CEO of Caring Hands & More home health care company, received dsm Magazine's 2022 LGBTQ Legacy Leader Award, which recognizes LGBTQ community members and allies who have made significant contributions to equality based on gender and sexual orientation in the state of Iowa.
Ben Travers (09BA) received the Los Angeles Press Club Entertainment Commentary Prize for his work on the online entertainment site Indiewire.com.
Jen Tryon (04PharmD), chief pharmacy officer for Henry Ford Health System in Detroit, has been elected to the board of directors for the American Society of Health- System Pharmacists.
Antoine Wilson (00MFA), a novelist and short story writer, had his book Mouth to Mouth featured on former president Barack Obama's 2022 Summer Reading List.
Duane C. Wilson (08BA), a strategic executive and media consultant in San Francisco, recently received the UI John Pappajohn Entrepreneurial Center's Alumni Entrepreneurial Leadership Award.
1990s
Thomas Cardella (95MBA), founder and CEO of the TLC Associates contact center in Cedar Rapids, recently received the UI John Pappajohn Entrepreneurial Center's Alumni Entrepreneur of the Year award.
Bryan Carmody (90BA), a professional voice-over actor and audio producer in Chicago, recently narrated his first audiobook, On Distant Service: The Life of the First U.S. Foreign Service Officer to Be Assassinated by Susan M. Stein.
Steven Cermak (98PhD), research leader of the Bio-Oil Research Unit with the U.S. Department of Agriculture's Agricultural Research Service in Peoria, Illinois, recently received the agency's 2022 Technology Transfer Award for the advancement of pennycress as a commercial crop in the U.S.
John-Paul Chaisson-Cardenas (98MSW, 22PhD) is the first permanent vice president of diversity, equity, and inclusion for Connecticut State Colleges and Universities.
Lan Samantha Chang (93MFA), director of the Iowa Writers' Workshop, had her book The Family Chao featured on former president Barack Obama's 2022 Summer Reading List.
Anthony Dean (94BS, 04MA), a former Hawkeye wide receiver who now serves as a special education teacher and football coach in Indianapolis, received the 2022 Black Excellence in Education Award from the Klipsch Educators College at Marian University in Indianapolis and was named the Indiana State Teachers Association Minority Educator of the Year.
Pramod Dwivedi (94MSW, 98MS) is health director of Linn County Public Health in Cedar Rapids and president-elect of the National Association of County and City Health Officials board of directors for the 2022-2023 term.
Chris Haupert (94MD), a vitreoretinal surgeon at Iowa Retinal Consultants in West Des Moines, recently organized An Evening with the Indianapolis Quartet in Des Moines to honor David Wolnerman, Iowa's only living Holocaust survivor.
Robert Kerns (96PhD), a professor of medicinal and natural products chemistry for the UI Department of Pharmaceutical Sciences and Experimental Therapeutics, received the 2022 College of Pharmacy Award for Teaching Excellence.
Jody Kurtt (90MA), director of nursing and patient care services for UI Health Care, received the 2022 DAISY Lifetime Achievement Award, which honors nurses who have demonstrated a lifelong commitment to compassionate care.
Jon Lauck (95MA, 97PhD), founding president of the Midwest History Association and adjunct professor of history and political science at the University of South Dakota in Vermillion, received the 2021 Frederick Jackson Turner Award for Lifetime Achievement in Midwestern History.
Julie Luft (94PhD) is a professor in the Mary Frances Early College of Education at the University of Georgia in Athens, president-elect of the National Science Teaching Association, and co-editor of the Handbook of Research on Science Teacher Education.
Chris Pawelski (90MA), an onion farmer in Hudson Valley, New York, was a central advocate for the Inflation Reduction Act, passed by Congress in August 2022.
1980s
Deb Zott Carr (80MA), a human resources professional at Discover Financial Services in Riverwoods, Illinois, has self-published six novels since 2021 under the pen name Toni Cabell, including two B.R.A.G. Medallion-winning works: Lady Apprentice and Lady Mage.
Minerva Cordero (86MS, 89PhD), professor of mathematics and senior associate dean for research and graduate affairs at the University of Texas at Arlington, received the Presidential Award for Excellence in Science, Mathematics, and Engineering Mentoring.
Al Greener (87BM), who retired as director of the University of Louisville pep band and Jim Patterson Stadium organist in 2021, now serves as a member of the Louisville Bats' grounds crew at Slugger Field in Kentucky.
Steve Grubbs (89BBA, 94JD) is the CEO of VictoryXR, a company headquartered in Davenport, Iowa, that creates virtual reality classrooms for universities across the U.S.
Nick Hentges (81BBA) and his wife, Mary, made a $1 million gift to the UI Henry B. Tippie College of Business to endow the Hentges Family Faculty RMI Fellowship, which will support the college's risk management and insurance education program.
Peggy Carlson Nopoulos (85BS, 89MD, 93R, 94F), a professor in the UI departments of psychology, neurology, and pediatrics, received the Daryl and Nancy Granner Distinguished Mentor Award for her commitment to preparing students for successful medical careers.
J. Paul Oetken (88BA), a judge of the U.S. District Court for the Southern District of New York, was named a 2022 LGBT Icon for LGBT History Month as the first openly gay male federal judge.
Kevin W. Smith (83BA) is a public affairs officer and spokesperson for the FBI field office in Phoenix.
---
Stellar Career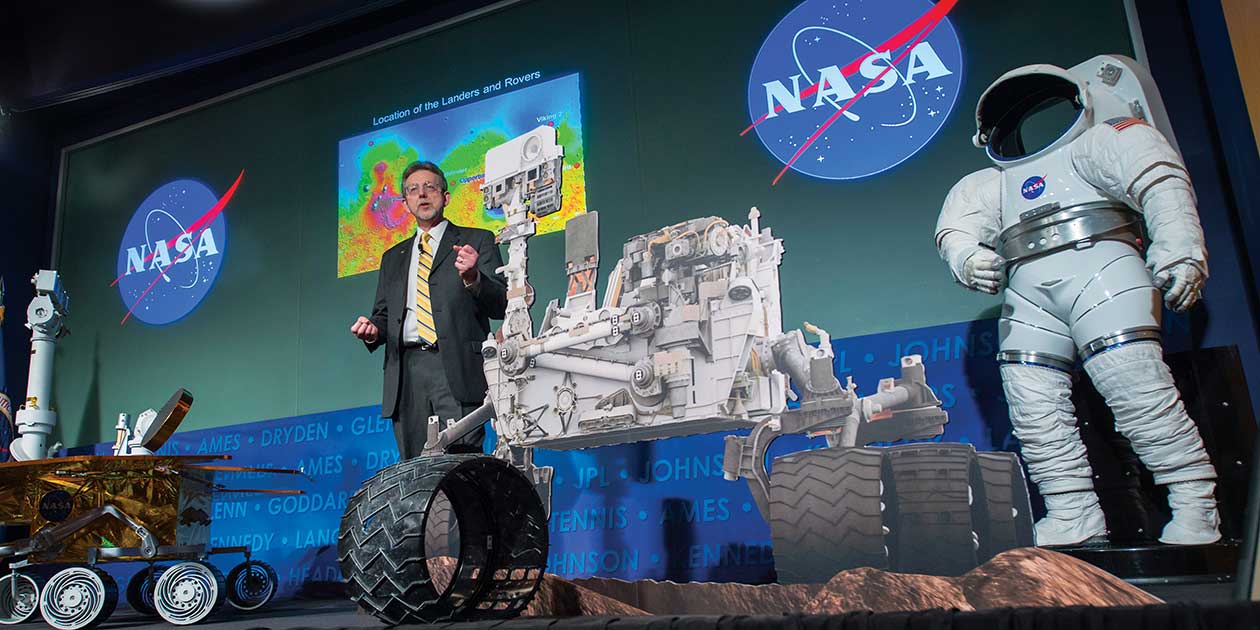 PHOTO: CARLA CIOFFI/NASA
James Green
NASA chief scientist and Burlington, Iowa, native James Green (73BA, 76MS, 79PhD) retired this year after more than 40 years with the space agency. Over the course of his career, Green oversaw missions such as the landing of the Curiosity rover on Mars, the Juno spacecraft's investigation of Jupiter, and the New Horizons visit to Pluto. He has also worked to create public excitement about NASA's efforts and hopes to continue doing so in his retirement.
"I feel tremendously proud about the activities I've done at NASA," says Green. "We're always looking for ways to do the impossible."
Green credits his enthusiasm for space exploration to his days at the University of Iowa, where he studied under both James Van Allen (36MS, 39PhD) and Don Gurnett (62BSEE, 63MS, 65PhD), and worked as Gurnett's assistant on space missions such as Voyager 1.
---
1970s
Patricia Bryan (76JD) published The Plea: The True Story of Young Wesley Elkins and His Struggle for Redemption, along with her husband and co-author, Thomas Wolf.
Francis Hamit (72BGS, 76MFA), an author, playwright, and screenwriter, received honorable mentions for his historical film script, The All American, from Hollywood Script Awards and The Finish Line Script Competition.
Miekeleen Turnmire Hart (79BSPh), founder and CEO of MDK Consulting in the Greater Cleveland area, received the UI College of Pharmacy Osterhaus Medal for Lifetime Achievement Award.
Arnold Katz (76MS), a professor of surgery at Stony Brook University in New York, published his first book of poetry, On the Edge: Poems by a Surgeon.
Terry Lowman (70BA), a retired restaurant owner in Ames, Iowa, received dsm Magazine's 2022 LGBTQ Legacy Leader Award, which recognizes LGBTQ community members and allies who have made significant contributions to equality based on gender and sexual orientation in the state of Iowa.
Charles Lynch (79MS, 79MD, 84PhD, 86R) retired in July after more than 40 years with UI Health Care, including as the director of the Iowa Cancer Registry.
Susan Neely (78BA), president and CEO of the American Council of Life Insurers, received the American Society of Association Executives' Individual Honors for Exceptional Leadership Key Award.
Mary Swander (73BA, 76MFA), an author and former Iowa poet laureate, was inducted into the 2022 Iowa Women's Hall of Fame for her work promoting healthy agricultural practices through the arts.
Dianne H.B. Welsh (78BA), Hayes Distinguished Professor of Entrepreneurship and founding director of the entrepreneurship programs at the University of North Carolina Greensboro, released her book, Entrepreneurial Family Business: From Survival to Success, which tells the story of the Boyt Company, one of the earliest small manufacturers in Iowa.
1960s
Clark Blaise (64MFA), a former director of the UI International Writing Program and professor emeritus, published This Time, That Place, a collection of 24 short stories from his writing career.
Dianne Moritz (68BA), a writer based in Southampton, New York, published her new children's book Going on a Ghost Hunt.
Marcia Moore Noe (69MA, 76PhD), professor of English and director of women's studies at the University of Tennessee at Chattanooga, published her new book, Three Midwestern Playwrights: How Floyd Dell, George Cram Cook, and Susan Glaspell Transformed American Theatre.
Faculty & Friends
Barbara Burke, UI deputy athletic director, announced that she will retire in June 2023, after six years at Iowa and more than 40 years in college athletics.
Gregory Carmichael, the Karl Kammermeyer Professor of Chemical and Biochemical Engineering at the UI, has been named a fellow of the American Meteorological Society.
Greg Howes, professor of physics and astronomy, received an award from the American Physical Society for his contributions to plasma physics.
Donald Letendre, dean and professor of the UI College of Pharmacy, received a Robert G. Gibbs Distinguished Pharmacist Award from the Iowa Pharmacy Association.
Lina-Maria Murillo, a UI assistant professor of gender, women, and sexuality studies, received a postdoctoral research fellowship for the 2022-2023 academic year from the Ford Foundation Fellowship Program.
---
Iowa On Screen
Hawkeyes are behind some of the most acclaimed films in theaters today. From romance and horror to drama and documentary, these recent releases demonstrate the talent of the University of Iowa's accomplished alumni writers, directors, and producers:
Bones and All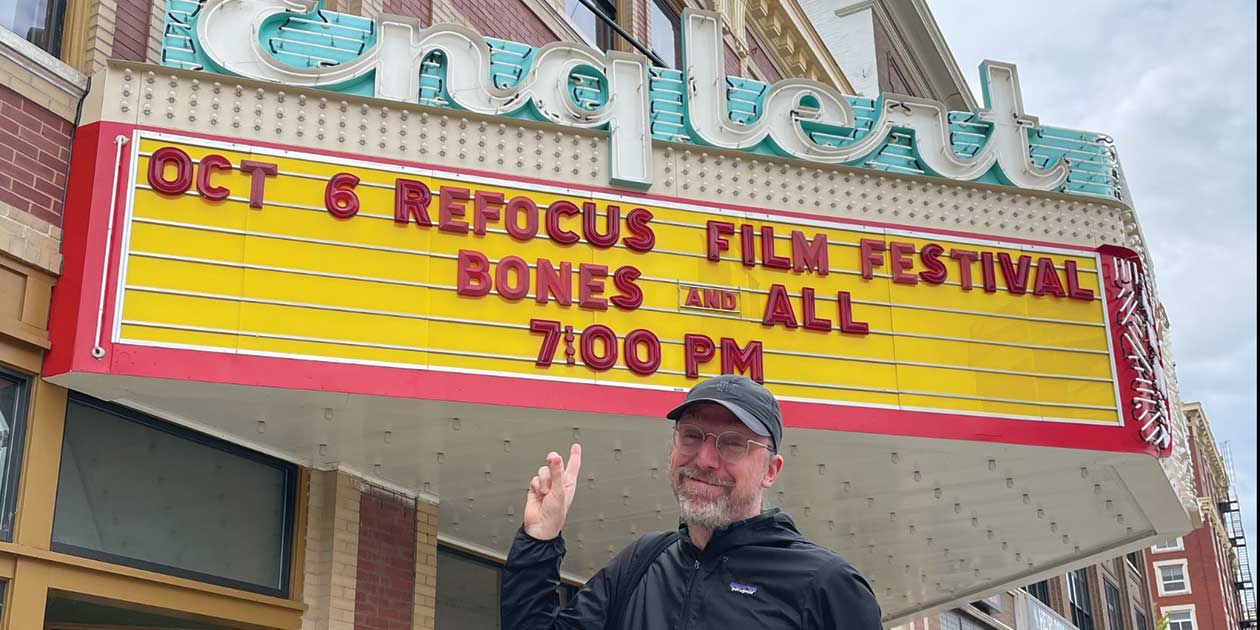 PHOTO COURTESY FILMSCENE
David Kajganich
Written and produced by Iowa Writers' Workshop grad David Kajganich (94MFA), Bones and All tells a story of first love and cannibalism on a cross-country road trip, with Timothée Chalamet in the starring role. Kajganich visited Iowa City's FilmScene during the Refocus Film Festival in October for a special screening of the film, which premiered at the Venice Film Festival.
The Whale
PHOTO: JEREMY CHAN/GETTY IMAGES
Brendan Fraser and Samuel D. Hunter
Iowa Playwrights Workshop grad Samuel D. Hunter (07MFA) adapted his 2012 play for the screen in this drama starring Brendan Fraser and Sadie Sink, in which a teacher suffering from severe obesity struggles to reconnect with his estranged teenage daughter. The Whale also premiered at the Venice Film Festival in September, leaving Fraser in tears during a six-minute standing ovation.
Hockeyland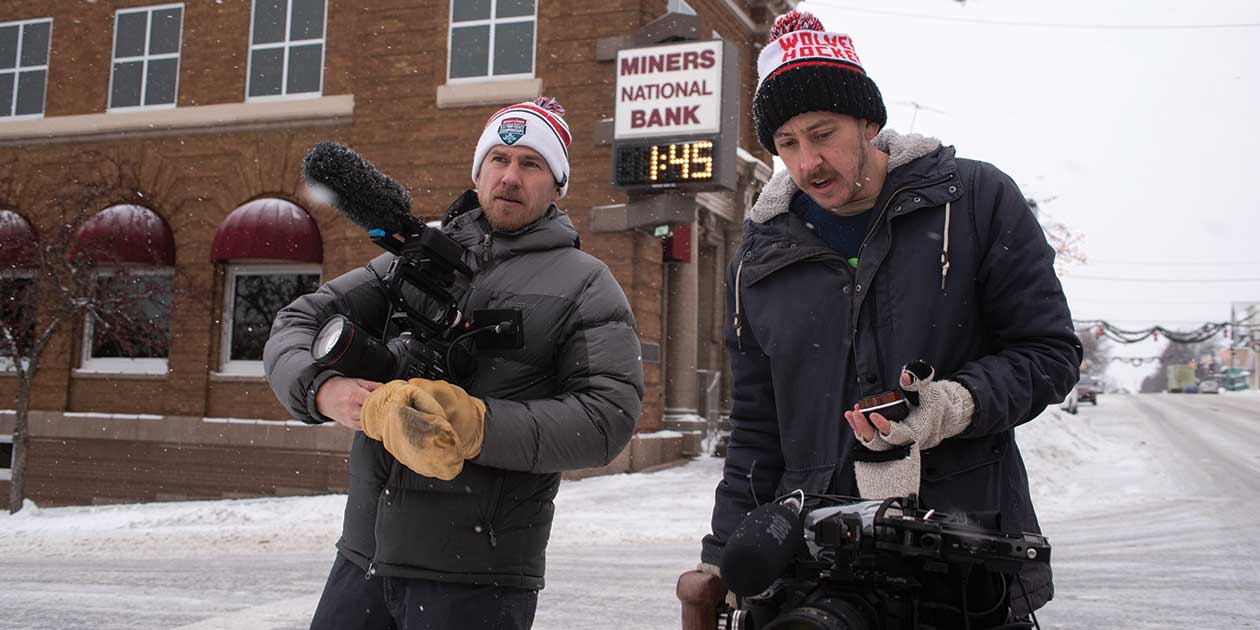 PHOTO: DAVID GREEDY
Tommy Haines and Ben Handler
Writer and director Tommy Haines (05BA) collaborated with director of photography Ben Handler (13BA) on a feature documentary that follows two rival high-school hockey teams in Minnesota's North Country. Recently screened at the DOC NYC and Big Sky film festivals, the coming-of-age story centers around the players' dreams of a state championship—and a future in the NHL.
---