Here's what you had to say about the stories in Iowa Magazine.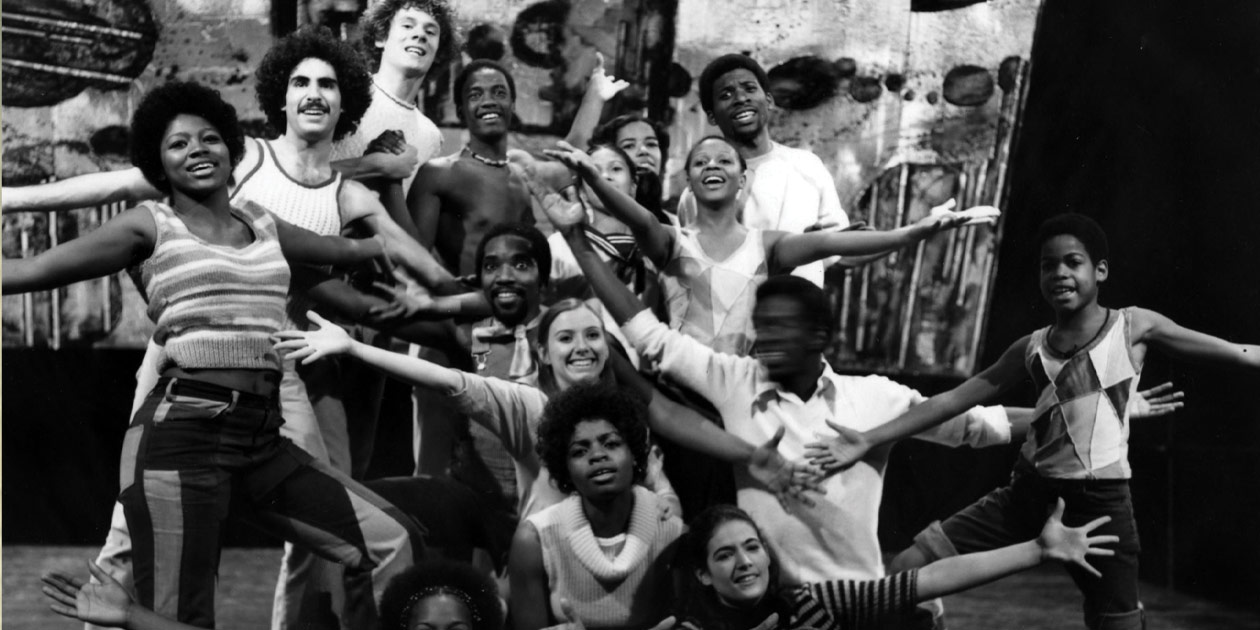 PHOTO: FREDERICK W. KENT COLLECTION OF PHOTOGRAPHS, UI LIBRARIES SPECIAL COLLECTIONS
In November 1975, the UI presented the rock musical The Me Nobody Knows about the lives of New York City youth.
Memories of the Theater
In the last issue of Iowa Magazine, you called for memories of the UI Department of Theatre Arts in honor of its centennial season. In fall 1975, I was a naïve 18-year-old starting my freshman year at Iowa, majoring in theatre arts. Even though I had significant theater experience in high school, the idea of auditioning for plays in college seemed crazy. With no résumé and no piece on audition day at E.C. Mabie Theatre, I filled out an application, walked onto the stage, and did what I was asked. Surprisingly, I received a callback audition and was cast in the production that would change theater for me for the rest of my life.
The Me Nobody Knows was unlike any show I had ever experienced. The ensemble cast, wonderful direction and choreography, timely music, and minimal set design allowed the cast to shine. The performance took me far out of my comfort zone and threw me into a life in theater. I was involved in a few other productions at Iowa, but changed my attention to education, ultimately graduating in 1979 and spending the next 31 years teaching and directing high school theater at four schools in two different states.
Happy birthday, UI Theatre Arts, and thank you for what you gave to me!
Keith Dotson (79BA)
Peninsula, Ohio
During my time at Iowa as an undergraduate student from 1967 to 1971, I was a science major taking as many classes as possible in the geology department, then housed in Calvin Hall. Because the major required many courses in the auxiliary sciences (chemistry, physics, biology, and math), I had slim opportunities to take other courses in the liberal arts tradition.
I did the best I could to fit in a non-science course each year. The standout was Drama in Western Culture taught by Professor Cosmo Catalano. In fact, I took two semesters with Catalano during the academic year 1969-70, and I still have a dozen of the books assigned, covering dramas from the early Greeks up through modern times.
Catalano arrived for class often wearing a French beret, and it was a trademark characteristic that set him apart from any of my other professors. He was erudite and unusually personable for a professor teaching a survey course with so many students, and I was lucky to come under his tutelage for a whole academic year.
The production I best remember was Marat/Sade that must have taken place in the Mabie Theatre, located on the west bank of the Iowa River. Marat/Sade is a play within a play that features an audience witnessing a play put on by the inmates of an insane asylum outside Paris in 1808 during the first regime of Napoleon Bonaparte. The infamous Marquis de Sade is one of the inmates of the asylum, who has written and produced the play.
In the Iowa City performance, a select audience of non-actors was seated on stage and viewed the performance from the other side of prison bars. I was one of the lucky attendees to be seated on stage. Never have I been so close to the action of a stage production, and it was an enormous thrill.
I can't quite reconstruct how I ended up on stage for the Marat/Sade performance, because it is something that I would not normally volunteer to do. One way or another, Catalano must have been an influence.
Markes E. Johnson (71BA)
Williamstown, Massachusetts
I remember vividly a production about 50 years ago. Cosmo Catalano directed it, and Henry Strozier (70BA)—who has gone on to a successful career playing character roles in many movies, TV shows, and ads, including as the older of the two cranberry farmers in a well-known commercial—was Shylock.
Merchant of Venice was set in the confines of a Nazi concentration camp, with guards forcing inmates to perform for us. As I recall, we in the audience were visitors representing the Red Cross, and the point of the play was to demonstrate the humane treatment of the inmates.
Shylock was portrayed as a clownish buffoon, up until his "Do I not bleed?" speech, during which he tore off the fake nose he had been forced to wear and became impassioned and aggressive; his exit was to be dragged offstage and shot. It made an indelible impression on me, and knowing what impact powerful, high-quality theater can have helped inspire me to become a theater major.
Mary L. Hubbard (76BA)
South Bend, Indiana
In fall 1960, I was a senior history and education major, but I decided to try out for August Strindberg's A Dream Play. I hadn't even read the play, so I was somewhat surprised when I was cast as the Dean of Theology.
The play was directed by Philip A. Benson, and the role of Indra's daughter was played by Marcia Thayer (60MA). I believe the lighting was designed by David Thayer (55MA, 60PhD). Playing a role in what proved to be a memorable play was an incredible experience. All these years later I still have wonderful memories.
Roger A. Collisson (61BA)
Kirkland, Washington
---
Unsung Hero
I noticed in the fall 2020 magazine that a William Cervenak (62BA), of Oakton, Virginia, died on May 9, 2020. You will find this is Bill "Tree" Cervenak, who was a defensive end at Iowa at about 6-foot-5 and 250 pounds. His claim to fame was that every day as captain of the "Mau Maus," he and his fellow teammates scrimmaged against the Iowa varsity. They were the unsung heroes of the Iowa football program.
Sherwood Lee Wallace (62BA)
Chicago
---
Friendship With the Author
I feel compelled to thank you for your story, "If You Write It," about author W.P. Kinsella (78MFA).
I believe I met Kinsella in 2006 after I started collecting his books. It didn't take long before my wife and I considered him a friend, and he would sign any books I took to him. Over the years that followed, we saw quite a bit of Kinsella, including at his 80th birthday and at Vancouver Library, where he received the George Woodcock Lifetime Achievement Award in 2009.
I treasured his friendship, and I guess he must have liked me too, as he had his daughter Erin give me a bookshelf and a stack of signed magazines, newspaper articles, and books. That was four days before he left us.
One year for my birthday in April, my daughter took me to the Field of Dreams movie site in Iowa, and just before leaving we had the pleasure of meeting farm owner Don Lansing. It was a very memorable trip.
After finding a copy of Willie Steele's earlier book on Kinsella's fiction, I loaned it to Kinsella. I'm proud to say I was instrumental in bringing Kinsella and his biographer together, and I now consider Steele a good friend. Knowing I am always interested in reading anything new about Kinsella, Steele sent me a copy of your lovely magazine, which I enjoyed— especially the story on Kinsella. I will happily add the magazine to my collection.
Al Trabant
Chilliwack, British Columbia, Canada
---
Adventures in Reading
Thank you for stirring memories of the Quest for Human Destiny course and religious studies professor Jay Holstein with your summer 2020 issue ["Q&A with Influential Professor Jay Holstein"]. I credit his class with helping me become a faster and better reader, because there were so many books to consume in one semester. It took me to places in the world and in my mind and soul I had never been. It stands alone as the academic highlight of my time at Iowa. I still have all my books from Quest and was excited for the virtual event to celebrate his 50 years at Iowa.
Todd Scholl (89BA)
Auburn, Alabama
---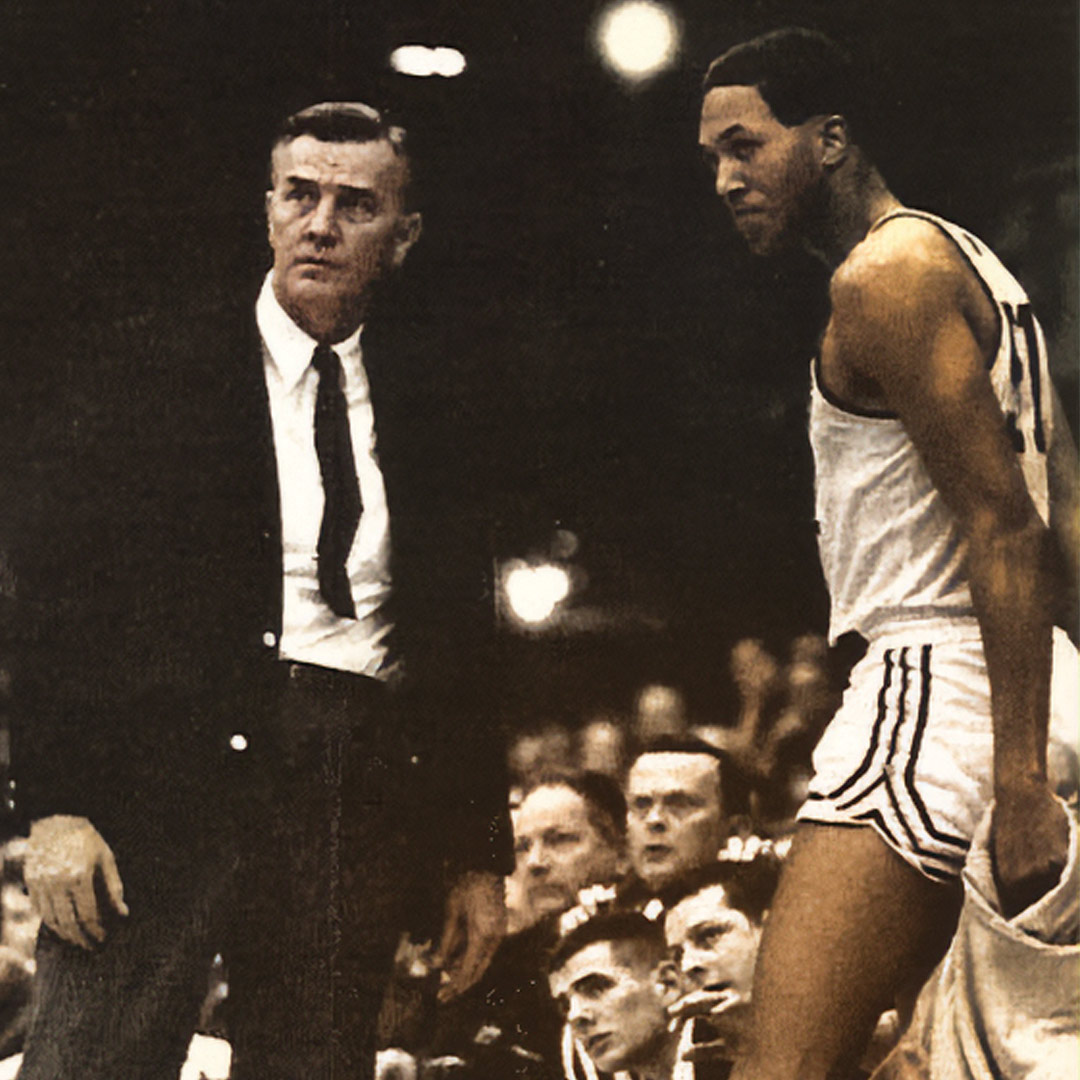 PHOTO: FREDERICK W. KENT COLLECTION OF PHOTOGRAPHS, UI LIBRARIES SPECIAL COLLECTIONS
Coach Ralph Miller turns loose hustling Huston Breedlove, the people's choice.
Class With Coach
I took two basketball coaching theory courses taught by Ralph Miller, profiled in the spring 2020 issue ["Peace, Love, and Basketball"]. They were probably two of the most interesting classes I ever had.
The classroom was on the top floor of the Field House. Miller chain-smoked throughout the entire hour-and-a-half class. He would light up another cigarette with what was left from the one he had been smoking and then put his cigarette butt into a coffee can.
One big reason Miller took the Iowa coaching job in 1964 was that Athletic Director Forest Evashevski promised him the athletic department would build a new basketball arena within five years of Miller's hiring. Evy never kept his word. Miller believed Evy had lied to him just to get him to take the Iowa job, and that is the reason why Miller quit and took the job at Oregon State University.
Cap Hermann
Denver, Colorado