The University of Iowa religious studies professor who inspired generations of students marks 50 years of teaching.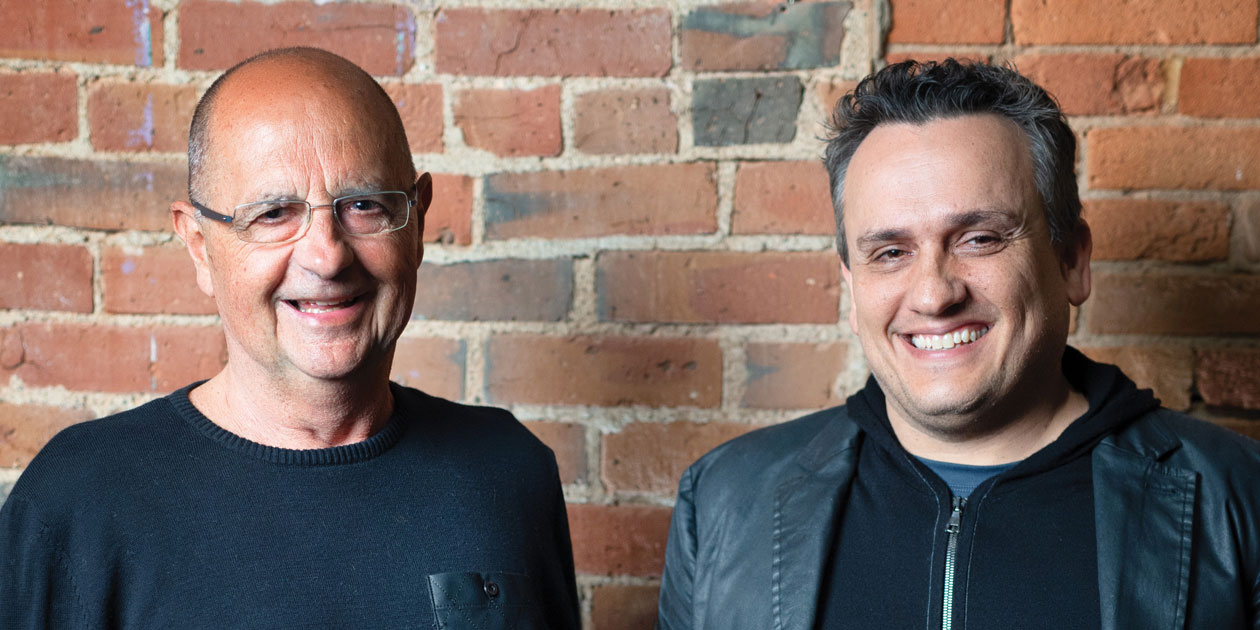 PHOTO: JUSTIN TORNER/UI OFFICE OF STRATEGIC COMMUNICATION
In April 2018, UI professor Jay Holstein reunited with former student and Avengers: Infinity War co-director Joe Russo (92BA) for a conversation about filmmaking on the UI campus.
One month before graduating with a PhD degree from Hebrew Union College in Cincinnati, Jay Holstein had a plan for what came next—a teaching position at the University of Florida. But, fate— specifically, one of Holstein's professors—intervened and guided him toward another job.
"At that point, my only teaching had been limited to very small classes composed of rabbinical students," says Holstein. "I had never given a single lecture."
Holstein interviewed and received a job offer from George Forell, chairman of the UI Department of Religious Studies and one of the university's more popular instructors at the time. "I learned a lot from Forell by watching him teach," says Holstein. "And over the years, I developed a completely different style of my own."
A half-century later, Holstein—who holds the J.J. Mallon Teaching Chair in Judaic Studies within the UI Department of Religious Studies—has become one of Iowa's most sought-after professors. To date, he has taught more than 60,000 students.
In April 2018, University of Iowa professor Jay Holstein reunited with former student and Avengers: Infinity War co-director Joe Russo (92BA) for a conversation about filmmaking.
"I can't believe it's been 50 years, because it's all gone by in a blink of an eye," says Holstein. "I have some firm views about how to teach the Jewish experience. There is not a natural constituency at the university since there are so few Jewish students, and that's why I've never strayed far from what the human situation is rooted in: food, sex, and death."
Following open-heart surgery in 2011, Holstein has primarily focused on online teaching. This past semester, he taught Quest for Human Destiny and The Bible and the Holocaust, and he hopes to be back on campus again this fall.
"I'd like to get back into the classroom, but we will see what happens," says Holstein, who is 82. "I might delay my retirement, or I might accelerate it."
When it comes to the Jewish tradition, what do you love to teach?
Jewish studies has been taught at the University of Iowa since 1933—the very year that Adolf Hitler came to power in Germany. Throughout the years, a wide variety of professors—with a variety of interests—have taught Jewish studies. The Jewish tradition is vast, and if limited to the Hebrew Bible— the Old Testament—one confronts a corpus of literature that is divided into three main sections and 39 books. I've gravitated toward my favorite parts—the opening chapters of Genesis, the Abraham story, the story of Joseph and his brothers, the incredible story of David, as well as the books of Ecclesiastes, Job, and Ruth. The biblical writers were masters of the art of communication and frequently communicate on different levels, so that the more a reader brings to a biblical text, the more the reader is able to take from that text.
What's a classroom moment that stands out from your career?
Sept. 11, 2001, was the high and low point of my life as a teacher here. Two hours before my class in Macbride Auditorium, my wife and I got a phone call from our son, who was in the U.S. Army's 82nd Airborne. After the Sept. 11 attacks, he was allowed one phone call before they locked down. He was going to be deployed, but we knew nothing more. He would end up spending significant time in Afghanistan and Iraq.
Following the call, I walked into Macbride. I looked at my students, and they looked at me. We knew the world wasn't going to be the same again, but we weren't sure how. I thought, 'If you don't talk about this, what's the point?'
I think I ended up giving the best lecture I've ever given here on how Jews came to the United States, what this country offered them, and what Jews brought to the United States. I talked about my grandfather who came here from Latvia. He wanted to go to what was then Palestine and got on the wrong ship and wound up in Philadelphia—didn't speak the language, didn't know a soul, and didn't have a penny— and he thrived here and loved this country.
What are some books or movies you believe everyone should read or watch?
It goes without saying that the Hebrew Bible would be at the top of the list, and anything by Ernest Hemingway pays great dividends. A former student and current magician, Nate Staniforth (05BA), has written an astounding book, This is Real Magic. And in conversations with former student Joe Russo (92BA), who is best known for directing the Avengers movies, we agreed that Sergio Leone is the best film director who ever lived
---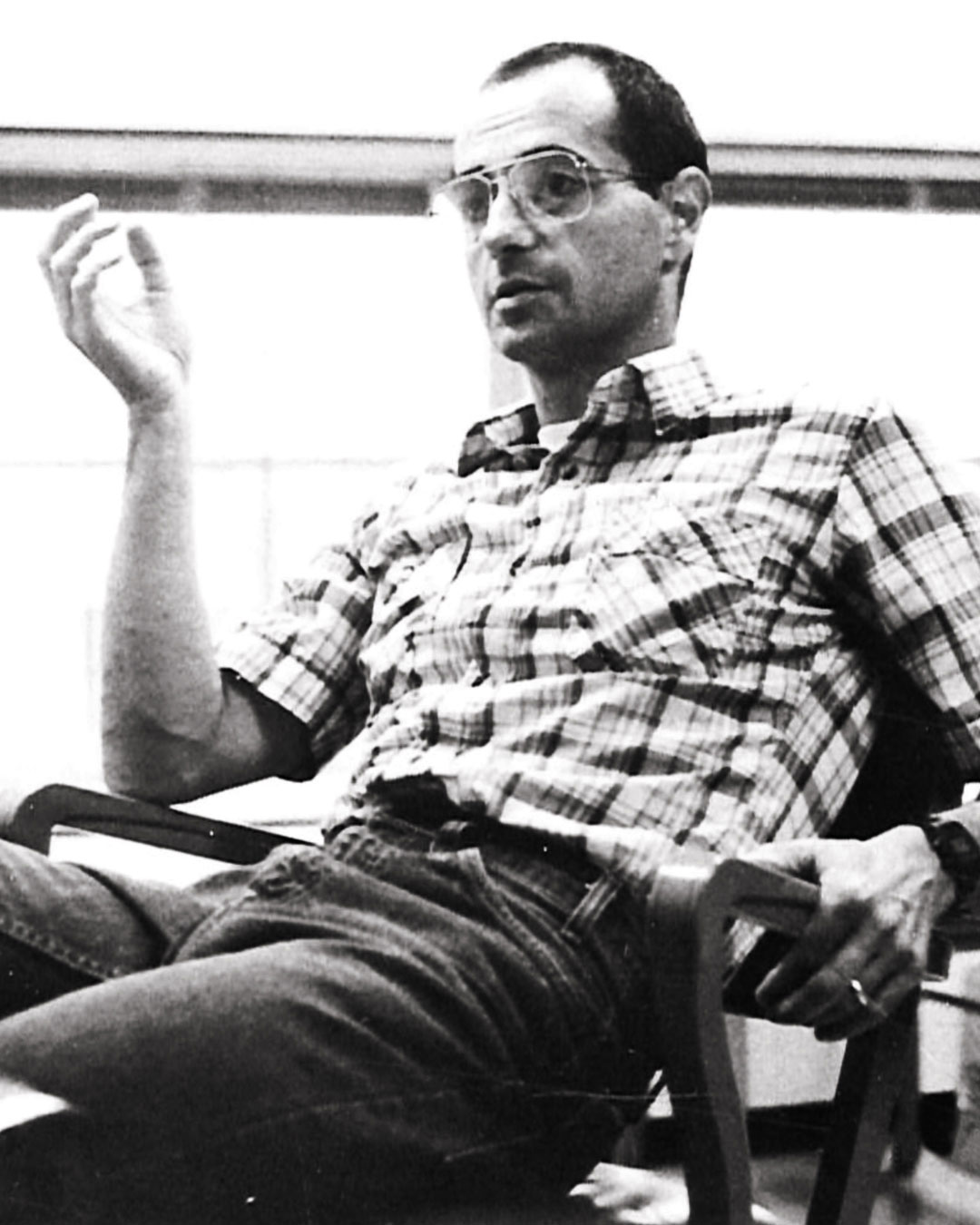 PHOTO: SCHMELZER/1987 HAWKEYE YEARBOOK
Jay Holstein, as he appears in the 1987 Hawkeye yearbook
Stories From the Classroom
You cannot fully experience a University of Iowa education without taking a class with Professor Jay Holstein. That's what my older brother told me. He was right. He graduated from Iowa over a decade ago. I graduated almost a decade ago. We still share Professor Holstein stories. The funny, shocking, and memorable things he incorporated into his lectures kept the attention of every student present. I don't think there ever was, is, or will be a more captivating professor on the University of Iowa campus.
Kristie Chipera (13BA)
Dubuque, Iowa
Quest for Human Destiny was equal parts thought-provoking insights and humor. Most days, I loathed to see the class end. His animated style of teaching was very engaging and made it one of my most memorable classes. Congratulations, Professor Holstein.
Jodi Sheridan (93BS)
Bryan, Texas
Quest for Human Destiny was the best class I ever took. I took his class in 1987, and I still have my notes. I have referred to them numerous times over the years because the lessons learned continue to apply as life goes on. I feel I learned more from his class than any other class I ever took.
Ann Bradley Tripp (88BS)
Wauconda, Illinois
---
In this 1997 archival video from the Iowa City Public Library, One of a Kind host Ellen Buchanan (77SE) interviews one of the University of Iowa's most celebrated professors.