Video: JOHN EMIGH
"Kinsella mythologized Iowa in a way that, if you travel abroad, that and Captain Kirk's birthplace seem to be the only kinds of literary facts people know about Iowa," says UI English professor Loren Glass. "He adopted not only Iowa, but Iowa's indigenous populations, as a way to tell stories about a region and state that have not commonly been the focus of literature."
In his City of Literature course, Glass teaches Kinsella's writing alongside other well-known authors who studied or taught in Iowa City, including Kurt Vonnegut and Lan Samantha Chang (93MFA), current director of the Iowa Writers' Workshop. "It's Kinsella's outlandishness, his playfulness, and his willingness to completely exceed the boundaries of time and space and readerly expectations that make his writing unique," says Glass.
While baseball was a favorite subject, Kinsella never considered himself a fanatic of the game. In a 1988 interview with The Daily Iowan, he described his books as "love stories that are peripherally about baseball." "I don't write play-by-play; I write about the emotion of people who are often only peripherally involved with the game," he told the student paper.
Even so, Kinsella is today considered one of his era's finest baseball writers and Shoeless Joe one of literature's great sports books. It was Hollywood, however, that would bring his magical vision of Americana to audiences worldwide and etch his name permanently on the game's cultural scorecard.
---
I don't have to tell you that the one constant through all the years has been baseball. America has been erased like a blackboard, only to be rebuilt and then erased again. But baseball has marked time while America rolled by like a procession o f steamrollers. —The character J.D. Salinger in Shoeless Joe
Filming for the big-screen adaptation of Shoeless Joe began in May 1988—a decade after Kinsella wrote his original short story—on a picturesque family farm owned by Don Lansing outside Dyersville. After years of wrangling between publishers and studios over the film rights, a screenplay penned by Phil Alden Robinson ultimately landed with Universal Pictures.
Robinson, a 35-year-old filmmaker who had just one previous directing credit, consulted Kinsella regularly during the writing process. While cuts and changes had to be made to the story, Kinsella felt Robinson's finished screenplay captured the essence of his novel. One of the biggest alterations was to the Salinger character, who because of legal concerns was renamed Terence Mann, a cloistered counterculture writer to be played by James Earl Jones. Kevin Costner (Ray Kinsella), Amy Madigan (Annie Kinsella), Ray Liotta (Joe Jackson), and Burt Lancaster (Dr. Archibald "Moonlight" Graham) also headlined the cast.
Kinsella returned to Iowa for the early days of production. In the movie's pivotal PTA scene, filmed inside a sweltering school gymnasium in the nearby town of Farley, Kinsella and his wife were in the audience of extras, though they never appeared in the film. The often-curmudgeonly writer found the moviemaking process tedious and after just a few days returned home to Canada. "The endless setups, the persnickety lighting, the repetitive retakes are not something I can tolerate," Kinsella wrote in a 2014 essay for ESPN.
Months later, after filming had wrapped, Robinson told Kinsella that they had at last settled upon a title: Field of Dreams. The name rang true with the author, who at one point had titled his novel Dreamfield, only to be overruled by his editor.
The movie opened on April 21, 1989, to rave reviews. Film critic Roger Ebert gave it four stars. "The director, Phil Alden Robinson, and the writer, W. P. Kinsella, are dealing with stuff that's close to the heart (it can't be a coincidence that the author and the hero have the same last name)," said Ebert in his review. "They love baseball, and they think it stands for an earlier, simpler time when professional sports were still games and not industries."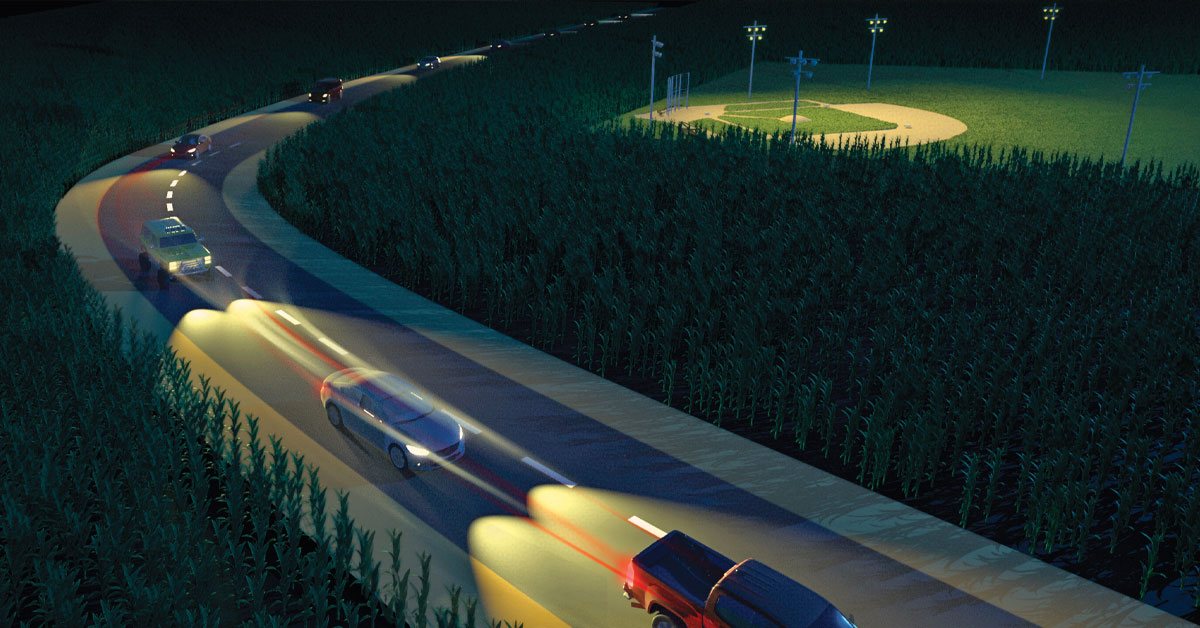 ILLUSTRATION: Tavis Coburn
Unlike many authors whose books become unrecognizable on the big screen, Kinsella was thrilled with Robinson's interpretation. Kinsella, who had lost his father at a young age, was moved by the poignant scene when Ray meets his dad for a game of catch. "When he read the script, he started crying," Steele says. "And when he saw the premiere, he was sitting in the back of the theater and said, 'I can't believe it's my own words making me tear up.' I feel like if it makes the writer himself tear up, it's OK for us to cry too."
The book and film made Kinsella a sought-after name on the book-reading circuit, and over the years he returned to Iowa City regularly for lectures and to teach at the UI's Iowa Summer Writing Festival. Kinsella enjoyed taking his summer students on day trips to the movie site, where Lansing maintained the original field for the thousands of visitors who flocked to Dyersville from around the world each year. (The Lansing family sold the site in 2012 to an investment group called Go the Distance Baseball.)
Kinsella continued to write prolifically in the decade after the movie was released, but in 1997, his career was derailed by a freak accident. He and his fourth wife, Barbara Turner, were on a walk one night when he was struck by a car backing out of a driveway. Kinsella suffered acute head trauma, which affected his concentration and productivity as a writer.
In his later years, Kinsella took up competitive Scrabble, playing in tournaments around Canada and the U.S. But he also battled chronic kidney disease. While he continued to publish sporadically and travel for public readings, Kinsella never matched the success of Shoeless Joe and Field of Dreams.
"It was a novel and movie that was very special to him," Steele says. "He did tell me once that he wished he had written it later in his career. It was the first novel he'd ever written, and everything was compared to that. It's sort of like hitting a grand slam in your first at bat in the major leagues. How do you top that?"
In 2016, with his health and quality of life deteriorating rapidly, Kinsella died in Hope, British Columbia, using Canada's newly enacted doctor-assisted death legislation. He was 81.
Kinsella isn't around to see Major League Baseball's historic game on the field that first took shape in his imagination 40 years ago. Unlike the sentimental characters in Shoeless Joe, Bill was a pragmatist who likely would be more excited about the boost to book sales than any romanticized celebration of the game. But when the lights flicker on over the Iowa corn once more, and the ballplayers bound onto the field at dusk, he'd forgive us for imagining him sitting up in the stands next to his dad, talking about the Black Sox, and watching over it all with a smile.
After all, it's just the kind of scene W.P. Kinsella would have written.
---
FOR IOWANS, FIELD OF DREAMS IS MORE THAN JUST A MOVIE
In the final scene of Field of Dreams, as the film's score swells, the camera pans up from the diamond where Ray Kinsella and his dad are having a long overdue game of catch. The sweeping shot reveals a miles-long line of cars streaming to the farm at dusk.
Nic Ungs, the University of Iowa's director of baseball operations, was somewhere in that twinkling parade of headlights.
Ungs, a Dyersville, Iowa, native, was 9 when a local radio station put out the call for extras and their cars during filming in summer 1988. The day the memorable scene was filmed, Ungs' parents packed their baseball-loving son and his younger brother into their vehicle to join hundreds of other locals in the car line.
It was the start of Ungs' lifelong connection with the Field of Dreams—the classic film and the landmark movie site just outside of Dyersville that still attracts tourists from around the world. It's been more than 30 year since Ungs first watched the movie in Dyersville's one-screen theater, but the goosebump-inducing magic never seems to fade.
"To have a movie filmed in your hometown of 3,500 at the time, it was a big deal," recalls Ungs. "Everyone was eager to be a part of it."
This summer, Ungs plans to be one of the many Dyersville natives watching with pride when their hometown becomes the center of the real-life baseball world. Barring changes to Major League Baseball's calendar because of the COVID-19 pandemic, the league is set to host its first-ever game in Iowa at the movie site in August.
In 1990, a year after the film was released, Ungs was a batboy for a celebrity game at the Field of Dreams, where he was thrilled to meet baseball greats like Lou Brock and Reggie Jackson. After graduating from college in 2001 and being selected in the 12th round of the Major League Baseball draft, Ungs spent a short period of time traveling around the country for clinics and exhibitions as a member of the Field of Dreams' team of ghost players. Ungs also donned the throwback wool White Sox uniform in 2010 with the ghost team to re-enact scenes for an MLB Network documentary titled Triumph and Tragedy: The 1919 Chicago White Sox.
Ungs was a star baseball player at Dyersville Beckman and the University of Northern Iowa before enjoying an 11-year pitching career in the minor leagues and overseas. A former member of the U.S. Olympic Team, he returned to Iowa three years ago to run the day-to-day operations of the Hawkeye baseball team.
"I moved away from Iowa, but it always kept me close because guys would say, 'Oh yeah, I know where that is because of Field of Dreams,'" Ungs says. "It was great to have that tie back to where you're from. Even though you see it a thousand times, it always felt very special. I'm glad we still have the location."
Ungs isn't the only Hawkeye with a deep affection for the movie. Iowa baseball coach Rick Heller was coaching at Upper Iowa University in Fayette, not far from Dyersville, when the movie was released in 1989. Heller's teams would stop their bus at the Field of Dreams each year to throw the ball around and soak in the idyllic scene.
"I have fond memories of what the Field of Dreams represents for Iowa," says Heller, who grew up in Eldon in southeast Iowa. "It's about the dream, the love of the game, and father-son relationships."
Heller says the nostalgic film reflects Iowa's rich baseball heritage, particularly in many small towns where the game is a way of life. A number of the game's stars of yesteryear grew up playing on rural ballfields like the diamond idealized in the movie. Hall of Famers Bob Feller of Van Meter and Red Faber of Cascade, and former UI stars Mike Boddicker of Norway and Cal Eldred of Urbana, are just a few of Iowa's many homegrown baseball legends.
"The game is something they grew up with and is passed down from their grandparents and parents," Heller says. "It's not as big as it used to be, I'm sad to say, but it's still there. ... It's a part of their culture and part of life."
Iowa softball coach Renee Gillispie, a Danville, Iowa, native, still screens Field of Dreams for her teams each year on bus trips. "To hear, 'Is this heaven? No, it's Iowa,' was the coolest thing for an Iowa kid," says Gillispie, who was just beginning her coaching career when the movie was released. "It seemed like the first time Iowa was ever mentioned in a movie, besides Radar from M*A*S*H being from Ottumwa. It was a big deal to see Iowa on the big screen."
Gillispie says the Hawkeyes have had ongoing talks with Upper Iowa University about playing a fall softball game at the Field of Dreams. While the two programs couldn't get the contract finalized in time last year, she's hopeful that will come together this fall.
For Ungs, he's looking forward to Major League Baseball's showcase of the place that means so much to him. "It's been a pretty big part of my life, and it keeps Iowa on the map. We're not just the state with the caucuses."