The University of Iowa prepares students and alumni for life-changing international experiences.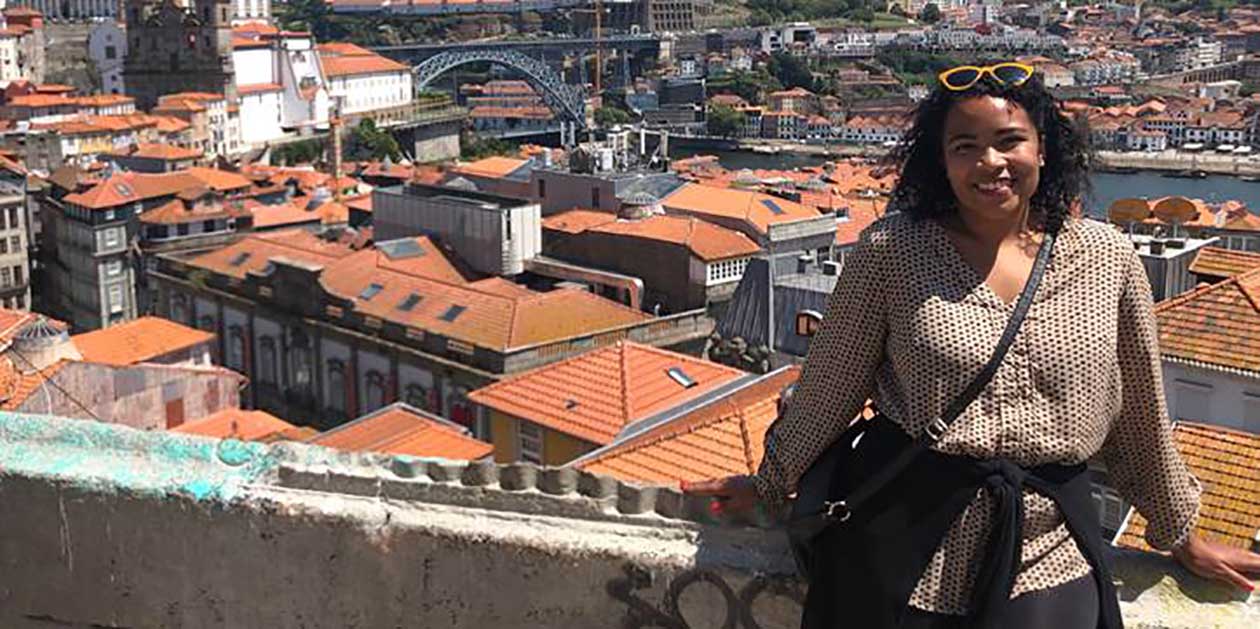 PHOTO COURTESY RITA GUZMÁN
While at Iowa, Rita Guzmán enriched her studies by traveling abroad to London, England; Dublin, Ireland; and Porto, Portugal (pictured).
Rita Guzmán (18BBA) traveled from Iowa to Porto, Portugal, in fall 2018 to teach English for an academic year. She returned from the Fulbright U.S. Student Program with valuable skills that helped launch her career in international education.
"The Fulbright taught me how to advocate for myself and to be more resourceful," says Guzmán, who also learned confidence and adaptability through the Fulbright program, the flagship international educational exchange sponsored by the U.S. State Department.
Guzmán now uses the lessons learned during her nine months in Portugal as a college relations manager and program adviser for the internship division of IES Abroad, a study abroad provider based in Chicago. In her current role, she helps universities—including the University of Iowa—provide international opportunities like she experienced during her time at Iowa.
Guzmán also volunteers her time to help Hawkeyes interested in the Fulbright program. For the fifth consecutive year, Iowa has earned the honor of being named alongside Ivy League schools as a top producer of Fulbright students nationally. In the past five years, 84 UI applicants have received awards to 33 countries, supported by Iowa faculty mentors with extensive international expertise in a wide variety of disciplines.
Karen Wachsmuth, associate director of international fellowships at International Programs and the UI's Fulbright U.S. Student Program adviser and Fulbright Scholar Program liaison, says that while she assists many students and recent graduates with the application process, the Fulbright program is also open to alumni of all ages. "It's a unique opportunity to represent yourself, your state, and university in an international arena," she says. "An international experience can open doors for the rest of your life."
---
For more information or to apply, visit international.uiowa.edu/students/awards/fulbright.