Here's what you had to say about the stories in Iowa Magazine.
Caption Contest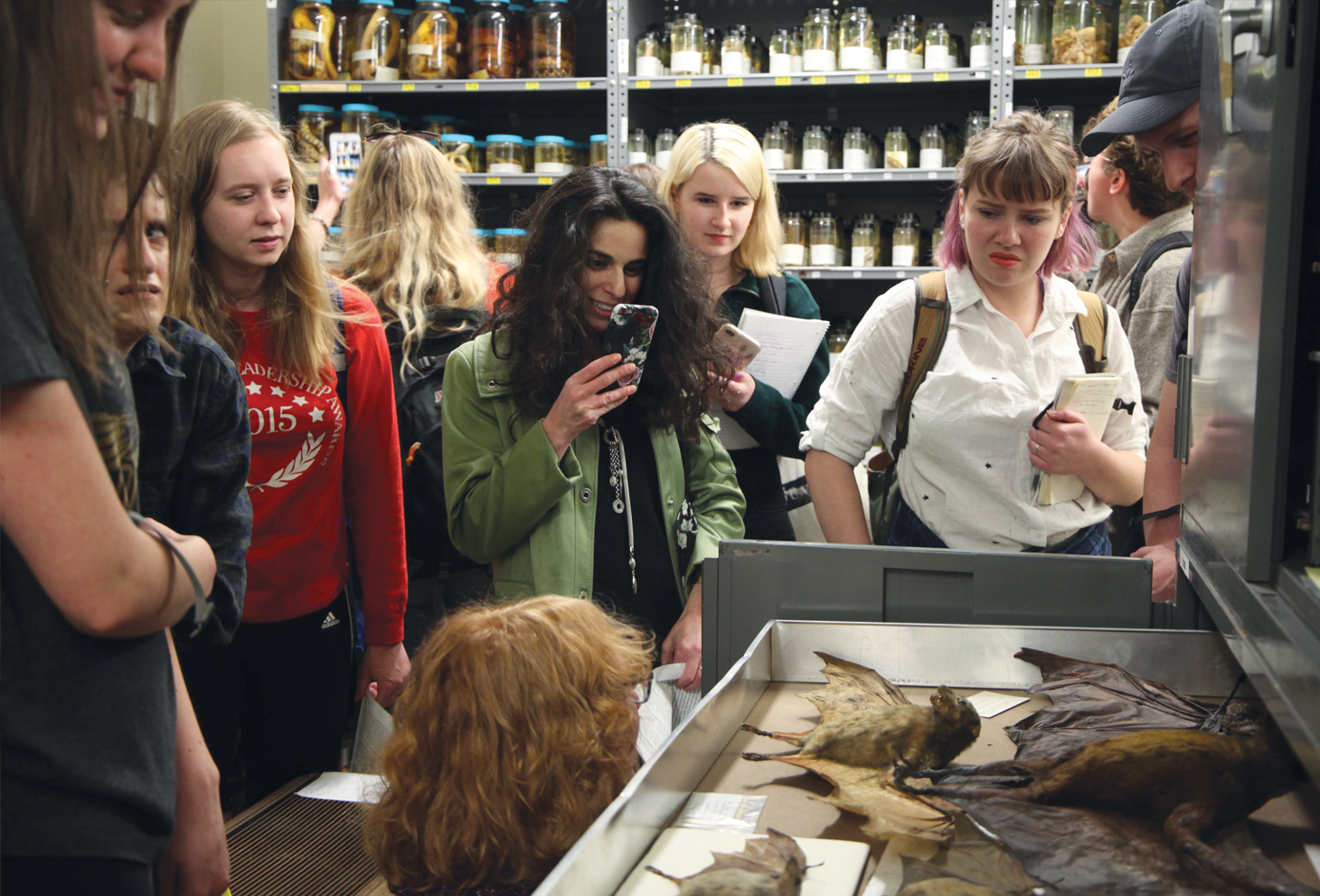 PHOTO: JESSICA SMITH/UI PENTACREST MUSEUMS
"Is it too late to switch my major to accounting?"
Congratulations to our caption contest winner, Polly Olson Porter (80MSW) of Iowa City, who won a prize pack from the Pentacrest Museums.
Cover to Cover
I spent around two hours reading the fall 2019 issue of Iowa Magazine. My respect for the University of Iowa just grows and grows! From America Needs Farmers ["Home Field Advantage"] to Nancy Drew ["The Real Nancy Drew"] to Game of Thrones ["King of the Screen"] to Duke Slater ["Duke Slater: A Hawkeye for the Ages"], not to mention the medical services for our LGBT community ["Care Across the Spectrum"], I am simply amazed.
Lee Riter (71MA, 84PhD)
Sheboygan Falls, Wisconsin
A History of Joe's Place
As I read the UI Homecoming guide in the fall 2019 magazine, I saw on p. 9 where alumnus Roy M. Pitkin (56MA, 59MD, 63R) said that "some things stay the same" when you visit Iowa City. One was Joe's Place, established in 1934.
My grandfather, Joseph Vitosh, opened Joe's Place (named after him) in the heart of the business district at 130 S. Dubuque St., only a few days after 3.2% beer was legalized. He was called the jovial, smiling proprietor of Joe's Place by the Iowa City Democrat paper.
He had a beautiful bar, and he was the only one who served drinks. His two daughters (my aunts) served soup and sandwiches in the business. I was only about 5 years old at that time. In those days, people did not go out for dinner like they do today.
When he sold the business, the new owner kept the name Joe's Place. It has been sold a few times over the years and moved. I know Joe's Place is a lot different now than when my grandfather owned it, but the name stayed the same.
Dolores Neuzil Denner (53BCS)
West Des Moines
Duke the Recruiter
I had the honor of being recruited to the UI in 1952 by Duke Slater (28LLB), who was profiled in your fall 2019 magazine. I was a graduating student-athlete from Gary Roosevelt High School in Gary, Indiana, who set the state's broad-jump record, opening me up to many college possibilities.
I had originally intended to go to the University of Michigan, but one day found Slater in my living room talking to my parents. He suggested that I visit the UI. On that visit, I met the track coach, Francis X. Cretzmeyer (36BA, 38MA), who had me stay with his family instead of at a hotel. We immediately bonded, and the UI became my new home. I went on to win the 1954 Big Ten indoor and outdoor broad-jump championships, placing fourth in nationals.
The article mentioned that, in 1955, the Iowa football team had five black players in the starting lineup—something unheard of during those turbulent times. I was fortunate to be one of those players, along with All-American offensive guard Calvin Jones; Eddie Vincent, who earned Big Ten honors and won the Big Ten rushing title; All-American right end Frank Gilliam (57BA); and lineman John Hall (56BA).
As a running back at Iowa, I became the leading scorer in the Big Ten and set what was then the all-time school scoring record. Even now at age 85, I consider my time with teammates among my most treasured memories.
Earl H. Smith Jr. (57BA)
Gary, Indiana
The Legacy of Nancy Drew
I join my voice to the many women who say that their attitudes, spirit of adventure, and derringdo came from Nancy Drew, who was featured in your fall 2019 issue. I read and re-read her books. In my obsession with the series, I learned to speed read, identify patterns, and understand plot arcs and character development. I read the blue/green books published in the 1930-1940s, which contained the fiercely independent sleuth.
I went on to do an Edmund Hillary commemorative climb on Mt. Everest, and when a blizzard hit our struggling band, I knew immediately what to do because I'd been taught by Nancy Drew. Today I drive a convertible because Nancy drove a roadster.
These are just little things that reflect Nancy's influence on me. Thank you so much for bringing Mildred Wirt Benson (25BA, 27MA) to her rightful place on the stage of mystery writers.
Celinda Brouhard Pearson (66BA)
Altadena, California
---
Just finished reading your Nancy Drew article and wanted to compliment you. It was a terrific piece, both in the reporting and the writing. I was director of the School of Journalism and Mass Communication at the time of this campus event and have firsthand knowledge of many of the details you reported. Most of all, I appreciated your crediting one of our secretaries—Susan Ayer Redfern—for rediscovering the author behind many of the Nancy Drew stories. Susan's own story is worthy of a Nancy Drew sequel. Perhaps "The Secret of the Old File?"
Kenneth Starck
Iowa City
---
I'm an independent scholar of more than 30 years who specializes in juvenile series books. Your Nancy Drew article has a very long list of misrepresentations that are not backed up by evidence of the events. There are many old legends repeated here that have been debunked:
Mildred Wirt Benson was well known to the series book community many years before the 1993 conference.
Before the series was 1-year-old, Benson told a columnist at the Cleveland Plain Dealer about her work on Nancy Drew. So much for "keeping the secret."
Relative to income of the times, the pay from the Syndicate for spending four weeks of sparetime work to get eight to nine weeks of pay was fair.
Most of Benson's books were sold outright to publishers—again, for no royalties. When she and other authors did have a royalty contract, they made a pittance from them—far less than the outright payments from a publisher or the Syndicate.
By the time that Harriet Stratemeyer Adams was granting interviews in the 1960s, she was writing the stories and supervising the revisions of the old ones. As owner of the Syndicate, who bought the stories as "works for hire," she was the "author" for the purposes of copyright, and her extensive work in providing characters, outlines, and editing also cannot be discounted so neatly as it is done in this piece.
This article seems more interested in puffing up the institution than in presenting factual historical information. Evidence of the period should hold more weight than popular legends and stories, no matter how satisfying they may seem to be.
James D. Keeline
San Diego
---
Editor's Note: We reached out to Carolyn Stewart Dyer, UI School of Journalism and Mass Communication professor emeritus and co-editor of Rediscovering Nancy Drew, to respond to Keeline's letter. Here's what she wrote:
I think Iowa Magazine was careful and accurate in its reporting that Benson's identity was more or less secret, that most folks did not know until the conference. It had not been widely reported in mainstream national media until then. The response to the conference, and the correspondence I have had over the years, confirmed that most people were unaware even that Carolyn Keene was a pseudonym. I read every article that mentioned Nancy Drew— perhaps 400—collected in the LexisNexis news database between about 1972 and 1992. There was no mention of Benson.
To take Keeline's points specifically:
Benson did reveal her identity in Cleveland soon after she began writing the books, but there was no widespread sharing of that information. She told me she contacted the film producers in the late 1930s, and someone from the Stratemeyer Syndicate or a publisher threatened to sue her if she sought credit for writing Nancy Drew. The same thing happened, she said, when she tried to get the Library of Congress to identify her in its records. That scared her, and she was more cautious thereafter and nervous about any widespread publicity. She was very nervous about participating in our conference. I had to assure her several times that the Simon & Schuster editor on the program knew she was participating and had not objected.
Benson corresponded with Frank Paluka in the University Archives and helped him collate a list of her books. She was cautious in her correspondence with him before he published the article about her in Books at Iowa in 1967. I would guess that she might have thought the little publication wasn't likely to be read far and wide and compromise her agreement to be anonymous. In the 1960s, a young fan named Geoffrey Lapin found a penciled identification of Benson on a library catalog card in the Baltimore Public Library. Lapin is responsible for sharing her identity with serious collectors of Nancy Drew books. There was a relatively small group of serious collectors by the time of the conference, and they knew about Benson.
Keeline's comments about the relative value of her pay is irrelevant. Considering how popular the books have been, did she share in the economic benefits? Did she get royalties? Benson regarded the payments like one-time payments one would get for writing a freelance magazine article. Considering the long-term popularity of the books, she was a bit wistful later in life about not having shared in the rewards over time. She also resented the fact that, after the conference, fans besieged her with requests for autographs, and some then sold them for a great deal of money.
The point about Adams writing the books beginning in the 1960s doesn't seem relevant to anything in the article. Benson's last book was published in 1953. Adams did represent herself as having written all the books at the time of events in 1980 to celebrate the 50th anniversary of the first publication. She was the editor after her father died and the first three books were published. Over time, she became more heavy-handed in editing Benson's manuscripts, and it was probably a mutual decision for Benson to quit writing Nancy Drews. One of the points of celebrating Benson was to recognize her role in the history of Nancy Drew.
Carolyn Stewart Dyer
Iowa City