Remembering Mildred Wirt Benson, the adventurous ghostwriter who made the beloved fictional detective in her own image.
In her relentless quest to solve mysteries, Nancy Drew has been locked in a tower, knocked unconscious, and nearly boiled alive. But far from a damsel in distress, the fictional detective bravely has overcome every obstacle to stand as one of the most enduring and accessible female role models in children's literature.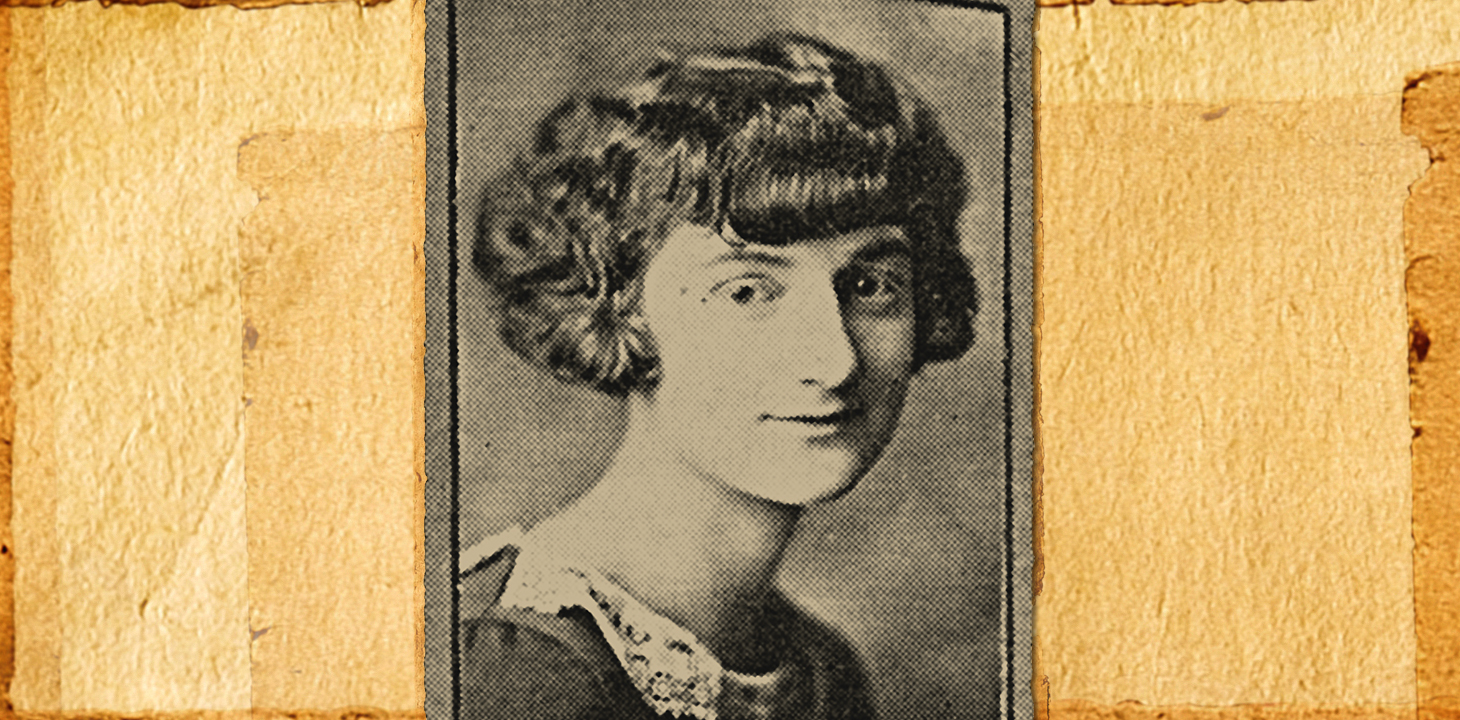 Mildred Augustine Wirt Benson
From the Depression era to the smartphone age, the fearless teen investigator has spanned generations, inspiring young readers to unlock their potential. Her fans include the likes of Barbara Walters, Oprah Winfrey, Laura Bush, and Hillary Clinton. Three pioneering Supreme Court justices—Sandra Day O'Connor, Ruth Bader Ginsburg, and Sonia Sotomayor—credit reading the mystery series as influential in their decision to practice law.
To date, more than 200 million books starring the spunky heroine have been sold and translated into 45 languages—with new mysteries released every year. "Nancy Drews were no ordinary children's books," UI journalism professor emerita Carolyn Stewart Dyer writes in Rediscovering Nancy Drew, a series of essays she compiled with Nancy Tillman Romalov (84MA, 94PhD) shortly after organizing the world's first Nancy Drew conference at the UI in 1993. "Reading Nancy Drew was a pivotal childhood experience for millions of girls."
Yet the chief Nancy Drew mystery for many fans involved the identity of the original author, who wrote 23 of the first 30 novels under the pseudonym Carolyn Keene. For decades, she remained shrouded in secrecy until the UI finally cracked the case wide open for the world to see.
Ninety years since Iowa journalism grad Mildred Augustine Wirt Benson (25BA, 27MA) unleashed a cultural phenomenon with The Secret of the Old Clock, the demand for new Nancy Drew adventures remains as strong as ever. This fall, another UI alumna—Hollywood screenwriter Stephanie Savage (93MA)—will introduce the gutsy gumshoe to the next generation of fans with a much-anticipated TV series on the CW network. Savage's Nancy Drew brings the spotlight back to Iowa, where a signature collection in the UI Libraries' Iowa Women's Archives reveals how the university rediscovered the true author of the early books—and found her to be one of its own.
The Hawkeye Years
Benson once was lauded as the "quintessential feminist of the 20th century" for giving Nancy Drew her strong personality. Clues to how the literary character developed her independent spirit and thirst for adventure can be found throughout Benson's life story, as documented in her papers, photographs, and books at the Iowa Women's Archives.
Born July 10, 1905, in Ladora, Iowa—a rural community 40 miles west of Iowa City— Benson grew up favoring boys' action books over "namby-pamby" stories written for girls. "Although my mother tried to make me into a traditional person, I resisted that," she shared at the UI's Nancy Drew conference. "I just was born wanting to be myself, and I couldn't see why girls couldn't do the same things that boys were allowed to do."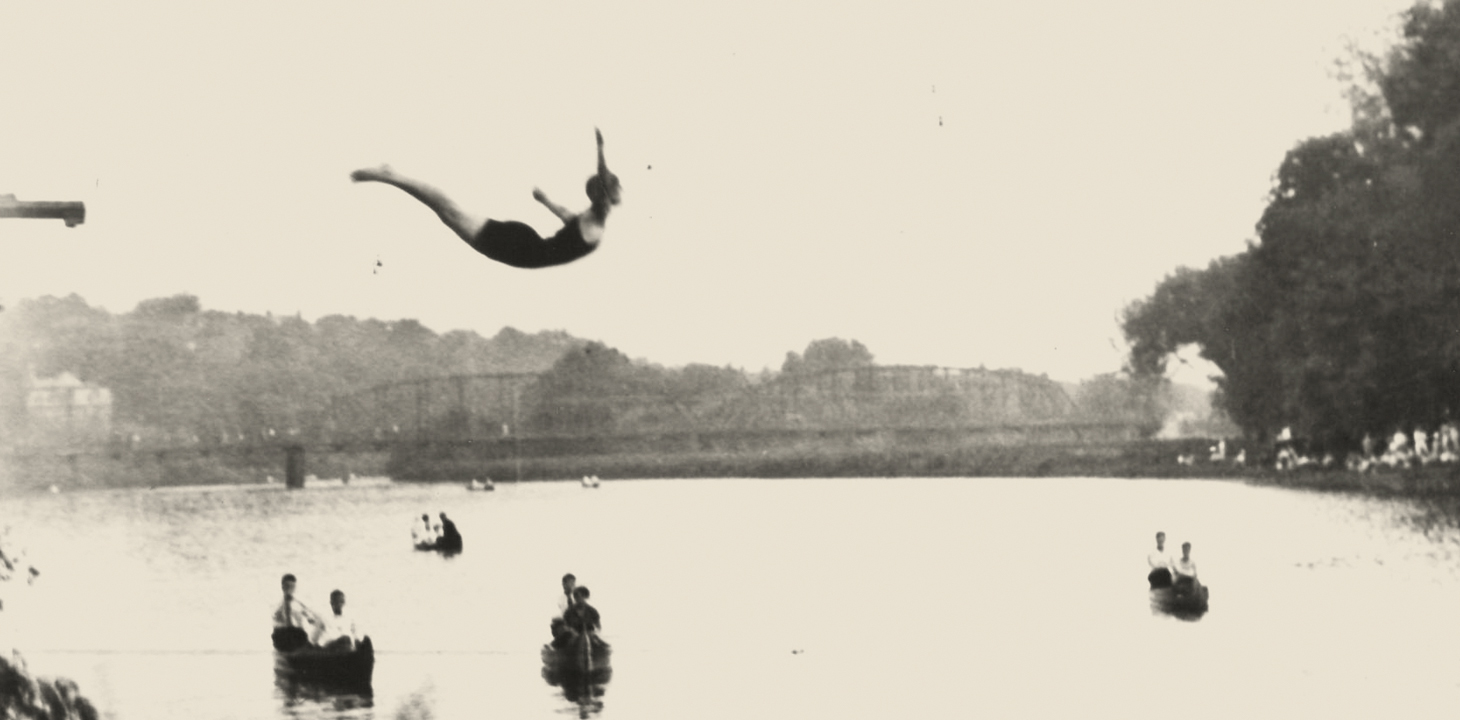 PHOTO: IOWA WOMEN'S ARCHIVES
An iconic photograph in the Iowa Women's Archives shows Mildred Wirt Benson swan-diving into the Iowa River in the mid-1920s.
In 1922, Benson arrived at Iowa to study liberal arts just two years after the suffrage movement had earned women the right to vote. She played basketball and soccer, but her most notable athletic achievements took place as a championship diver for the women's swim team. As a Seals Club member competing in coed relays during her freshman year at Iowa, she made headlines by beating the more experienced captain of the men's swim team.
Although Iowa opened in 1855 as the first state university in the nation to admit men and women on an equal basis, Benson still faced setbacks on campus. In a Daily Iowan editorial titled "Our Sardines," Benson lamented the inequality between the men's and women's swimming facilities. Men practiced in the state-of-the-art Field House pool—newly built in the 1920s—while women remained in cramped quarters at Halsey Hall. "If Iowa women cannot have more room in which to exercise their ambitious limbs, if they cannot have high diving boards," she wrote, "then at least they should be praised for the progress they have made in spite of the handicap."
Benson also made waves in Iowa's newly formed journalism school. In 1922, she joined The Daily Iowan as a reporter at a time when a growing number of women were breaking into the field. Although future renowned pollster George Gallup (23BA, 25MA, 28PhD, 67LLD) was her editor and later her professor, the paper only four years earlier was the first college daily in the nation to operate under a female editor.
Active in many student organizations, Benson served as the sole female editor of the Hawkeye yearbook and as president of a women's writing group. She wrote hundreds of short stories for national children's magazines—a practice she started after publishing her first article at age 13. Most notably, Benson became the first woman to graduate from Iowa's journalism school in 1925 and the first person to receive a master's degree in journalism from Iowa in 1927.
The Origins of Nancy Drew
Benson's extraordinary achievements in the journalism school wouldn't be the only defining moments of her time at Iowa. As a graduate student in 1926, she answered an advertisement for Stratemeyer Syndicate, a New York book packager known for creating classic series such as the Bobbsey Twins and Hardy Boys. While she was supposed to be working on her master's thesis, Benson began ghostwriting young adult novels for Stratemeyer on a journalism school typewriter. "I was the only person in the journalism graduate school," she quipped, "so I figured they'd have to pass me."
In 1929, Benson started work on a new Stratemeyer series for girls about a detective named Nancy Drew. Although Stratemeyer sent her a basic plot outline for the first three books—The Secret of the Old Clock, The Hidden Staircase, and The Bungalow Mystery—Benson developed a bold female character unlike anything the world had ever seen. "I didn't consciously make her like myself. I made her good-looking, smart, and a perfectionist. I made her a concept of the girl I'd like to be," Benson once told The New York Times. "Today that kind of woman is common, but then it was a new concept."
Although Stratemeyer expressed concerns that Benson's Nancy Drew was "much too flip," the series became an instant hit for publishers Grosset & Dunlap. Unique to the market, the books helped young women see themselves in a new light. "Nancy Drew was willing to put herself in danger, she's not pining over her boyfriend, and she's got strong female friends," says Kären Mason, curator of the Iowa Women's Archives. "I think the independent character that Mildred Wirt Benson gave her as author of the first Nancy Drews endures. A lot of it reflects Mildred's own personality."
A Life of Adventure
Even though Benson often told reporters her life wasn't interesting, evidence found in the Iowa Women's Archives suggests otherwise. Long after she wrote her last Nancy Drew book—The Clue of the Velvet Mask—in 1953, Benson had adventures that easily rivaled her novels.
In addition to her top-secret stint as a Nancy Drew ghostwriter, Benson worked as a journalist in Toledo, Ohio, for more than six decades in male-dominated newsrooms. Fortunately, Benson—described by a newspaper colleague at The Toledo Blade as having "a tangle of white curls and the dismissive air of Robert DeNiro"—could hold her own.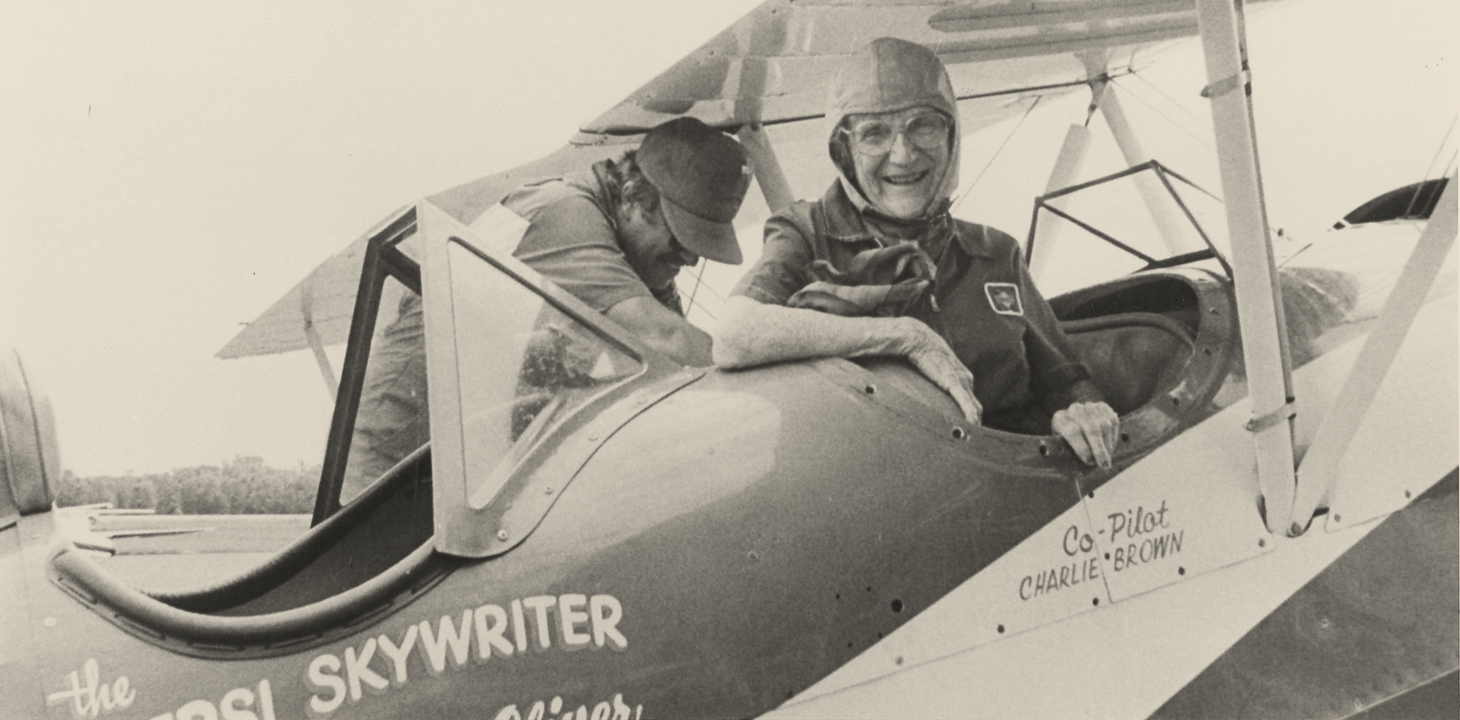 PHOTO: TOLEDO BLADE
In 1987, aviator Mildred Wirt Benson sits in the cockpit of a plane used for skywriting Pepsi ads.
Benson wrote in a UI Libraries publication that she became a licensed pilot in 1964 and once flew on the edge of a tornado "at an age when wiser persons welcome Social Security." She answered an ad for a trial flying lesson at age 59 and earned six different pilot licenses.
In another daring pastime, Benson traveled to remote Central American locations to scout pre-Columbian archaeological sites. Alone on several trips to discover the remains of Mayan civilization, she hacked through rough jungle paths with a machete, paddled a dugout canoe through crocodile-infested waters, and slept in hammocks hung in ancient temples.
During one particularly harrowing trip to Guatemala, Benson was kidnapped. Much like Nancy Drew, she outwitted her captors—only to return to the country later to determine what happened. Benson also applied for NASA's journalist-in-space program in 1986, but the Challenger explosion quickly brought that dream to an end.
Perhaps most courageously, Benson supported her family in her early years by writing Nancy Drew mysteries and other stories by her first husband's sickbed. Benson wrote up to 13 books a year, all while caring for her dying husband, raising a young daughter, and working full-time as a reporter.
A Secret Unveiled
A prolific author, Benson penned 135 books throughout her life—but Nancy Drew never ranked among her favorites. In her agreement with Stratemeyer, she was paid $125 per manuscript, but took a break from the series during the Depression when the publisher reduced that payment to $75. She never collected any royalties from the books, films, games, or collectibles.
Sworn to secrecy, Benson kept her word to not publicize her identity as the author of the original Nancy Drew novels, even as editor and fellow writer Harriet Stratemeyer Adams began taking full credit for them. "I don't see how Adams can get away with these blatant lies," UI Office of Public Information staff member Susan Kostick (68BA, 76MA) wrote in 1980 to Frank Paluka, the head of Special Collections who regularly corresponded with Benson. "Have you heard from our Carolyn Keene lately?"
Benson also felt the sting. At Iowa's Nancy Drew conference, she recalled, "The only thing that ever bothered me in all these years about lack of recognition was one day when my daughter was small. She came home from school and said, 'Millie, you're a liar. … You told me that you were writing the Nancy Drew books, and the kids say that it's not so.'"
Despite others' claims, Benson knew she had perfected the formula that made Nancy Drew a global bestseller. The worn keys of her typewriter—now housed at the Smithsonian—bore witness to those painstaking evenings typing the novels at her husband's bedside.
A lawsuit ultimately put Benson's identity as author in the public record. In 1980, Grosset & Dunlap went to court to prevent Statemeyer Syndicate from using any other publisher for the Nancy Drew series. Benson took the stand to testify as one of the series' ghostwriters, causing a shocked Adams to exclaim, "I thought you were dead."
Benson outlived Adams, but it took years before the original Carolyn Keene was widely acknowledged. That process began with a fortuitous find in the forgotten files of Benson's alma mater.
Road to Recognition
In summer 1991, secretary Susan Ayer Redfern began sorting the alumni files at the UI School of Journalism and Mass Communication. One of the earliest folders she opened belonged to Mildred Augustine, who counted Redfern's grandfather William Maulsby among her most influential professors at Iowa. The papers inside exposed Augustine (later known as Benson) as the author of dozens of children's books—including Nancy Drew. Redfern had fond memories of reading the series as a child, an experience she was passing on to her son at that time. She could hardly believe that the original writer of these treasured books was one of Iowa's own.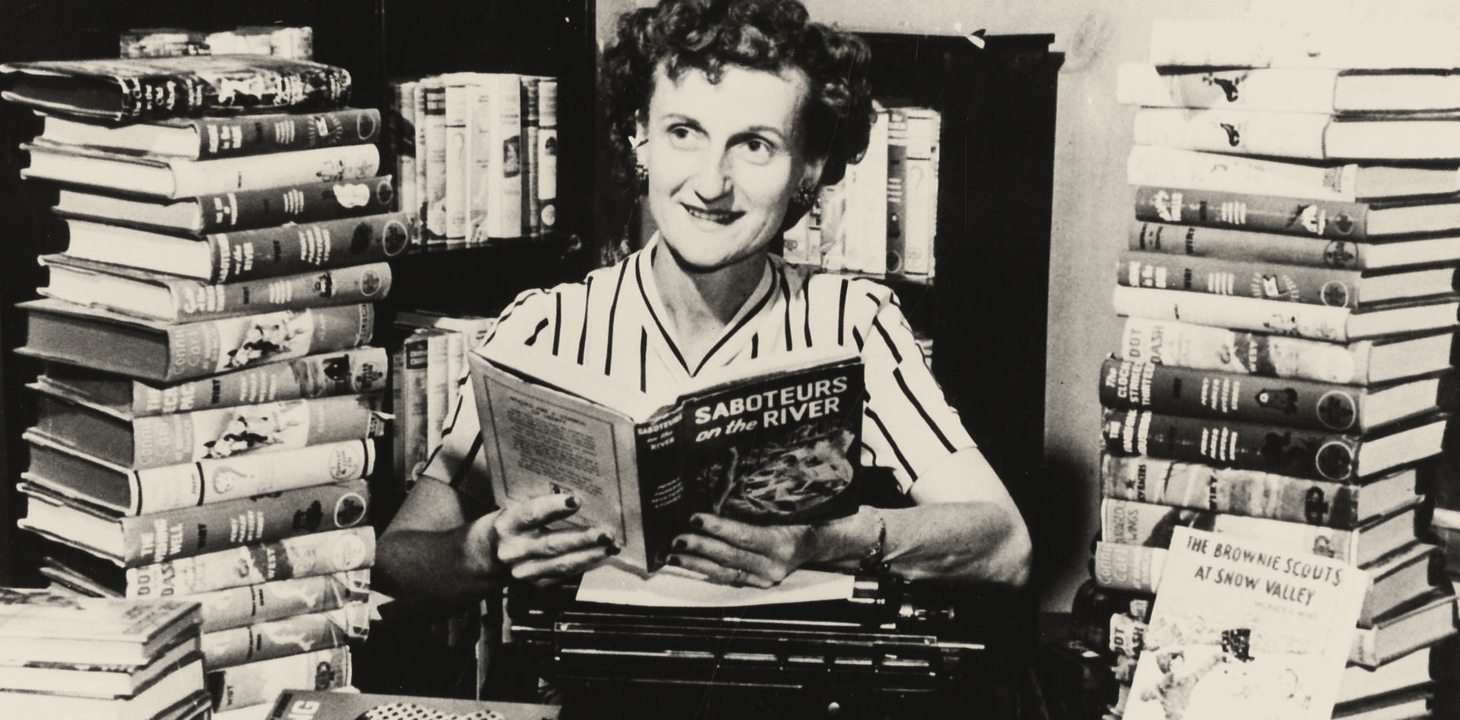 PHOTO: TOLEDO BLADE
In 1949, Mildred Wirt Benson surrounds herself in stacks of young adult books she'd authored.
Redfern immediately enlisted the help of her colleagues to honor Benson that year as an inductee in the UI School of Journalism Hall of Fame. As a ghostwriter who could gain no renown from her young adult novels and whose journalism contributions involved reporting for a regional paper in Ohio, Benson was an unconventional choice. "She was a famous person, even though people didn't know she existed," says Dyer. "She was really anxious that she would get in trouble with the publisher for revealing her identity, so it took several months of negotiations before she could accept."
Nancy Drew fans inundated the school with their stories as Benson finally joined her former professors, Gallup and historian Frank Luther Mott, among UI journalism's shining beacons. Moved by the outpouring of excitement, Dyer realized the public wasn't finished celebrating Benson's role in creating a literary icon. Dyer formed a university-wide committee to organize the world's first Nancy Drew conference on Iowa's campus, which included Benson as an honored guest.
While a few scholars and hardcore fans already had cracked the case, it was time for the masses to know the original Carolyn Keene, whose life experiences helped shape Nancy Drew. "It's hard to keep that kind of secret forever," Dyer says about Benson's ghostwriting career. "Some people did know of her existence, but for the most part, our conference was when the rest of the world learned that Mildred Wirt Benson had written the books."
In April 1993, more than 500 scholars, librarians, teachers, reporters, and fans of all ages converged on the UI campus to connect over Nancy Drew. In one of the three-day conference's most touching moments, UI English professor Bonnie Sunstein invited fans to voice what their literary heroine meant to them. Attendees shared that Nancy Drew was the mentor who empowered them to become writers, police officers, lawyers, and librarians. She was the steadfast friend who helped them through childhood's most difficult moments. Furthermore, she was the tie that bound together a room of strangers at the Iowa Memorial Union.
Exceeding everyone's expectations, the conference attracted all the major news networks and made the front page of The New York Times. The media frenzy focused on Benson, who received the star treatment after more than six decades of anonymity. Journalist Richard Threlkeld interviewed Benson on location along the Iowa River for the CBS Evening News, while ABC anchor Peter Jennings named her Person of the Week. "She enjoyed her moment in the sun," says Mason. "She liked being the center of attention, although she said she didn't. It was a blessing and a curse."
At 87 years old, Benson went from an overlooked writer to an instant celebrity. "This is utterly overwhelming," she told reporters at the conference. "Trying to be a private person, suddenly I'm not."
A flood of accolades followed, including the UI's Distinguished Alumni Award, the Mystery Writers of America's Edgar Allan Poe Special Award, and inductions into the Iowa and Ohio women's halls of fame. Soon, Benson was swamped with fan mail, including from a 72-year-old woman called Nancy Drew whose name sparked endless conversation.
At first, Benson couldn't understand the tremendous popularity of the series, complaining to The New York Times, "I'm so sick of Nancy Drew I could vomit." But Dyer says that over time Benson began to accept the books' central role in her readers' formative years.
Despite her newfound fame, Benson never retired from her job as a columnist for The Blade. While ABC News Person of the Week, she told Jennings, "I was born wanting to write. I'll probably pick up my pen as the undertaker walks in the door."
On May 28, 2002, Benson reported to The Blade to write her regular column, which she described to NPR Weekend Edition as "Nancy Drew for senior citizens." She left work feeling ill and died later that day of lung cancer at age 96. A plaque on Iowa City's downtown literary walk forever memorializes Benson, who—after six decades of obscurity—finally received her due. Featuring a quote from the Nancy Drew classic The Ghost of Blackwood Hall, it reads, "I'm afraid there's more to this than appears on the surface."
Indeed, maybe the confident character beloved by generations of readers was Mildred Wirt Benson all along.
---
UI Screenwriter Brings Nancy Drew to TV This Fall
Alumna Stephanie Savage puts the famous detective back on the case.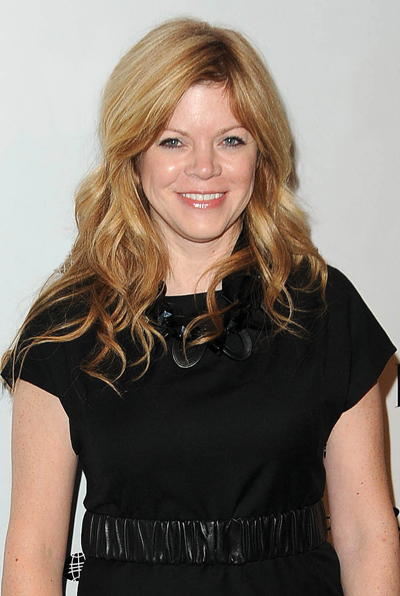 PHOTO: SHUTTERSTOCK
Stephanie Savage
Nancy Drew shines a beam of light into the darkness outside a quiet '50s diner. Searching for a missing socialite, the amateur teen detective is startled by exploding fireworks—or were those gunshots? In that alarming moment, Nancy discovers her first clue: a woman's body in the parking lot.
As police arrive on the murder scene, one of pop culture's greatest sleuths assembles her own ragtag team of friends to crack the case. Nancy Drew is clearly back in her element.
"Mysteries are everywhere, and I love solving them," she says in the trailer for the new Nancy Drew TV series premiering this fall on the CW network. "The truth is everyone is a suspect."
After a prolonged absence from TV, Nancy Drew bounces back to the medium Oct. 9, 2019, under the direction of showrunner, co-creator, executive producer, and screenwriter Stephanie Savage (93MA). The University of Iowa graduate follows in the footsteps of fellow alumna Mildred Augustine Wirt Benson (25BA, 27MA) in providing new adventures for the gumshoe with gumption.
Buzz for Nancy Drew grew this past summer at Comic-Con International in San Diego, where Savage offered an exclusive screening of the show. "We started with the idea of everything we loved about Nancy Drew—that she was brave and smart and fearless," Savage said in a Comic-Con panel. "But there was also something to her—she wasn't just a good girl. She also had a little darkness to her. We all really gravitated to our favorite Nancy Drew stories having that element of darkness."
Alongside creative partner Josh Schwartz, Savage is responsible for some of the most beloved teen dramas of all time, including The O.C. and Gossip Girl. But before Savage helped build their Fake Empire production company, she was an Iowa Hawkeye following her passion for film.
Savage, who completed her undergraduate work at the University of Toronto, arrived in Iowa City in 1991 as a graduate student after hearing of Iowa's top-ranked program in film history and theory (now housed in the Department of Cinematic Arts). The Canadian once told the Sioux City Journal that meeting friendly Iowans from small towns, hearing their perspectives, and learning about Hawkeye football culture "helped open my mind."
While attending graduate school at Iowa, Savage taught undergraduate classes such as gender and film and U.S. film history. "It was a huge confidence builder to stand in front of 34 21-year-olds and explain something to them every day," she told the Los Angeles Times in 2008. "To be in a room and have to explain your point of view is a huge skill in Hollywood."
Savage graduated from the UI in 1993 with master's degrees in communication studies and film and video production, then moved to Los Angeles the following year to do research for her dissertation, "Star Scandals at the End of the Studio Era." She intended to earn a PhD at Iowa and become a professor. Instead, her extensive knowledge of classic films that she'd developed as a Hawkeye attracted the attention of actress Drew Barrymore. Savage soon rose from intern to vice president of development for Barrymore's Flower Films production company, working on movies such as Never Been Kissed, Charlie's Angels: Full Throttle, and Donnie Darko.
In 2003, Savage joined forces with Schwartz on The O.C. as a writer and executive producer for the soapy series he created about wealthy families in Orange County, California. Together, in 2007, they created Gossip Girl, which will be rebooted on WarnerMedia's new streaming service, HBO Max. In 2010, they launched Fake Empire Productions, which developed hits such as Chuck, Hart of Dixie, The Carrie Diaries, and The Astronaut Wives Club.
In addition to Nancy Drew, Savage and Schwartz currently serve as co-creators, writers, and executive producers of the CW's Dynasty reboot and showrunners of Marvel's Runaways on Hulu. The duo's adaptation of author John Green's Looking for Alaska debuts Oct. 18, 2019, on Hulu.
Although the new Nancy Drew is set in present-day Maine, longtime fans of the detective can expect plenty of throwbacks in the hour-long teen drama. Familiar characters such as George, Bess, and Ned help Nancy solve a supernatural mystery. Building upon the fierce independence that Benson first instilled in the character, Savage's Nancy Drew outwits law enforcement in tracking clues and will stop at nothing—including breaking into a suspect's home—to solve the case.