The Chicago Bears player was set to graduate from the University of Iowa this year when he realized he was missing one thing. Iowa fans came to the rescue.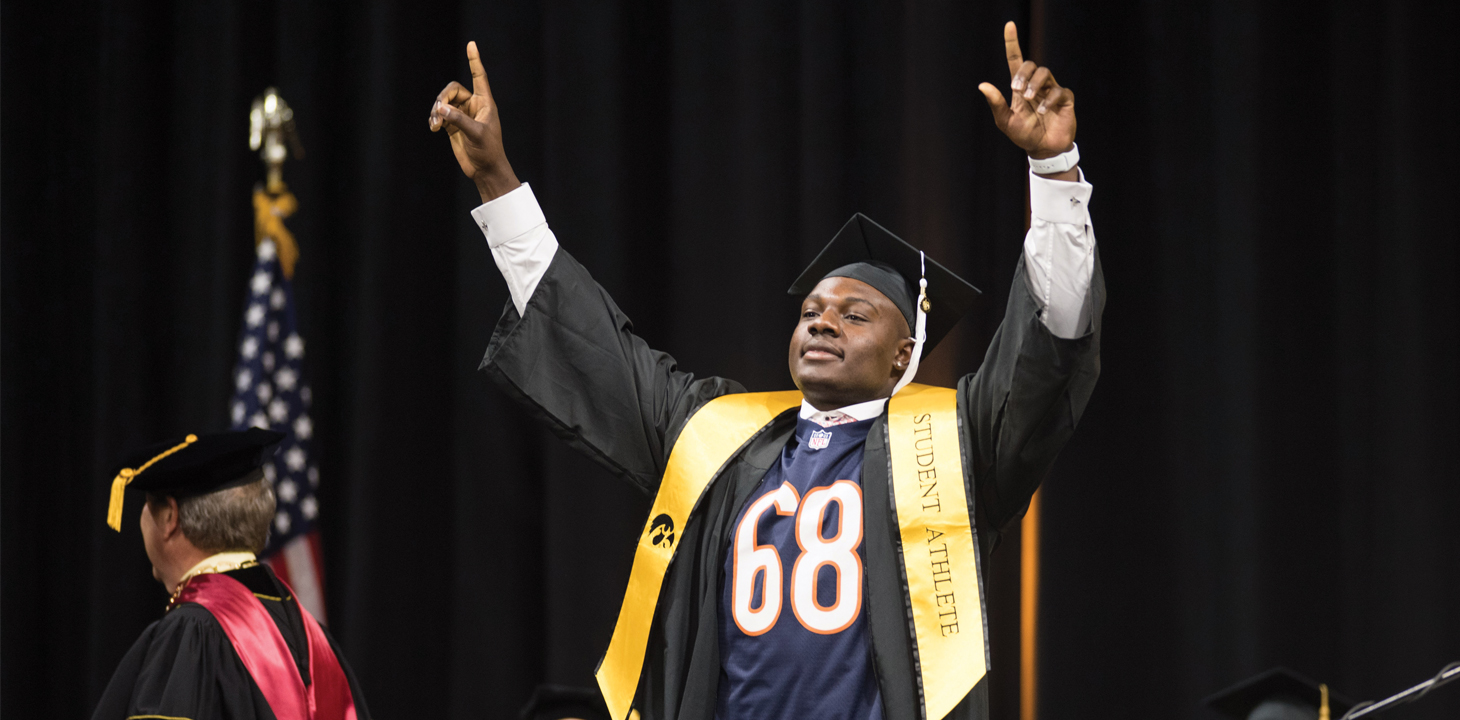 PHOTO: TIM SCHOON/UI OFFICE OF STRATEGIC COMMUNICATION
Former Hawkeye football player James Daniels sports a borrowed Chicago Bears jersey during this past spring's commencement ceremony.
Former Hawkeye football player James Daniels left school a year early to hear his name called in the 2018 NFL Draft. He returned to Iowa City this past spring when his name was announced at another big event—with an assist from a pair of Hawkeye fans.
The Chicago Bears offensive lineman received a bachelor's degree in health and human physiology in May at the UI College of Liberal Arts and Sciences commencement ceremony. Daniels, a second-round pick in last year's NFL Draft, graduated with a 3.24 GPA.
What made the day even more memorable was how Daniels celebrated the achievement. The night before the ceremony, Daniels realized his graduation attire was missing a personal touch, so he put out a call on Twitter: Does anyone in Iowa City own a James Daniels Bears jersey? As it happened, Iowa City resident and Bears fan Jake Tolander had received an XXL Daniels jersey as a birthday gift from his mother, UI Tippie College of Business staff member Shari Tolander. After messaging Daniels, Jake and his fiancée, Lydia Neeley (15BA, 15BBA, 17MBA), met with the football player.
Watch Hawkeye student-athletes, including James Daniels, graduate at last spring's UI commencement.
The next day at Carver-Hawkeye Arena, Daniels crossed the stage and shook hands with UI President Bruce Harreld. Diploma in hand, he turned to the crowd and opened his gown to reveal his No. 68 to cheers. "There's a whole bunch of people who are in my position who won't go back and finish their degree, so it just means a lot that I was able to come back and do it," says Daniels, who began his second season with the Bears this fall.
Daniels is emblematic of UI Athletics' "Win, Graduate, Do It Right" motto. According to the NCAA's graduation success rate data, 90% of Iowa's student-athletes successfully earned degrees each of the past three years. By comparison, the average for a Division I school was 88% in 2018.
When Daniels made the decision to forgo his senior year to enter the draft, he vowed to his parents that he'd continue to work toward his degree. He's the second member of his family to earn an Iowa degree, following in the footsteps of older brother LeShun Daniels Jr. (17BA), a former Hawkeye running back.
"When we talked last year about the possibility of him leaving school, we wanted to ensure he was going to come back and finish his degree," says his father, LeShun Daniels Sr. "He kept that promise to his mom and myself, and we're very proud of him."
As for the borrowed jersey, a grateful Daniels returned it to Tolander after the ceremony with one welcome alteration. He signed the back and wrote, "The Graduation Jersey."