Tiffany Adrain takes us inside the collection to explain how the past can speak volumes about our future.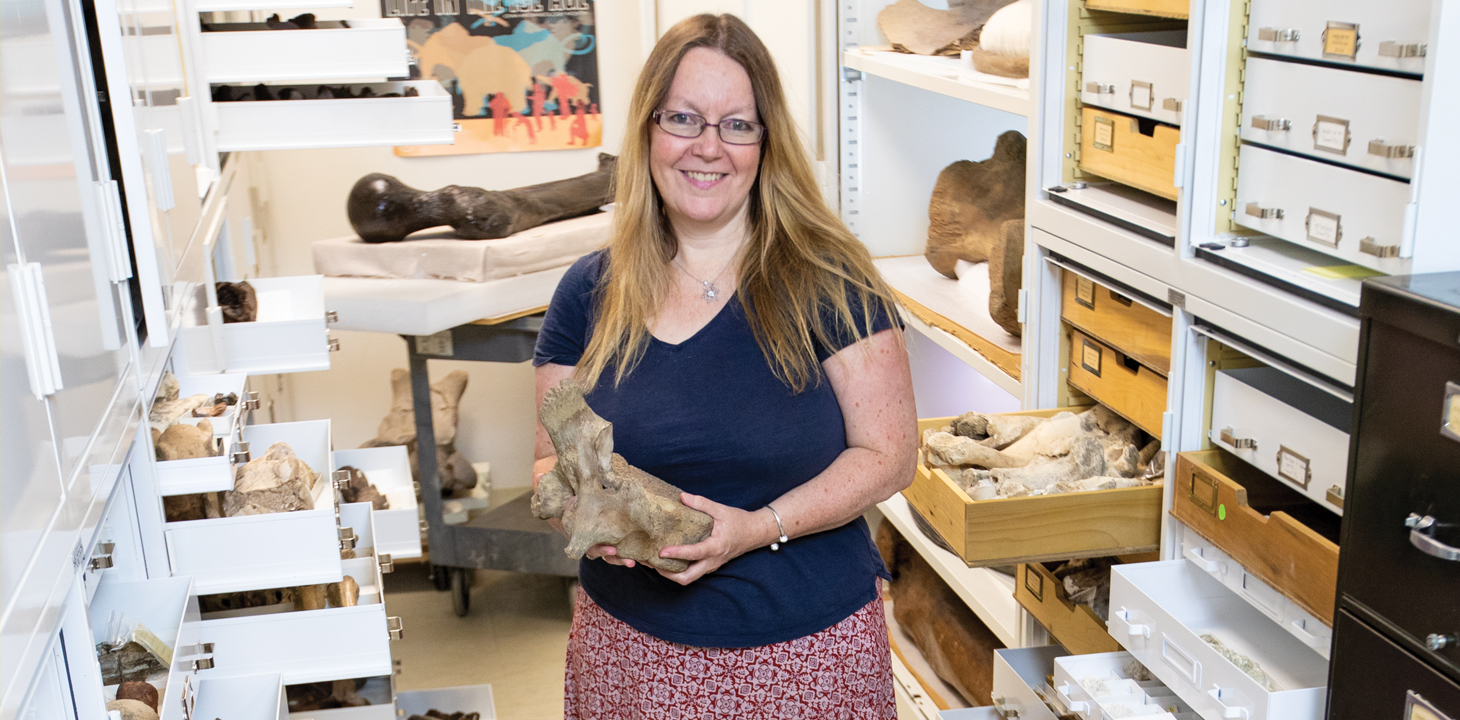 PHOTO: JOHN EMIGH
University of Iowa Paleontology Repository collections manager Tiffany Adrain
While hunting for arrowheads this past spring on a farm in southern Iowa, a high school student made a discovery of mammoth proportions. In a creek, he found the jawbone of a mastodon—an elephant-like mammal that roamed Iowa until its extinction about 10,000 years ago. It was the second Ice Age fossil found on the property in three decades. The landowners summoned Tiffany Adrain (03MS), the University of Iowa Paleontology Repository collections manager, to the scene, which soon drew media attention from around the world. Adrain and her team of paleontology graduate students retrieved the fossil for safekeeping at the university, where it will be studied and preserved for years to come.
"It's a really nice specimen because the teeth are intact in the jaw and quite pristine," says Adrain, who's also a UI museum studies instructor. "There's only a little bit of wear on them from when they were used to eat, so this tells us it's a juvenile mastodon."
The 30-inch-long mastodon jawbone is one of the latest additions to the UI Paleontology Repository, known as one of the top university collections in North America. Inside Trowbridge Hall, scores of drawers and cabinets contain more than a million specimens that tell the history of the world. The repository started in 1855 with discoveries from the first geological survey of Iowa, but Adrain continues to accept fossils of trilobites, giant ground sloths, and other ancient creatures for the collection.
For its first 12 weeks at the repository, the mastodon jawbone lay immersed in a damp tub of straw to slow and even its drying process. Amanda Adams (16MS), the earth and environmental sciences PhD candidate charged with caring for the specimen, says the straw helped prevent the fossil from crumbling or cracking by both absorbing moisture and preventing water from evaporating too quickly.
Already, the university is using the fossil as a learning tool. UI geography students scanned the specimen to create 3D images for further study. Researchers are also investigating whether the fossil found at the farm 30 years ago comes from the same mastodon. A pollen and plant analysis of a soil sample taken at the site back then estimated the bones to be 34,000 years old.
In addition to revealing more about prehistoric creatures and their extinction, Adrain notes that fossils can provide clues to help answer important global questions, such as what might happen with climate change. "It's all a record of what was and where it was and when it was," she says. "Things change, and you have to adapt and diversify, so it's interesting to see how plants and animals respond. I think it's important for us to know that."