An Emmy-winning Netflix nature documentary has UI ties.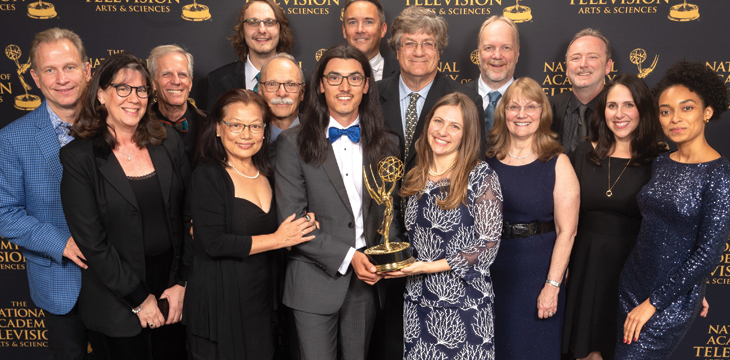 PHOTO: MARC BRYAN-BROWN PHOTOGRAPHY
When Chasing Coral won an Emmy for Outstanding Nature Documentary this past October, associate producers Kevin (80BBA) and Donna Gruneich (pictured at far left) were among the cast and crew who took the stage at Jazz at Lincoln Center in New York to accept the honor.
The Netflix documentary—which played at the UI earlier this year as part of the Climate for Change theme semester—shows how oceans once teeming with colorful marine life have been transformed into coral graveyards due to rising temperatures caused by greenhouse gas emissions. Researchers believe as much as half of the coral in the Great Barrier Reef off the coast of Australia has died in recent years.
The Gruneichs first became interested in producing films about 10 years ago when they moved to Park City, Utah—home of the Sundance Film Festival. Since then, they've helped fund close to 50 films about issues they're passionate about, ranging from education and the environment to women's rights, health care, and the arts. Kevin, a UI Distinguished Alumni Award winner who serves on the UI Center for Advancement's board of directors, says: "Our interest has been in social impact films—films that hopefully change the way people think for the positive."