An auction of rare Stephen King items benefits UI pediatric cancer research.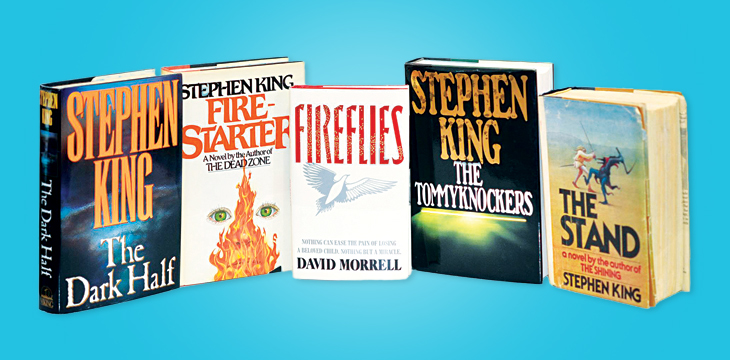 While searching his home office last October, Rambo creator David Morrell rediscovered an array of valuable books and manuscripts that had first arrived on his doorstep, one by one, more than 35 years ago. The former UI English professor shared the items with a rare books collector who considered several to be "some of the most expensive pieces of paper from the late 20th century." These mementos include early typescripts, limited edition books, and uncorrected proofs signed by Morrell's close friend and one of America's most prolific writers: Stephen King.
Though the items rekindled fond memories, Morrell knew donating them could have the power to change the lives of kids with cancer. Most of his King collection was auctioned online this past summer, while bids for a signed original typescript of It, the Philtrum Press Set of The Plant (Parts I–III), and The Eyes of the Dragon close in October.
All proceeds benefit the Matthew Morrell and Natalie Sanchez Pediatric Research Cancer Fund at the UI. The fund helps a team of researchers at UI Stead Family Children's Hospital, led by medical oncologist and assistant pediatrics professor David Gordon, improve treatments and cures for patients with Ewing sarcoma and related tumors. Morrell lost his son, Matthew, at age 15 in 1987 and one of his granddaughters, Natalie, at age 14 in 2009 to complications stemming from Ewing sarcoma, a rare bone disease.
"No child should die from cancer," says Gordon. "At the University of Iowa Hospitals and Clinics, our work is focused on identifying innovative treatments for children's cancer while causing less toxicity to patients."
Morrell's connection to King began during Morrell's Iowa days after he wrote his acclaimed debut novel, First Blood, which introduced the world to Rambo. King chose the book for a creative writing class he taught in 1979 at the University of Maine and agreed to provide an endorsement for Morrell's 1979 novel, The Totem. Soon, a budding friendship between the writers began.
The two authors shared their latest projects with one another, sending notes and typescript copies by mail. In 1981, Morrell spent a week at King's home and gave a lecture at the University of Maine. King returned the favor, visiting Morrell in Iowa City and speaking at the UI. Over the years, Morrell amassed limited editions for stories such as Misery, Pet Sematary, and The Stand, along with several manuscripts including personalized notes. King signed the title pages of the typescripts to authenticate each item for the auction, and, in February, Morrell started shipping the items to Gerald Winters, a rare books collector who coordinated the auction. In addition to the auction items, Morrell is offering signed first editions of Fireflies: A Father's Tale of Love and Loss—his memoir about his experience in the cancer ward with his son—to anyone who donates to the research fund.
"This is a real literary adventure," says Morrell about the future of the King manuscripts. "I hope that some institution will step up and buy these so they can be studied at a university. That's my wish—from the professor in me."
For more information on the auction, visit geraldwinters.com/david-morrell-auction.