LAKE KWAZA (16BS)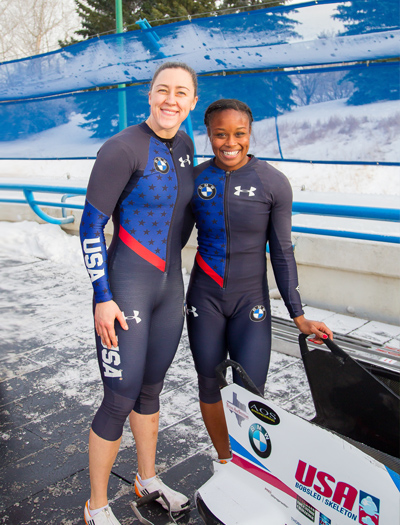 PHOTO COURTESY RON LEBLANC
Former UI track sprinter Lake Kwaza, right, and Nicole Vogt placed fourth in a North American Cup race this past November in Calgary, Canada.
Lake Kwaza crouches down at the starting line, then bursts forward for maximum power. But instead of speeding down the straightaway of an eight-lane oval track, the former Hawkeye sprinter now surges along a sheet of ice for 30 meters pushing a 350-pound sled. She hops in behind her driver and prepares for a journey of twists and turns ahead, embracing a new vehicle to reach her Olympic dreams—the bobsled.
AN UNEXPECTED OFFER
Nearly two years ago—after completing her senior season with the Hawkeyes and finishing 26th in the 200 meters at the Olympic Track and Field Trials—Kwaza turned down an offer from Michael Dionne, coach and director of development for the U.S. Bobsled and Skeleton Federation, to try bobsled. Dionne saw Kwaza's track results, and the Big Ten 60-meter champion fit the profile of speed and force necessary for the winter sport.
Kwaza spent the next several months intermittently training for a professional track career, but given time to recover from an injury and research the sport of bobsled, she accepted Dionne's offer when he called again last March. "Timing was everything," says Kwaza, who learned she could still train in Iowa City with her former UI track coaches as she pursued bobsled. "I wasn't ready to leave Iowa, so that was huge."
GAINING TRACTION
The UI 60-meter record holder started bobsled training this past summer with her Hawkeye sprints coach Clive Roberts and strength and conditioning coach Landon Evans, who also were newcomers to the sport. Kwaza proved a quick study at the combine and rookie camp this past August in Lake Placid, New York. Tested in sprints, a broad jump, and weightlifting, she posted an elite score—matched only by about a dozen U.S. athletes—to earn the top designation on the developmental team. Only one level below the national team that competed in last month's Olympics, Kwaza—who generates most of the force behind the sled as a push athlete on the North American Cup circuit—earned silver in her first race this past November in Calgary, Canada. On the thrilling ride that can reach speeds of up to 85 miles per hour, Kwaza says: "I get in the sled and I'm just breathing because it's important just to relax when you're in the back."
OLYMPIC ASPIRATIONS
The 24-year-old finished her season in January and resumed track workouts before returning to Lake Placid this month for bobsled driving school. Due to her small frame, low weight, and younger age, Kwaza may move to the front of the sled this fall as she pursues a spot on the national team to compete on the World Cup circuit and at the 2022 Olympics in Beijing. "If not [as a driver], Lake has the potential to be an Olympic push athlete," Dionne says. "She's really got two options that are wide open, and we just need to see what's going to be the best fit for her."