A soldier returns to propose in this Hawkeye Marching Band love story.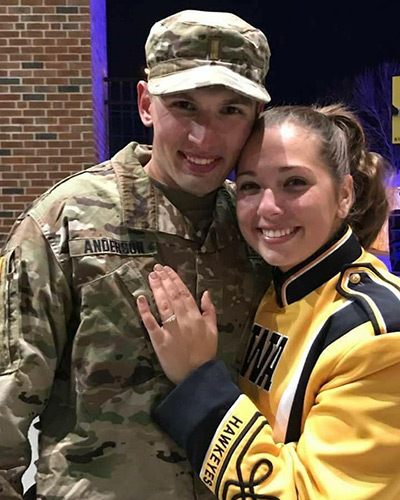 PHOTO: COURTESY GRACE SCHEBLER
When the Hawkeye Marching Band launched into "Hey! Baby" during a timeout in the Iowa-Minnesota football game this past fall, a surprise visitor bounded down the Kinnick Stadium steps. Dressed in his military fatigues, Army Second Lt. Isaac Anderson, 17BM, stopped at the horn section, tapped his girlfriend, Grace Schebler, on the shoulder, and got down on one knee.
The high school sweethearts met in Davenport, Iowa, while playing trombone in band and continued to date while students at the UI. Anderson had served as drum major for the Hawkeye Marching Band since 2015 but left in September for Army officer training at Fort Benning, Georgia. He kept his homecoming a secret from Schebler, a junior trombone section leader, until the moment he slipped the ring on her finger and she said "yes" to cheers from their fellow bandmates—along with the nearly 66,000 fans watching on the stadium's videoboard. In the days after the proposal, a video of the moment was shared widely on social media and the couple received well wishes from Hawkeyes around the country.
The reunion proved short but sweet; the following day Anderson returned to Georgia, where he'll train for the next six months to a year. The couple hopes to march down the aisle in 2020 after Schebler graduates from the UI, where she studies trombone performance and music education.