Bill Casey, 81BGS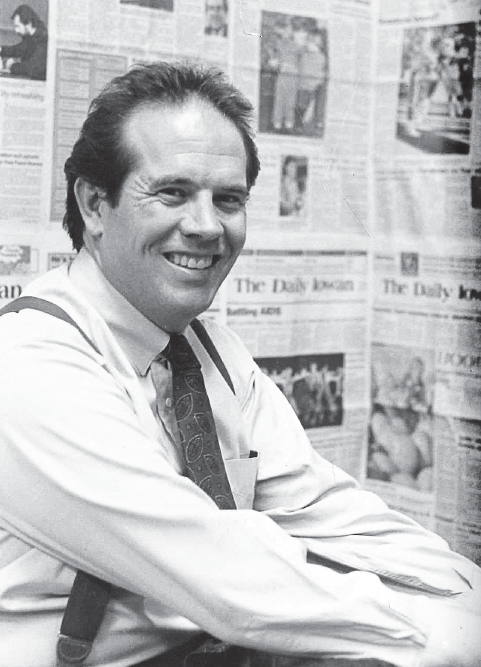 PHOTO COURTESY DAILY IOWAN
HOW DID HE MAKE THE NEWS?
For more than four decades, Bill Casey has been the man behind the news at the Daily Iowan. As publisher of one of the nation's best student newspapers, Casey has overseen more than 4,000 budding journalists, shepherded some 9,000 issues to press, and led his newsroom into the digital age. Casey's name appeared atop the masthead for the final time on April 28—volume 148, issue 179—when he retired after 45 years at the DI.
Earlier this spring, nearly 300 colleagues, friends, and alumni toasted Casey at his retirement reception inside the Voxman Music Building. The celebration featured video tributes recorded by DI-hatched professionals around the world, from Washington, D.C., to Germany.
"Students come in as what I call squirrely freshmen and leave four years later as scholars," says Casey, whose alumni have gone on to prestigious newsrooms like the New York Times, Wall Street Journal, and ESPN. "I've seen it over and over again. It changes people's lives forever."
WHAT'S HIS LEGACY?
Casey joined the Daily Iowan in 1972 as an overnight delivery truck driver and worked his way up to circulation manager. Four years later, at age 25, he was named the paper's publisher, inheriting a newsroom filled with clanking typewriters and teletype wire machines. Today, the DI is a digitally driven multimedia operation staffed by seven full-time employees, four content coaches, and 125 students who run the television studio, website, and social media channels.
Under Casey's direction, the DI has collected multiple Pacemaker Awards— collegiate journalism's top honor. The Iowa Newspaper Association has presented Casey with its prestigious Master Publisher award, Iowa Watch has named him a Master Mentor, and the UI School of Journalism and Mass Communication inducted him into its Hall of Fame. In 1987, Casey established a scholarship program that has distributed $900,000 in tuition assistance to up-and-coming journalists.
WHAT'S NEXT FOR THE DI?
Earlier this month, former DI editor-in-chief Jason Brummond, 08BA, 08BBA, 14MBA returned as Casey's successor. Brummond first met Casey as a senior at Iowa City High School, when Casey offered him a DI scholarship.
"Bill is gregarious and a good storyteller, but he is also a good listener," says Brummond. "Some people in that position run it like a dictatorship, but Bill is very much a collaborator who values the opinions of others and makes sure all the voices are heard."
Even in retirement, Casey may continue to publish stories: Between sailboat trips at his family's summer home on Clear Lake, he hopes to write a book about his time at the Daily Iowan.