Brian Ferentz, 06BA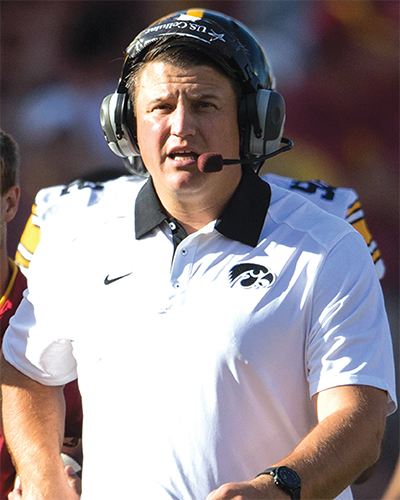 PHOTO: BRIAN RAY/UNIVERSITY OF IOWA ATHLETICS
"We will develop this Iowa team to be tough, smart, and physical—the foundation of Iowa football for the past 18 years." –Brian Ferentz
Kirk Ferentz didn't need to search far in finding his next offensive coordinator. The answer sat right down the hall.
Replacing retired offensive coordinator Greg Davis, Ferentz promoted his eldest son, Brian, 06BA, to the position earlier this year. He made the decision less than a week after Davis ended his five-year tenure with the program and ensured Iowa's talented offensive line coach wasn't lured away by another program.
SEASONED PEDIGREE
Brian, a three-year letterman on Iowa's offensive line (2003-05), joined the Hawkeye staff after four seasons with the New England Patriots. He became the Hawkeyes' offensive line coach in 2012 and added running-game coordinator to his title in 2015. Despite several injuries that forced him to creatively orchestrate the offensive line last season, the Hawkeyes still produced a pair of 1,000-yard single-season rushers (LeShun Daniels and Akrum Wadley) for the first time in school history. Iowa's interior unit also earned the Joe Moore Award, recognizing the top offensive line in college football.
MAINTAINING THEIR IDENTITY
While a few tweaks may be in store, Brian plans to keep the overall structure and mentality of the Hawkeyes intact—and he'll have a capable core to build upon up front as the Hawkeyes return three offensive linemen that earned all- Big Ten recognition last year. "We will develop this Iowa team to be tough, smart, and physical—the foundation of Iowa football for the past 18 years," Brian says, adding that the team must also be adaptable and flexible for the best opportunity to win.
RAISING THE BAR
Brian Ferentz has proven his readiness for the new role—raising the Hawkeyes' national profile on the offensive line and reaching new heights in the ground game. "Brian's coaching experience here at Iowa," Kirk says, "coupled with his time in the NFL, has prepared him well for his new responsibilities as the offensive coordinator for Iowa football."
Brian, 33, was recently recognized by ESPN.com as one of the top assistant coaches in the Big Ten Conference under the age of 40.