Iowa Voyagers' top traveler explains her loyalty to the UIAA.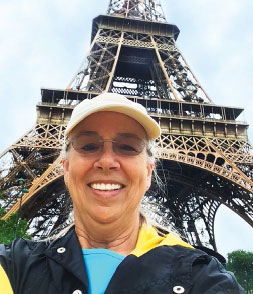 In her 32 years as a meteorologist for the U.S. Air Force, Carol Belt never took a real vacation. But after skimming through an Iowa Voyagers brochure, she decided it was time for an adventure. Belt booked a trip to the Galapagos Islands—and opened up a whole new world of travel.
On the first day of that 2002 trip, naturalists took the Voyagers on an afternoon Zodiac boat tour of a tranquil mangrove area. Spotted eagle rays swam right underneath the boat, and Belt was filled with awe. "I told my friend I could go home right now and be happy for the rest of my life," she says.
In that transformative moment, Belt realized she needed to go out and see more of this spectacular world. Since then, the Eureka Springs, Arkansas, resident has marveled at Antarctic glaciers, hiked Machu Picchu and volcanoes in Italy and Chile, and cruised through the Amazon jungle at night-all through the hassle-free itineraries of Iowa Voyagers.
Now in retirement, Belt has recently booked her 23rd trip with Iowa Voyagers, which makes her the biggest repeat customer in the 55-year history of the program.
Though most of her travels have been with Oceania Cruise Lines, Belt's latest adventure this fall has been to "Cruise the Face of Europe from Budapest to Amsterdam" on an AHI Travel riverboat. Undoubtedly, she will return with souvenirs to add to the display in her living room, which includes an Easter Island statue, a boomerang from Australia, and a certificate from crossing the equator. "Every time I look at them, I remember exactly where I was," says Belt. "It keeps the memory alive."