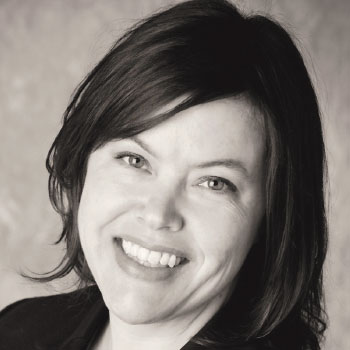 Molly Cantrell-Kraig took the reins on her own future and enrolled at the University of Iowa at age 37 as a nontraditional student. While there, she was a recipient of the Margaret P. Benson scholarship, awarded to women who invest in other women.
From the driver's seat of a 2010 Nissan Ultima, Caress Pouncy flashes a wide grin. A graduate of the Chicago Women in Trades welding program, she recently became the first person in the Windy City to receive a vehicle from the Women with Drive Foundation—established by Molly Cantrell-Kraig.
By age 13, Pouncy had lost both her parents. She had a promising career in sports, but fell in with the wrong crowd. In her application for a car that would help her keep a much-needed job, Pouncy wrote: "I thought I had friends around me who had my best interests at heart, but they didn't. Sitting alone one day, I said 'This is not what my daddy would've wanted for me.' I wanted a better life."
Today she's achieving that goal thanks, in part, to Women with Drive, a nonprofit that provides women with vehicles (literally and figuratively) to achieve self-sufficiency. Cantrell-Kraig points out that more than 55 percent of adult Americans in poverty are female, with rates highest for families headed by single women.
"Women with Drive is honestly a thank-you to all the people who recognized in me what I didn't recognize in myself," says Cantrell-Kraig, 06BA, who knows firsthand the challenges women like Pouncy face. Twenty-five years ago in Muscatine, Iowa, she was a single mom on welfare who would not have been able to attend community college or her job without rides from friends. "I often describe Women with Drive as Habitat for Humanity on wheels."
For her efforts, Cantrell-Kraig recently was recognized by the Cable News Network as one of its "CNN 10: Visionary Women."
In 2011, Cantrell-Kraig established Women with Drive to pay it forward—knowing that not everyone has access to public transportation and it can be far tougher to keep a job than get one. She launched her program in Muscatine, but soon articles in the Huffington Post and other media outlets increased interest in expanding the program nationally. Two years ago, she moved Women with Drive to Chicago to figure out how to scale the model and serve women from coast-to-coast.
Cantrell-Kraig said the organization doesn't just dole out free cars; the biggest factor in selecting awardees is their drive to move forward. In exchange for a vehicle, women must commit to a two-year program that requires them to pursue resources to achieve and sustain independence—whether GED classes or job training. They are also responsible for taxes, title fees, and licensing.
"We invest in people who have made the decision to invest in themselves," says Cantrell-Kraig. "We are at once at our strongest and weakest when asking for help. When you can give of yourself to propel another person, that's a sacred transaction."