The UI opens its first residence hall in 47 years, a campus space that meets the needs of the modern student.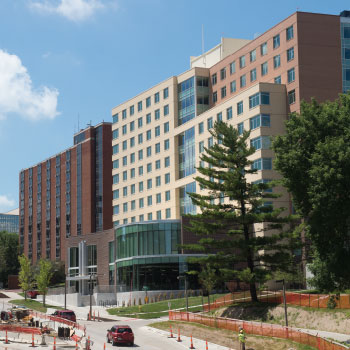 PHOTO: TIM SCHOON/OFFICE OF STRATEGIC COMMUNICATION
The year was 1968.
Bowen wasn't the name of a science building, but of the UI president. Male and female students lived in separate dormitories on opposite sides of the Iowa River, and the campus—like the rest of the country—erupted in turmoil over inequality and the Vietnam War. In a time of booming construction and student enrollment not unlike today, welcome additions such as Van Allen Hall and the English-Philosophy Building transformed the face of the UI. That fall, the university also opened a new residence hall—its last for the next 47 years.
Much has changed since Rienow II—now known as Slater Hall—emerged on the west side of campus. The university's student population has doubled since then and remains on the rise. This year's incoming freshmen class is predicted as the largest yet with around 5,000 students, breaking the previous record of 4,666 set last year. To accommodate every incoming student who wants to live on campus, the UI will open a new residence hall later this month to keep up with the increasing demand, a moment almost a half-century in the making.
After three years of construction, Mary Louise Petersen Residence Hall debuts this fall semester to meet the growing needs and changing desires of today's college students. Around 500 Hawkeyes will become the first to haul their TVs, bookshelves, and futons up the ten-story tower—located just east of the UI Hospitals and Clinics emergency room entrance and Rienow Hall on Grand Avenue. As Petersen's earliest inhabitants, they will help shape the residence hall's personality. "I've watched it be built from the bottom-up," says Ali Moss, a UI communication studies junior and Petersen resident assistant (RA), "so it's exciting to have the opportunity to start a legacy and [establish] the [hall's] culture."
More than 100 years ago, Currier Hall housing pamphlets touted rooms furnished with electricity and hot and cold running water. However, these days, it takes a lot more than basic amenities to attract a prospective student. No longer viewed solely as a place to sleep, modern student housing has become part of the educational environment where undergraduates can learn, socialize, and grow. Indeed, Petersen is not your traditional residence hall: The sweeping entrance to the $53 million building looks more like the lobby of a welcoming hotel than that of a towering dormitory. While the anatomy of neighboring Rienow and Slater offers floor after floor of rooms, Petersen beckons visitors with a grand staircase that leads up to the main foyer. A massive, multicolor abstract sculpture that hangs near the staircase represents a student's college growth, while a small wall-mounted waterfall with colorful LED lights sparkles near the front desk.
"We need to constantly anticipate the needs and wants of students, because with construction, you don't often get a second chance if you miss the boat," says Von Stange, UI assistant vice president for student life and senior director of University Housing and Dining. "Housing has become a significant factor in students deciding where to go to college."
Other Residence Hall Namesakes

PHOTOS: IOWA DIGITAL LIBRARY, SPECIAL COLLECTIONS, THE UNIVERSITY OF IOWA, IOWA CITY, IOWA
For more historical background on UI buildings, visit http://facilities.uiowa.edu/named-buildings.
When Slater was built in 1968, students were just beginning to turn to off-campus apartments to meet their needs. Now student interest has returned to the benefits of on-campus living, including a built-in meal plan, hall programming, and a strong sense of belonging as seen in the diverse Living-Learning Communities. As a result, the residence halls have been operating for years at maximum capacity. Since 2008, the university has kept careful watch on enrollment numbers while working to recover more than 20 buildings impacted by the flood. Now that many of these buildings have been renovated or reconstructed, the university can attract more in-state undergraduates and prepare for the expected upswing in students attracted by the campus's unfolding transformation.
A strong desire for community has attracted students back to campus, and Petersen Hall meets this modern need. For the past few years, all on-campus residents have participated in Living-Learning Communities (LLCs)—residence hall groupings that make it easier to meet new people and adjust to college life. Students can choose from more than 30 campus-wide communities, where they connect with others who share similar academic or personal interests. In Petersen, entrepreneurs study business as BizHawks; domestic and international students room together and explore different cultures in Global Mosaic; Iowa fans share their Hawkeye Pride; voracious readers devour Popular Literature; high-achieving STEM Scholars support each other's science, technology, engineering, and mathematics endeavors; and aspiring chefs learn to cook healthy meals in the residence hall's common kitchen through Kitchen Table.
Research shows that students involved in LLCs are more likely to stay in college, earn a higher GPA, and feel more satisfied with their overall college experience. Undergraduates who take courses with fellow LLC participants are also more apt to achieve academic success. To nurture a supportive learning environment, Petersen includes gathering spaces and study rooms on each floor, similar to those seen in other recent campus construction models such as the UI Libraries Learning Commons and Iowa Memorial Union renovations. The hall also houses the Theodore M. Rehder Residential Learning Commons and a multipurpose room that any student on the west side of campus can access.
As a likely new hangout spot, Petersen includes a place to grab a bite to eat. Black's Gold Grill, named after former UI dining director Greg Black, will cater to students, UIHC employees, and hungry Hawkeye fans. Though the sports grill isn't included in meal plans, diners can enjoy burgers and other comfort food late into the night at this Hawkeye-themed eatery.
Although Petersen's layout reflects a shared environment, it also provides students with the ideal personal space. On Slater move-in day 1968, undergraduates brought the basics: clothing, bedding, and books. Though room sizes haven't changed since then, today's undergraduates jam their spaces with immeasurably more items from home, including gaming systems, computers, and other electronics. Gone are the days of TV lounges and landlines. Instead, Petersen provides cable TV service and wireless Internet to every room. In recent years, UI Housing and Dining has worked to add more single rooms and convert triples into doubles for more space.
This fall's incoming freshmen—not accustomed to the notion of a communal shower or shared bedroom—also expect more privacy than their parents did in college. Though Petersen residents don't have a sink in their rooms, they do have several semi-private bathrooms on each floor. Other UI residence halls have been retrofitted with the same features. Like all new buildings on the UI campus, Petersen will likely earn Leadership in Energy and Environmental Design (LEED) certification for its environmentally sustainable design. Students control their own thermostats, and vacancy sensors save on lighting, electricity, and heating and cooling costs when residents leave their rooms. Green outlets also prevent plugged-in TVs and gaming systems from needlessly wasting energy. With these special features, Petersen's annual projected energy-cost savings is $326,546, or 52 percent compared to a similar-sized, standard building.
In two more years, another new residence hall will open its doors. Earlier this spring, construction began on the Madison Street Residence Hall, scheduled for completion in fall 2017. Located just west of the North Campus Parking Ramp on the former site of the Iowa City water plant, the 12-story building will be the university's largest residence hall. The $95 million project calls for three nine-story residential towers to be built on top of a single three-story base. It will include an entrance out onto the T. Anne Cleary Walkway, as well as a dining hall that will alleviate overcrowding at Burge. Though Madison Street overlooks the Iowa River, the residence hall will be built two feet above the 500-year flood level to avoid future problems.
UI interim senior vice president for finance and operations Rodney Lehnertz, 02MBA, predicts the 2016-17 school year will be one of the university's most challenging with the loss of beds, falling after Quadrangle's demolition but before the Madison Street Residence Hall's completion. The UI plans to continue leasing privately-owned apartments and limit on-campus housing options for returning students that year to accommodate the freshmen class.
Number of Beds by Residence Hall:
Burge: 957
Currier: 618
Daum: 344
Hillcrest: 802
Madison Street (opens fall 2017): 1,042
Mayflower: 1,009
Parklawn: 98
Petersen: 501
Quadrangle (closes summer 2016): 358
Rienow: 477
Slater: 499
Stanley: 384
This school year, the UI will lease five privately-owned apartment buildings for over $2 million. Following the completion of Madison Street Residence Hall, the university may be able to end these leases and put the money towards the upkeep of the residence halls. Currently, the university typically invests $9 million annually into upgrading student living areas. "We always take the opportunity to modernize the best we can," says Lehnertz, adding that the average building on campus is more than 40 years old. "Currier was built in 1914, yet it's a very popular residence hall, because Housing and Dining has kept it in good condition and updated it with social spaces."
Petersen hall coordinator Katherine Schmidt and her team of RAs know Petersen will become another beloved abode for students, and they are excited about the opportunity to help shape the new hall into a place residents will be proud to call home. Though Schmidt's friends were surprised she'd leave her position as an admissions counselor at Roosevelt University in Chicago to return to the dorms as a hall coordinator, Schmidt says she's missed the residence life atmosphere.
While Schmidt acknowledges she may get less sleep with her responsibility to respond to any 4 a.m. emergency phone calls, she welcomes the added challenge of being the inaugural leader of the Petersen community—a place where students today and those 50 years from now will no doubt make some of their fondest college memories.
Who is Mary Louise Petersen?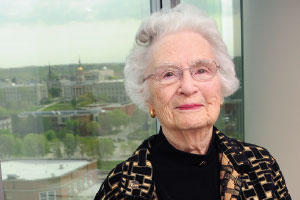 PHOTO: TIM SCHOON/OFFICE OF STRATEGIC COMMUNICATION
A trailblazer for education and the Iowa State Board of Regents' first woman president, Mary Louise Petersen, 51BA, 13LHD, helped open the new UI residence hall named in her honor.
In 1947, Petersen arrived as a freshman at the UI in what she described as the beginning of a new post-war era for women. Petersen was president of both her class and the Association of University Women, graduating summa cum laude from the UI College of Education in 1951 with a bachelor's in science education.
In 1969, Iowa Governor Robert Ray, 12LLD, appointed Petersen to the Iowa State Board of Regents, where she oversaw a growth in the enrollment and quality of state schools as president from 1973 to 1981.
On the national level, Petersen has served as chair of the board of directors of the Association of Governing Boards for Colleges and Universities, as advisor to the National Association of College and University Business Officers, and as an active member of the Carnegie and Kellogg Foundations.
Petersen, a member of the Iowa Women's Hall of Fame, has also been a longtime supporter of the UI Pentacrest Museums and other university programs and departments. She helped found the Mary Louise Petersen Chair in Higher Education in the College of Education, as well as the Walter and Margaret Anneberg Scholarship Fund in the Carver College of Medicine, which is named after her parents. She's also a 1983 UIAA Distinguished Alumni Award for Service winner, former member of the UI Foundation board of directors (1991-2006), and co-chair of the UI's $1 billion "Good. Better. Best." capital campaign (1999-2005). In 1997, she donated her papers to the Iowa Women's Archives at the UI Libraries.
More recently, Petersen received an honorary Doctor of Humane Letters degree from the UI in 2013 and returned to the university this past summer for her namesake residence hall's grand opening. The dorm also includes a residential learning commons named after longtime housing and dining manager Theodore M. Rehder, 35BSC, who died in 1991 and currently has a Quad lounge named in his honor.
Says Petersen about her namesake, "It's a great honor of course, which recognizes not only me, but many women in leadership and higher education at the university and throughout Iowa."
A Nod to Quad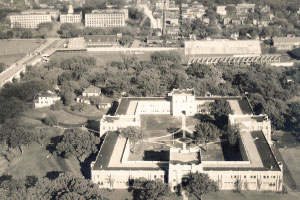 PHOTO: FREDERICK W. KENT COLLECTION OF PHOTOGRAPHS, IOWA DIGITAL LIBRARY,
Though change is inevitable, it can be hard to say goodbye to an old friend.
Originally constructed during World War I as a barracks for the Students Army Training Corps, Quadrangle Residence Hall has been home to thousands of students over the past century. Quad will be demolished in summer 2016 to make room for a new UI College of Pharmacy building. Though many memories have been made in that two-story residence hall since its opening in 1920, UI interim senior vice president for finance and operations Rodney Lehnertz, 02MBA, says it's no longer an efficient use of land.