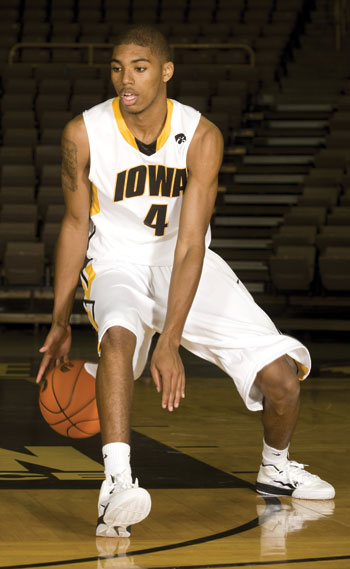 Playmaker: Roy Devyn Marble
For any freshman basketball player, the prospect of playing in the Big Ten conference is daunting.
Spare a thought, then, for one of the UI's new recruits, who also has some very big shoes to fill.
When Roy Devyn Marble first took to the Hawkeye basketball court this past fall, he knew 2,116 points stood between him and the all-time school scoring record set by his father, Roy Marble, 91BA. But, that didn't faze the younger Marble, who relishes the challenges that come with following in a UI legend's footsteps. "He's been real helpful," says Roy Devyn of his father, an Iowa three-time MVP, "and I'm honored to play in the gym he played in."
Roy Devyn is not a Roy carbon-copy. Aside from their similar build, they dazzle Carver-Hawkeye Arena with different styles. Roy would leap over defenders with a combination of power and grace, while Roy Devyn feasts on the perimeter. Plus, Roy Devyn has opted for Andre Banks [87BA]'s No. 4 jersey over his father's No. 23.
Marble originally signed a letter of intent to Iowa with Todd Lickliter as head coach. Lured in with the opportunity for immediate playing time, he upheld his vow this past March after Fran McCaffery was hired. "I knew I had a chance to come in and help the team right away," says the pre-business major. "My dad and my grandmother went here, so there's a lot of Iowa tradition in my family. I want to help get Iowa basketball back to the way it used to be."
Those glory days coincided with Roy Devyn's father, who competed in four-straight NCAA Tournament runs under Iowa coaches George Raveling and Tom Davis. During his 1985-86 freshman season, the elder Marble started 30 of 32 games and totaled 399 points. In 1989, the Atlanta Hawks picked him in the first round of the NBA draft.
Now, Roy Devyn is ready to make a name for himself among the Hawks. A native of Southfield, Michigan, Marble was a two-time MVP for Lathrup High School, where as a senior he averaged 24.5 points, eight rebounds, four assists, and 2.5 steals per game. This year, he and the Hawkeyes play with the mission to "be MAD again," aiming to return to the NCAA Tournament and March Madness.
Marble uses the word "mad" in other terms. Says the UI guard and forward, "I'm looking forward to going into these different places and making their fans mad."