Ophthalmology residents restore sight to free clinic patients through Operation HawkEyeSight.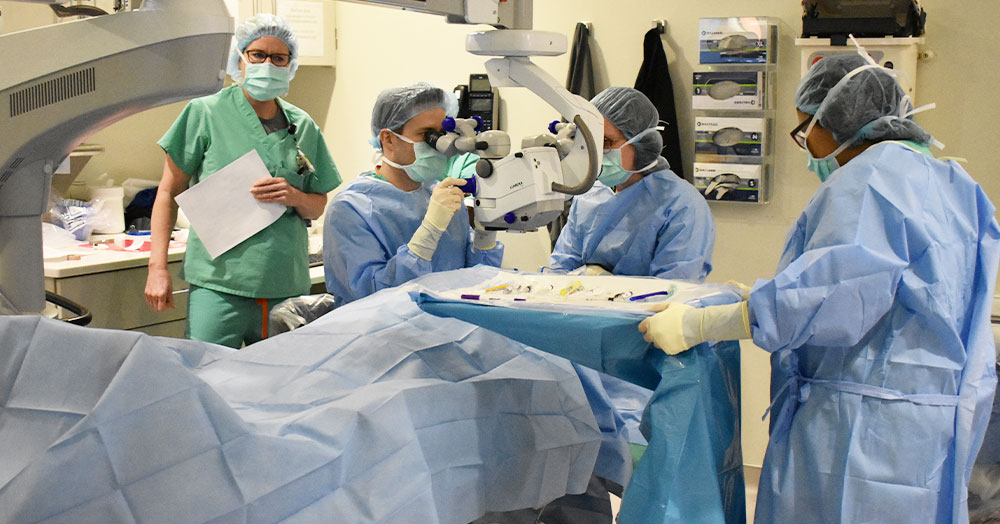 PHOTO COURTESY UI DEPARTMENT OF OPHTHALMOLOGY AND VISUAL SCIENCES
UI ophthalmology residents treat eye conditions such as cataracts and diabetic retinopathy through their volunteer work with Operation HawkEyeSight.
For years, a patient of the Iowa City Free Medical and Dental Clinic found joy in lovingly preparing pupusas—a traditional El Salvadorian dish of corn griddle cakes—for family and friends. But over time, her eyesight deteriorated so much from cataracts that the delight of cooking became a struggle.
University of Iowa ophthalmology residents who volunteer at the clinic regularly saw her and other low-income and uninsured patients whose vision could be restored—if only they had access to the proper treatment. Limited in the past to diagnosing patients and prescribing eyeglasses or eye drops, the resident volunteers recently expanded their services to offer cataract surgery, as well as laser treatment to fix diabetic retinopathy.
PHOTO COURTESY OPERATION HAWKEYESIGHT
UI ophthalmologist and clinical assistant professor Andrew Pouw
Determined to further break down barriers to accessing local health care, resident volunteers identified cataracts and diabetic retinopathy as two of the most common causes of major vision loss that they could address at the free medical clinic. "Those diseases tend to affect these patients worse and to a greater degree, just because they don't have as good of access to care to keep those things under control," says Andrew Pouw, an ophthalmologist and UI clinical assistant professor of ophthalmology and visual sciences who advises the clinic's resident volunteers. "And they can be permanently blinding."
For the past two years, the resident volunteers have secured a $100,000 UI Carver College of Medicine grant addressing health disparities to purchase the necessary equipment for diagnosing and treating the eye diseases. They worked with UI Health Care leadership for administrative clearance and to schedule cataract surgeries at the Iowa River Landing facility twice a year. With the purchase of portable equipment, the laser treatment for diabetic retinopathy can be performed at the free medical clinic in Iowa City every other month.
Already, the resident volunteers have helped dozens of patients restore their sight—and they are continuing to seek ways to extend their reach. That includes plans to offer more treatments for other eye diseases, spread awareness of the program to optometrists across Iowa, and find additional funding to help maintain equipment, expand services, and manage cataract surgery costs.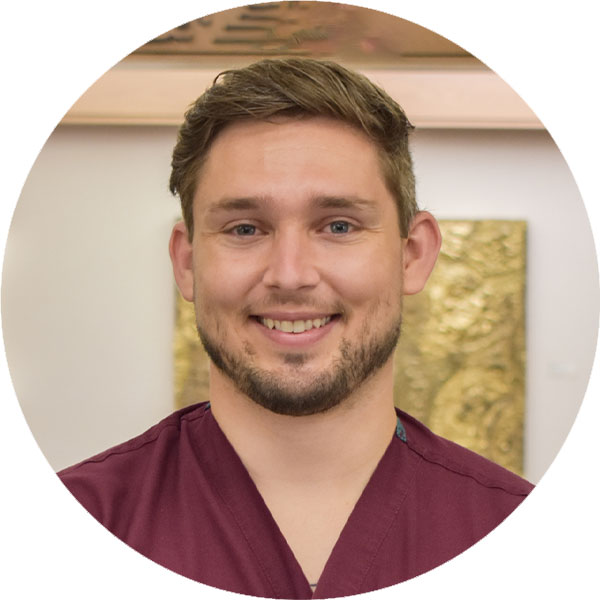 PHOTO COURTESY OPERATION HAWKEYESIGHT
UI ophthalmology resident Sean Rodriguez
Sean Rodriguez, one of the resident volunteers who leads the effort, says he's encouraged to see more than 50 volunteers—from ophthalmology and anesthesia faculty, fellows, and residents to medical students—join Operation HawkEyeSight. "Getting involved in this helps keep a great perspective on what's important, which is taking care of the patient—regardless of the cost," he says.
In August 2022, the pupusa maker became one of the first free medical clinic patients to benefit from cataract surgery. "It was a very touching moment when she came out and was able to see again for the first time in a long time," says Pouw. "A lot of tears were shed. That's why our resident volunteers do this."
During a postoperative visit to the clinic, the woman could finally clearly see the faces of the volunteers who restored her sight. Able to return to her livelihood of making pupusas, she brought a cooler of her specialty dish to the clinic to thank her healers for helping her return to the cooking she loves.