The John Deere Foundation supports teachers and students with a gift to the University of Iowa's nationally leading Scanlan Center for School Mental Health.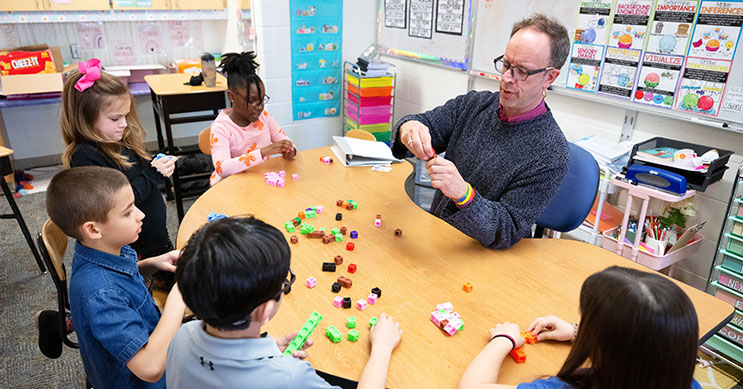 PHOTO: University of Iowa Office of Strategic Communications
Barry Schreier, director of higher education programming for the Scanlan Center for School Mental Health, works with children during a recent visit to a local school.
Kari Vogelgesang (01BA, 10MA, 15PhD) has spent the better part of two years leading teams of University of Iowa researchers, educators, and trainers who are addressing the mental health crisis within Iowa's K–12 schools. While she's inspired by the work of America's teachers, she's also worried about the ever-growing needs of our youth and their educators.
Kari Vogelgesang
"I'm impressed with the level of commitment and passion that educators in our state have for our students," says Vogelgesang, who is director of professional development for the Scanlan Center for School Mental Health at the University of Iowa. "It's powerful, heartwarming, and makes me tear up because our educators are suffering with their own personal issues and worrying about their students."
In Iowa—and throughout the U.S.—the statistics surrounding mental health and suicide are dire. According to the Iowa Department of Education and the American Foundation for Suicide Prevention, the No. 1 problem facing schools is mental health, and suicide is now the second leading cause of death amongst Iowa youth. Teachers throughout the state and nation lack training and support to help students, and that's where the Scanlan Center for School Mental Health has stepped in and created a comprehensive, one-of-kind approach to address the mental health crisis.
A recent gift from the John Deere Foundation will bolster the crucial work being done by Vogelgesang and her Iowa colleagues. The foundation has committed $525,000 to advance research efforts and support educators, students, and their families—specifically underserved and underrepresented youth—in John Deere communities throughout Iowa and Illinois.
Nate Clark (99JD), president of the John Deere Foundation and global director of corporate responsibility at John Deere, says the youth mental health crisis is of great concern to John Deere and its over 82,000 employees. Since its inception in 1948, the John Deere Foundation has provided more than $380 million in grants to support home communities around the world. Its gift to the Scanlan Center for School Mental Health is the John Deere Foundation's first dedicated to youth mental health.
"There is an urgent need for social, emotional, and behavioral health interventions for youth facing poverty, food insecurity, homelessness, discrimination, and other forms of trauma," says Clark. "As the only center in the nation with a comprehensive approach to student mental health, the Scanlan Center for School Mental Health is pursuing cutting-edge work that supports marginalized youth across our home communities in Iowa and Illinois. We hope to motivate others to invest in this important work and help educators and students alike to overcome the challenges they face today."
Since its founding in 2021, the Scanlan Center for School Mental Health—which is a partnership between the University of Iowa College of Education and the Iowa Department of Education—has become a leader in providing social, emotional, behavioral, and psychological services to schools. Bringing together experts from across campus, the state, and the nation, the Scanlan Center for School Mental Health is the only mental health center in the country to provide clinical support and intervention services, administer professional development training for educators, train future school mental health professionals, and conduct research in the field—all in an effort to help teachers and youth develop critical skills for improving their mental health.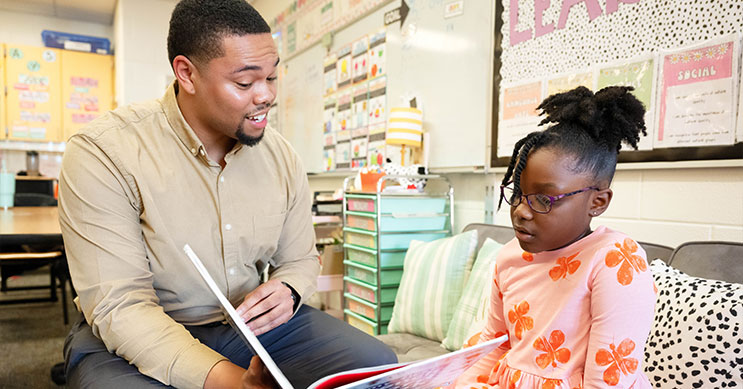 PHOTO: University of Iowa Office of Strategic Communications
Tevin Middleton, a certified professional school counselor, reads to a child. Middleton is a Scanlan Center for School Mental Health Workforce Expansion trainee and a counselor education and supervision doctoral student at Iowa.
Vogelgesang and her team have worked with more than 5,000 educators throughout Iowa to better support them through professional development opportunities. John Deere's gift will enhance Iowa's current work in underserved communities.
"We've seen unprecedented learning and growth in our sessions and throughout our work," she says. "We're reaching thousands of teachers, and contributions from organizations like the John Deere Foundation help keep our work moving forward."
A $20 million grant from the Iowa Department of Education will end in 2024, which means that the Scanlan Center for School Mental Health is actively pursuing funding to continue this important work in the Hawkeye state and beyond.
"Our state and country are facing extreme mental health challenges—particularly in our schools," says
Dan Clay
, dean of the University of Iowa College of Education. "The level of stress faced by teachers and students is unprecedented, and while the University of Iowa is uniquely positioned to help, we need additional partners to have the greatest impact addressing this public health crisis."