Novelist John Irving looks back on his longtime friendship with wrestling icon Dan Gable.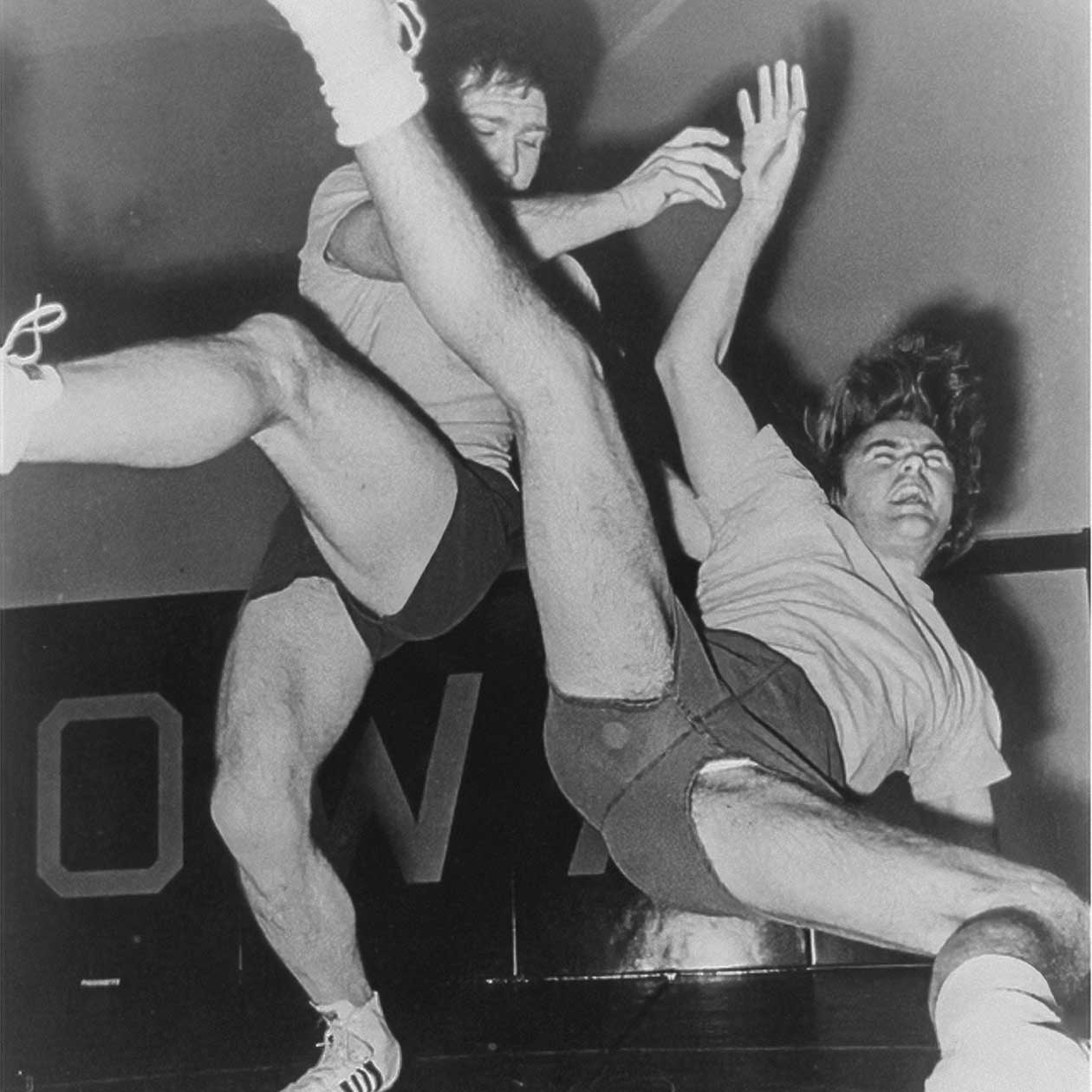 PHOTO: GEOFF WINNINGHAM
John Irving finds himself on the wrong end of a foot sweep while working out with Dan Gable in the Iowa wrestling room in 1973.
When John Irving (67MFA) returned to the University of Iowa to teach in the MFA program in 1972, he helped out in the wrestling room under coach Gary Kurdelmeier (59BA, 62MA). Kurdelmeier had just hired new assistant coach Dan Gable, fresh off an Olympic gold medal where he outscored his opponents a combined 130-1.
You'd have to be pretty ambitious, and a bit crazy, to want to work out with Gable in 1972. Irving, who wrestled in prep school and at the University of Pittsburgh, was both.
"Having been one of his many, and probably one of his most ineffectual workout partners," Irving recalls, "I don't think there's a match for his intensity. If tunnel vision had a spokesperson, he'd be a good one. But I say that with the utmost admiration and appreciation. The wrestling room in the Field House was like a second home to me. And everybody wanted to work out with Dan Gable. Or try to. Those of us so-called graduate assistant coaches, sort of hang-around volunteers who were around Dan's weight class, were largely there to get kicked around by him, and maybe learn something."
Irving describes the experience of wrestling Gable as both exciting and occasionally humiliating, but says he took away something important from "the greatest wrestler of all time." Irving did not think of himself as a "born writer" and knew there were other students in the program more gifted, but if that were the case, he could outwork them, the way Gable outworked his opponents.
"If you watch the best wrestlers in a wrestling room, you're seeing people who have made this a full-time job," Irving says. "They're not just dedicated for the two or three hours into practice. You can see the carryover in everything about the rest of their lives. I was in wrestling rooms with people who were world champions, and I aspired to be like them. What you're picking up on is those guys' dedication, their sense of purpose. Writing a novel is like that. The parts you love, the parts you're setting up, may be five years ahead of you, but you can't lose sight of what you're writing toward, and you can't lose faith that you're going to get there."
Irving and Gable found time to work out when the author returned to Iowa City on book tours, and they have remained friends, bonded by the only sport you can't really practice on your own.
"Though if you've ever seen Gable work out by himself on a mat," Irving adds, "you would think he had a ghost partner—that guy could get a workout in about 10 minutes with nobody there. I've never seen anything like it."