Looking for a winter page-turner? These City of Literature shops cater to bookworms of all variety.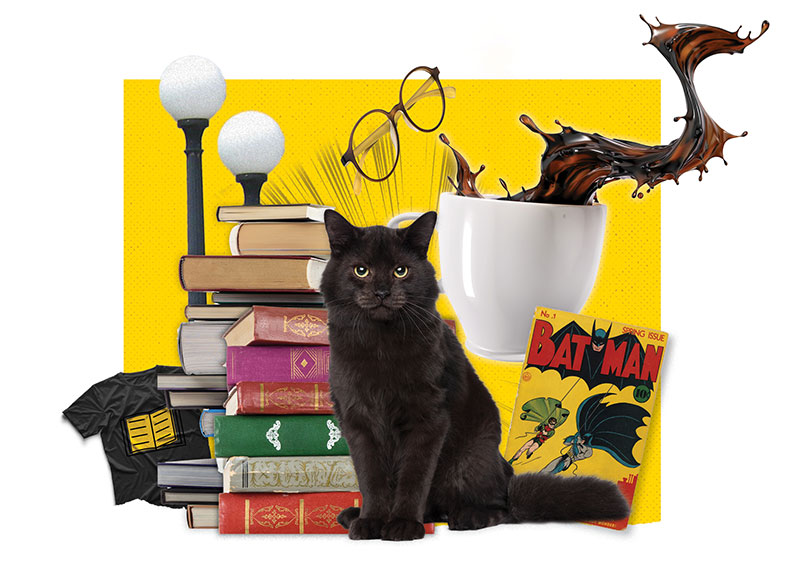 Cats, coffee, and comics are among the attractions at Iowa City's bookstores.
In 2008, Iowa City was designated as a UNESCO City of Literature—only the third one named in the world at the time and the first in the U.S. Celebrated for its nationally acclaimed writing programs and active libraries, the literary town is also home to a number of lively bookstores. Here are some of the best spots to find your next great read in Iowa City.
---
15 S. Dubuque St.
Established in 1978, Prairie Lights is known as one of the nation's top independent bookstores. Prairie Lights' stellar reputation is built on its famous reading series that brings in up-and-coming and well-known authors and poets. Signed books are available at the store, and the upstairs features a café.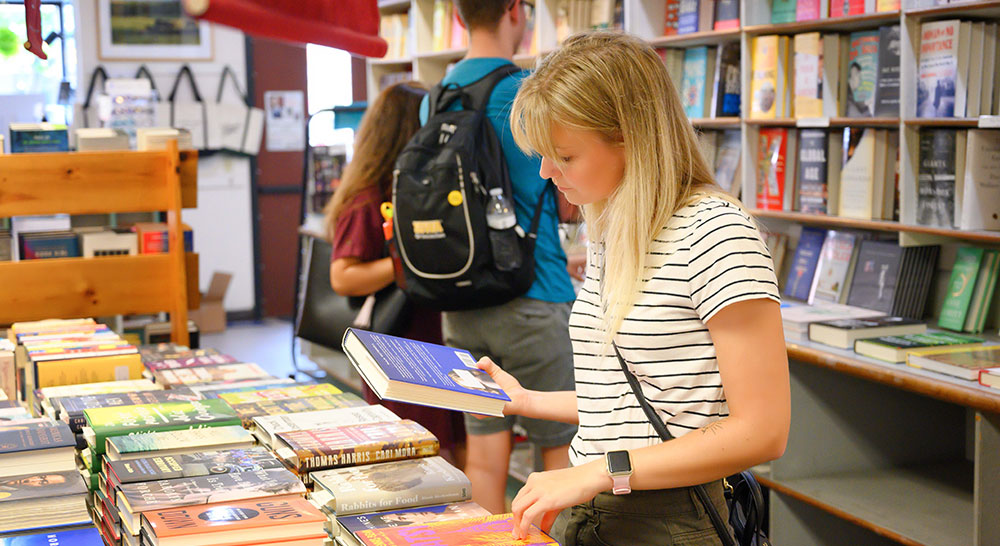 PHOTO: JUSTIN TORNER/UI OFFICE OF STRATEGIC COMMUNICATION
A patron browses the new releases at Prairie Lights in downtown Iowa City.
---
219 N. Gilbert St.
Iowa City's oldest secondhand bookshop, The Haunted Bookshop is located in a house built in 1847 with rooms named after patrons, cats, and even one of the "ghosts" of the shop. Each room houses a different genre of books, and there are many places to sit, read, and play games.
---
125 N. Madison St.
Located in the Iowa Memorial Union, the Hawk Shop is the official bookstore of the University of Iowa. In addition to bestsellers, it offers many necessities for UI students such as textbooks, school supplies, electronics, dorm essentials, and Hawkeye merchandise.
PHOTO: JUSTIN TORNER/UI OFFICE OF STRATEGIC COMMUNICATION
A student finds a textbook for class at the Iowa Hawk Shop and University Bookstore located inside the Iowa Memorial Union.
---
8 S. Clinton St.
Now overseen by Barnes & Noble, Iowa Book caters to both students and the community. The store has many popular books and textbooks, as well as UI apparel and decor, school supplies, and gifts.
---
1310½ Melrose Ave.
A more recent addition to the literary scene in Iowa City, Sidekick Coffee & Books has quickly become a favorite. The store originally focused on children's books, but its selection of titles for adults has expanded with demand. It features a full-service coffee bar and events such as author readings and kids' story times.
---
229 E. Washington St.
Moving in January 2021 from Dubuque Street to East Washington Street, Daydreams Comics has been a staple of downtown since 1986. The shop includes a new comics wall and a section dedicated to all ages. Daydreams Comics also showcases work from local comic book creators alongside well-known artists.
---
1570 S. First Ave.
Captain's Book Shoppe is a rare, used, and new book buyer and seller. The store sells all genres of fiction and nonfiction and professional journals, with new material continuously added to the showroom shelves. In addition, the store offers consulting, book appraisals, book donations, and online sales.