A reader's unforgettable visit to the Field of Dreams and other reactions to Iowa Magazine stories.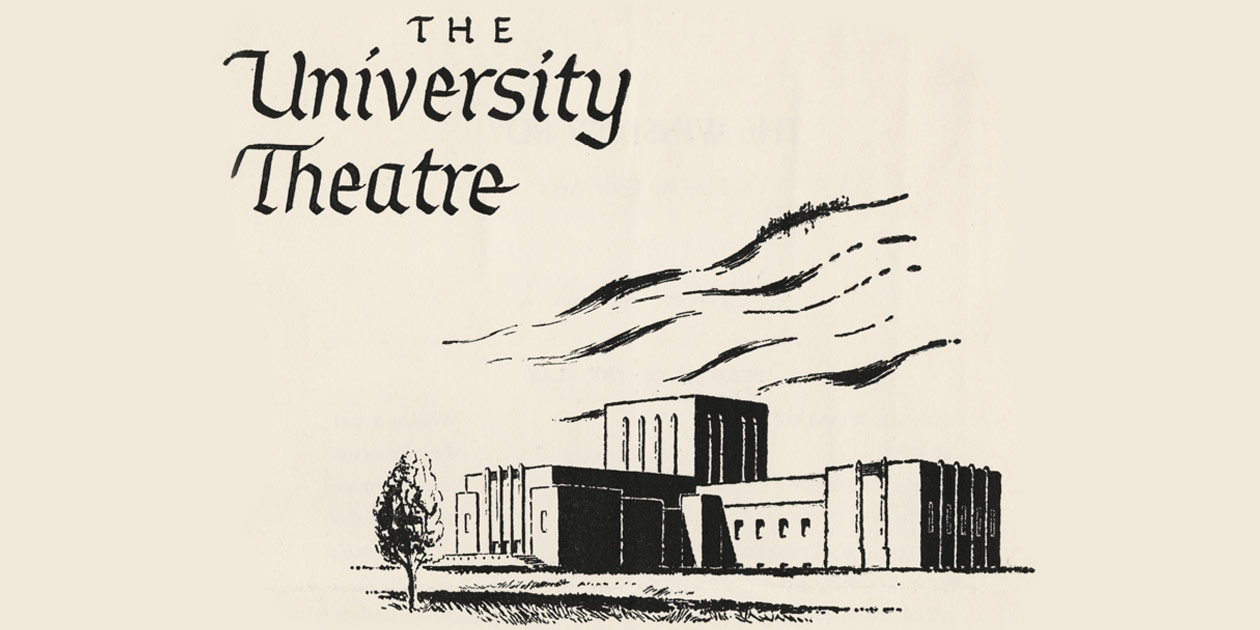 ILLUSTRATION COURTESY UI LIBRARIES SPECIAL COLLECTIONS
Baseball Mecca
I just finished "If You Write It," about the Field of Dreams, in the summer magazine [p. 38] and thoroughly enjoyed the details you added to a story I have followed for quite a while.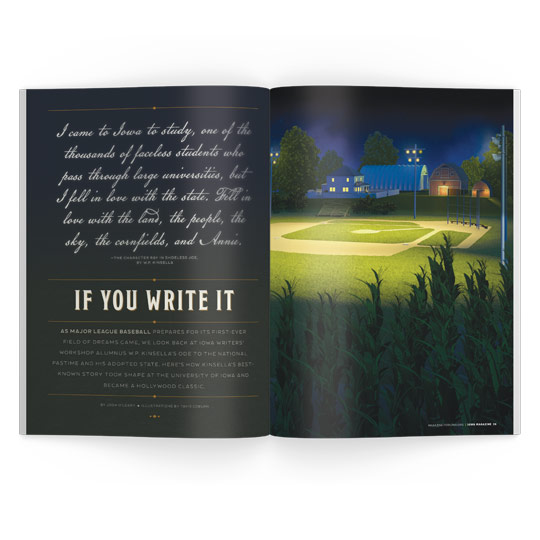 A Southern California native, I ventured to the UI in 1975 to receive my master's in English (with an American literature focus). I then taught high school English in San Clemente, California, for 37 years, incorporating an annual spring viewing and archetypal analysis of Field of Dreams into my classes. Upon retirement in 2018, I returned to the UI campus for 10 days to participate in the Iowa Summer Writing Festival, but more importantly to take a side trip up to Dyersville to visit the mecca.
I wrote and locally published this essay documenting my experience, when I lived out my Iowa dream:
Catching a Dream
I can't move. I should reach for my phone and take pictures. I don't.
Instead, I stand next to my rented car on Lansing Road in Dyersville, Iowa, staring.
In the distance, a white farmhouse hovers above a baseball diamond sculpted into a sea of dark green cornstalks. A sign reads: "Field of Dreams Movie Set."
The familiar lines arrive.
Is this heaven?
No, it's Iowa.
It's only a field and a farmhouse lingering from a 30-year-old movie set where actors playing characters heard voices, talked to dead people. It's based on a fictional story by an author who loved baseball. Many grown men tear up at the end.
I know this is not real. It never was. Yet something cautions me to pay attention, to take my time.
I ease my car across the small wooden bridge over a creek toward the pristine field. Two months ago, I reserved a spot online for the only tour offered, of the "Kinsella farmhouse." I assumed that the field itself was sacrosanct—to be seen but not touched—yet kids in Cubs and Cardinals caps chase each other around the bases. Men in John Deere hats and women in shorts and sleeveless blouses pose for pictures on the mound. A lawn mower traverses the outfield grass. How could a holy ground reserved for movie stars and ballplayers in uniforms allow common folk of all ages to play catch, run the bases, and laugh?
At the concessions stand, a middle-aged woman on the phone holds up one finger, asking me to wait. Soon after, I find myself blabbing to Betty about my dad's baseball mitt, using the movie to teach mythological archetypes in my English class, and this side trip from my return visit to the University of Iowa. She smiles, as if she's heard stories before, tells me I'm going to enjoy the tour, and in the meantime, "Why don't you go out to the field?" Permission granted.
I head over to the bleachers that Ray and Annie Kinsella built. I sit above where the movie's dispossessed writer and baseball fan, Terrence Mann, says, "Oh, people will indeed come, Ray." I look to the top rung where their daughter, Karen, adds, "They'll come to see the baseball players," before she falls off, a piece of a hot dog lodging in her throat. I step down and toe the spot between the dirt and sod where Archie Graham crosses, willingly aging back into Doc Graham to save Ray's daughter.
I move out into the field, breaking into a spontaneous trot through the cut blades of grass toward center field where all the magic begins, where dead baseball players appear, where Shoeless Joe Jackson steps out of exile.
The cornstalks that towered over Ray Kinsella are only waist-high this June, but I gaze out at a flowing sea of green, alive in a brisk wind, rolling toward the horizon. I reach into the cornfield like Terrence Mann, chuckling to myself before fully stepping in. I turn and kneel to let the stalks brush across my face, then stare out at the field, whispering, "If you build it, he will come." I take a few steps out, with Shoeless Joe, with other banished White Sox players, with Ray's estranged father, John. I look at home plate, the white farmhouse, then back out at the corn.
I close my eyes and smile. I smell the fresh-cut grass from my father's lawn mower. For a moment, then and now, I am home.
Mike Conlon (75MA)
San Clemente, California
---
Encore Presentation
What a pleasure to read about Iowa theatre arts in the winter 2020- 21 issue of Iowa Magazine ["A Century of Drama," p. 24]. I was an undergraduate student from 1956 to 1960 and loved going to the plays, even though it was an awfully cold walk from Currier Hall to Mabie Theatre. I never had the nerve to walk across the ice on the Iowa River, always going to the footbridge.
My strongest memory of all the plays was seeing Waiting for Godot, along with the annual Shakespeare play. If my memory serves me right, tickets were dispersed in the Iowa Memorial Union. Our University of Iowa card was punched for the event we selected, and it was part of the tuition payment. Attending performances as a student started me on a path to a lifetime of live performances wherever I have lived.
Thank you, Iowa, for giving me this gift.
Shela Smith Fretwell (60BA)
Cedar Falls, Iowa
Thanks for the several fine pieces on the history of the UI theatre arts program. No doubt you had to omit countless accomplished performers from your coverage, but I'd like to remember one more. Ellen Dolan (78BA, 80MFA) has had a fine film and television career, perhaps most famously through her 12-year run on As the World Turns. I remember taking German classes with Dolan in the 1970s and attending some of her performances. No doubt Dolan was seen by millions of viewers in her role as the Luzianne Iced Tea spokesperson in a series of 1980s television commercials. I can verify that her thick Southern accent in those commercials was most definitely acting.
Doug Hesse (78BA, 80MA, 86PhD)
Denver, Colorado
---
Live Long and Prosper
"Centenarian Couple" [winter 2020-21, p. 59] was a very touching story of the Roes, who met at the UI in the 1940s and have had a 73-year marriage. It brought fond memories to me, as Frank Schultz (56BA) and I met at the university in 1955 and were happily married for 60 years. Frank passed away at 82 years old in 2017, but I am still around! We both had careers in higher education, but I also graduated in 1956 with a degree in speech pathology.
Your story has many parallels to the life Frank and I shared together. I continue to enjoy reading Iowa Magazine.
Marilyn J. Coleson Schultz (56BA)
Mount Pleasant, South Carolina
Beautiful couple, beautiful story. Their 73 years together is a story of love, forgiveness, respect, progress, joy, and happiness. Too bad someone couldn't analyze their lives together and put it into a UI course to show students what life can be. Thanks for the story!
Richard Gibbs (68BBA)
Lake Forest, Illinois
---
Trip Down Memory Lane
I enjoyed the piece by Tom Ecker (57BA) ["A Weekend, a Wager, and an Epic Hitchhiking Journey," winter 2020-21, p. 46], whom I knew as a student in the 1950s. He was quite a character, and I selected him for a feature story for Mrs. Mather's advanced reporting class, which brought me one of my very rare As. Among other crazy things, Tom used to balance lawn mowers on his chin, and he once started a near-riot between the Quad and Hillcrest dormitories by shouting out his window. L.W. Ward (55BA) and I became friends when we worked as photographers on The Daily Iowan together. Dixie Davenport Nacke (59BA), a singer with the Hawkeyes singing group, was another good friend, so you stirred up a lot of memories here.
Bob Strawn (65BA)
Arlington, Virginia
---
What Might Have Been
I have a story to tell in response to "Peace, War, and Basketball" [spring 2020, p. 25] on the 1969-70 Iowa men's basketball team. I went to Burlington (Iowa) Junior College in 1966–68, when Downtown Freddie Brown and Dick Gibbs were the stars of the Blackhawks. Brown had committed to Iowa, and Coach Ralph "Cappy" Miller was also interested in signing Gibbs. Dick asked me to drive him to Iowa City to meet with Miller, but along the way my 1963 Corvair broke down in Columbus Junction, causing Gibbs to miss his meeting. By the time we arrived, Miller was gone for the day, so Gibbs lost his chance for a scholarship. Dick went on to star at the University of Texas at El Paso and later with the Washington Bullets in the NBA. I've often wondered how even more dominant J.J. and the Dealers would have been with feisty Gibbs at small forward.
Don Gardiner (72BGS)
Bloomington, Indiana