A college bet sends Tom Ecker on a road trip across America.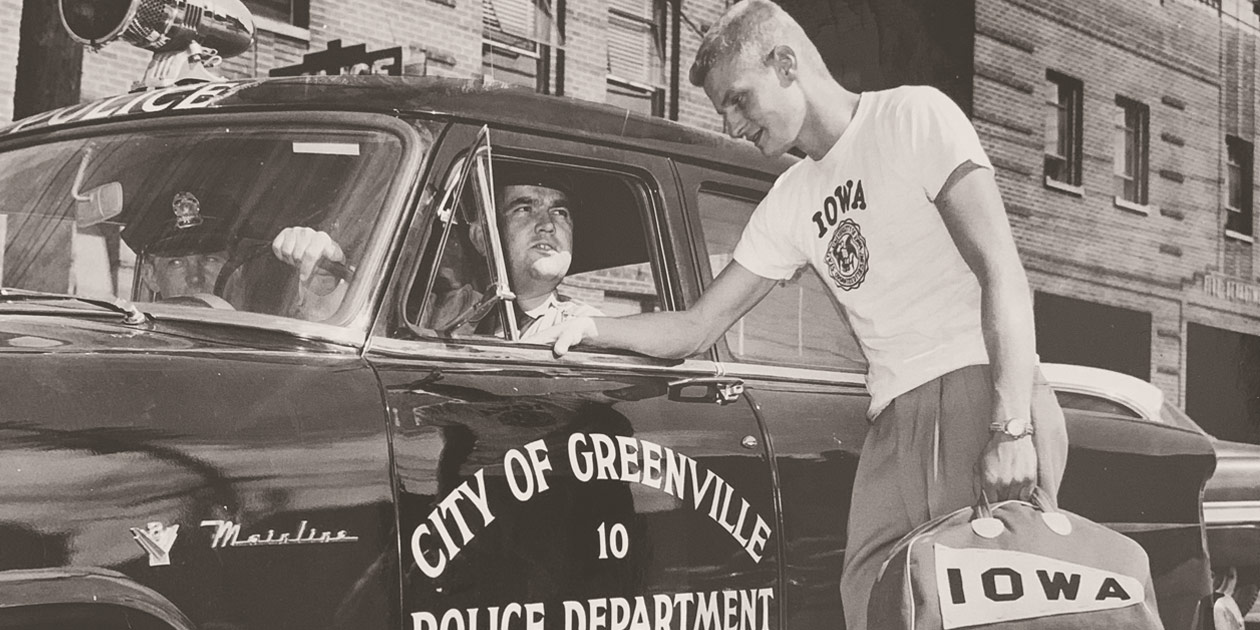 PHOTO COURTESY TOM ECKER
University of Iowa student Tom Ecker chats with local police officers after hitchhiking his way to Greenville, South Carolina, in 1957. His weekend journey to win a bet with his roommate attracted national media attention.
In October 1954, my sophomore year at the University of Iowa, I was involved in the most publicized hitchhiking trip I ever took, and perhaps the most publicized hitchhiking trip anyone has ever taken.
One evening, my roommate at Hillcrest Dormitory, Larry "Whitey" Perry (57BSC), and I were discussing our travel experiences. I told him I had been in all of the 48 states—this was before Alaska and Hawaii joined the union—except Washington, Oregon, North Dakota, North Carolina, and South Carolina.
He asked me if I thought I could hitchhike to North and South Carolina over the Thanksgiving break without missing any classes. That would be too easy, I told him. I could do it over a weekend. He bet me five dollars I couldn't and said he'd throw in a steak dinner at the nearby Amana Colonies if I could make the 2,000-mile trip the following weekend. Some other students wanted in on the bet, so the total bet was ten dollars and a steak dinner. One of the other bettors was John "Sky" Marschall (58BA), whom I hadn't met before but who has since become a lifelong friend.
My friend L.W. Ward (55BA) was a film cameraman at KCRG-TV in Cedar Rapids. In order to help publicize the upcoming trip, Ward introduced me to two KCRG newsmen, Tom Pettit and Joe Bartelme (54BA, 55MA). The two newsmen thought the hitchhiking adventure would provide a weekend of great TV news stories. They wanted to help in any way they could. (Both Tom Pettit and Joe Bartelme later became award-winning journalists at NBC News.)
It was agreed that I would take only one dollar with me, to ensure I wouldn't take any buses or trains, and that I would send a postcard to Whitey Perry on my arrival in South Carolina. The card was to be proof that I'd made it.
As it turned out, there was no need for any kind of proof. The Associated Press followed the story for the entire weekend. I hadn't expected the trip to be so well-publicized. I later learned that the nation was watching "the hitchhiker's" progress in newspapers and on radio and television around the country.
Later, people I didn't know sent me dozens of newspaper clippings from all over the country, including one from Anchorage, Alaska. I even received a clipping from a Long Beach, California, newspaper. It was sent in an envelope addressed to "The Hitchhiker, SUI." There was no name, no address, no city, and no state, yet it got to me.
I left from the east edge of Iowa City after my last class, at 11:30 a.m. Friday, October 8. To win the bet, I had to be back for my first class on Monday, October 11, at 8:30 a.m. It's important to note there were no interstate highways in those days. Most of the travel would be on two-lane highways, often having to slow down in small towns along the way.
Newspaper reporters, photographers, and TV cameramen were there to cover the start of the adventure. Here is a sampling of the first day's headlines in newspapers from around the country: Carolina, Here I Come; A Fast Man: Ecker Plans 2,000-Mile Hitchhike on Weekend; Good Trick if He Can Swing It; Will Thumb 2,000 Miles to Settle Wager; Trackman at SUI Plans 2,000-Mile Race with Time; I'll Do Anything on a Bet; SUI Student Plans 2,000-Mile Weekend Hitchhike; Iowa Student Starts Long Trek to Greenville, S.C.; Student Starts 2,000-Mile Trip to Win Bet.
My first ride, from Iowa City to Davenport, was in a 1954 Packard. The driver knew I was the well-publicized hitchhiker, so he decided to drive between 95 and 100 miles per hour to help my cause. There were no speed limits on the open highways in those days. The posted speed limit throughout the state was ''Reasonable and Proper."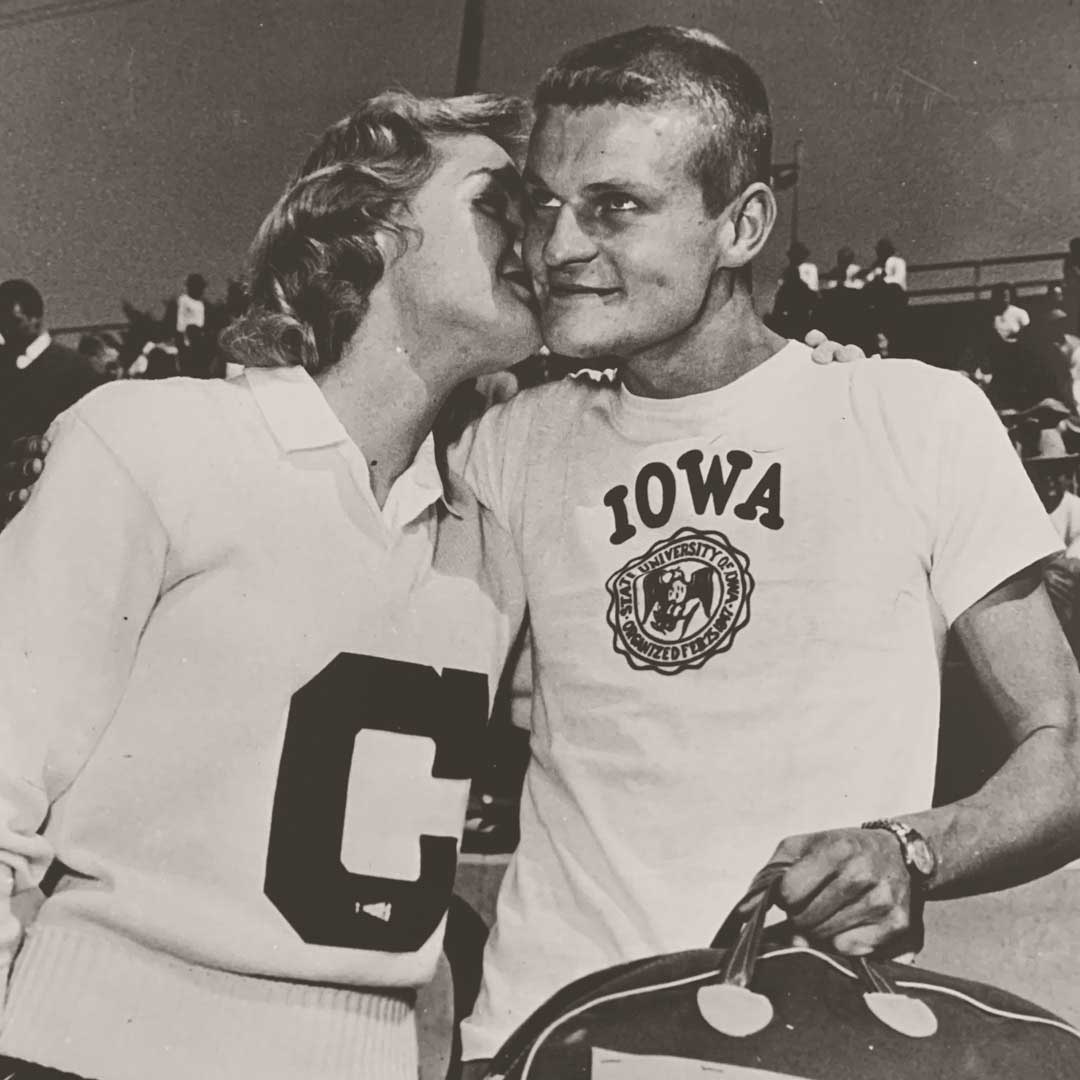 PHOTO COURTESY TOM ECKER
Cheerleader and reigning Miss South Carolina Polly Rankin Suber pecks Ecker on the cheek after he arrived in Greenville.
Along the way, almost everyone who gave me a ride knew who I was. Some people even drove out of their way to make sure I'd be in a good place to catch the next ride. A little after midnight I reached Louisville, Kentucky, and was walking through town. Three GIs came out of a bar across the street, and one yelled to me, ''Are you the hitchhiker from Iowa?"
From Louisville, I got rides that took me across Kentucky, Tennessee, a corner of North Carolina, and into South Carolina. When I arrived in Greenville, it was 10:45 Saturday morning. I had averaged about 100 miles a ride at a speed of almost 43 mph.
I was met at the edge of Greenville by a police officer, newspaper reporters and photographers, and a TV cameraman. After being interviewed and having many pictures taken, Jim Burns, the TV cameraman, gave me a ride to his station, WFBC-TV, for a live interview.
When the interview was finished, two photographers from the Greenville News drove me to Sirrine Stadium, where Furman University was hosting the South Carolina football team at 2:30 that afternoon. At the stadium, they wanted to take me down on the sidelines before the game started. I didn't need a ticket since everyone seemed to know who I was.
The reason they were so eager to get me down on the field became obvious once I got there. They wanted me to pose with Polly Rankin Suber, a South Carolina cheerleader who had finished third in the Miss America contest earlier that year. They took pictures of Ms. Suber kissing me on the cheek, welcoming me to South Carolina. The picture, which became an AP wire photo, appeared in newspapers throughout the country. In the accompanying AP story, I was quoted as saying, "The kiss was the highlight of my brief stay in South Carolina."
Then the newsmen gave me a ride to the edge of town; one of them gave me $3 and said, "Eat well,'' and I was back on the road. The Greenville newspaper wrote: "With a comfortable 43 hours remaining on his schedule, he thumbed out of Greenville at 2:30 p.m., with confidence that he would be in class at 8:30 Monday morning to win his bet."
The trip back was considerably slower than the trip out. The first nine rides averaged only 17 miles a ride, averaging barely 15 miles per hour.
The car that picked me up in Greenville took me only nine miles to a place called Traveler's Rest. It was my shortest ride of the entire trip, and appropriately, I was a traveler resting there for the next hour-and-a-half, waiting for the next ride.
From Traveler's Rest to Henderson, a distance of 41 miles, the ride was in an old Chevrolet. There I was picked up by a new car that the owner was breaking in. We traveled a steady 35 miles per hour for the next 21 miles as he broke in the new car's engine. As we approached the city of Asheville, North Carolina, the car was involved in a minor collision with a truck. Then, the following driver, in a 1947 Kaiser, took a wrong turn, got lost in the hills of North Carolina, and we had to backtrack. Things were not going well.
The next driver took me into Tennessee but dropped me off at midnight at a lonely country spot, where I waited two hours for a ride. Then my luck changed. A soldier stopped and gave me a ride in his 1952 Plymouth, all the way to Highway 6, just south of Chicago. It was a 550-mile ride, and I slept for six hours and even drove part of the way for him while he slept.
The area south of Chicago was experiencing a great deal of flooding when we arrived there, so we had to follow a number of road detours. There was one more short, three-mile ride before I was picked up by the superintendent of schools in Cresco, Iowa, Abner Hendrickson, who drove me all the way to Iowa City. Abner and his wife bought me a meal on the way, took many pictures, and asked if they could keep my hitchhiking signs as souvenirs.
At the meal stop, I called ahead to my roommate, Whitey Perry, and told him to meet me at the Dean Jones Texaco gas station on Burlington Street. He notified the press, and there were several reporters and photographers waiting when we pulled in. It was only 5:57 p.m. Sunday. My trip back to Iowa had averaged only 22 mph, but the arrival in Iowa City was still more than 12 hours ahead of schedule. I arrived back in Iowa City with 94 cents in my pocket.
We posed for photographs as Whitey paid off the bet. Then I decided to walk the few blocks across the river to Hillcrest Dormitory, where Whitey and I lived. As I was walking on the Burlington Street Bridge, a city bus stopped next to me, the driver opened the door, and he said, "I might as well get in on the act, too. Get in." So my final ride was on a city bus, all the way to Hillcrest Dormitory.
As I slept that night, some of the fellows at Hillcrest were listening to a late-night disc jockey on KDKA in Pittsburgh. The disc jockey wondered aloud if that hitchhiker from Michigan had made it back. One of the guys called the disc jockey to set him straight, and the DJ apologized on the air and corrected his error.
A few days later, an editorial appeared in the Greenville, South Carolina, newspaper. It read: "The country probably needs some more Tom Eckers, young men who are a bit brash and find life enticing enough to challenge their paces under untried circumstances."
---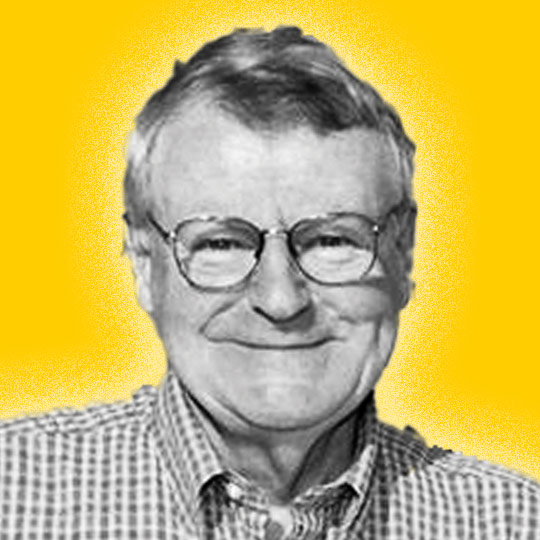 PHOTO COURTESY TOM ECKER
Tom Ecker (57BA) of Cedar Rapids is the creator of the Wuzzles word puzzles, which he syndicates in newspapers internationally under the pseudonym Tom Underwood. This story was excerpted from Ecker's new memoir, Wherever I Choose: An Unauthorized Autobiography (2020, Big Fox Publishing). Beyond his hitchhiking exploits, Ecker's book covers his track and field career at the University of Iowa, how his college singing group nicknamed the Hawkeyes landed a deal with Capitol Records, his career as an innovative track coach and educator, and traveling to 10 Olympic Games as a writer and tour host. His memoir can be purchased at tomeckerbook.com.