A chart-topping producer and composer recently returned to campus as a College of Liberal Arts and Sciences Alumni Fellow to share his experiences with students.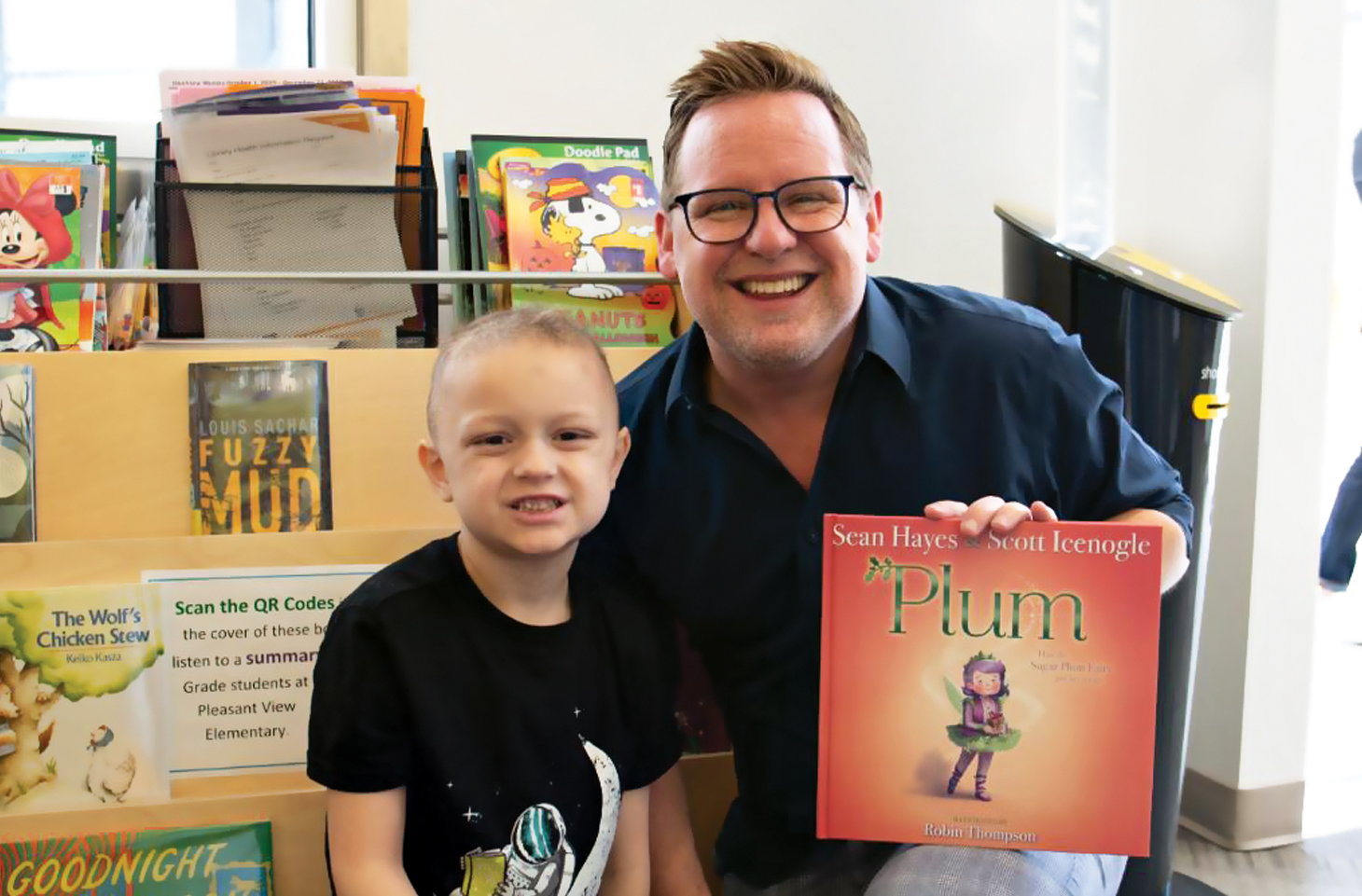 PHOTO: ELIZABETH VANCAMP/UI STEAD FAMILY CHILDREN'S HOSPITAL
Scott Icenogle paid a visit to UI Stead Family Children's Hospital, where he read from his new book, Plum.
In 1977, a schoolboy saw a swashbuckling space adventure. By the time the Star Wars movie credits were rolling, young Scott Icenogle (91BA) was hooked on musical scores.
Now a chart-topping producer and composer who's worked for shows such as Will and Grace and The History of Comedy, Icenogle credits John Williams' award-winning Star Wars soundtrack with shaping his success. "I listened to that double LP on repeat," he says. "In a kind of Rain Man moment, I discovered that I had a photographic memory of the movie's dialogue, triggered by hearing the music."
Icenogle's innate understanding of the connections between music and storytelling eventually would take the second-generation Hawkeye from Iowa City to New York—and then to Los Angeles, where he currently resides.
When he returned to the University of Iowa this past October as a 2019 College of Liberal Arts and Sciences Alumni Fellow, Icenogle shared some of the highlights from this "not so straight" path to Hollywood, as he puts it. Among them include his stint as the original DJ on The Ellen DeGeneres Show; remix collaborations for pop stars such as Beyoncé and Katy Perry; and publication of a Nutcracker-inspired children's book, Plum, which he co-wrote with husband, Sean Hayes—best known for playing Jack on Will and Grace.
Icenogle believes that Iowa helped him "forge a path to this new world." He says, "The UI allowed my creative interests to flourish and helped me prepare for the next stage of my life."
A self-described "Army brat" who moved 17 times during his childhood, Icenogle finished high school in Alexandria, Virginia, and followed in his father's footsteps to Iowa, even joining the Hawkeye Marching Band like his dad, Col. Larry F. Icenogle (71BA).
When the younger Icenogle wasn't busy playing baritone in band, he explored his interests in television and film, majoring in communications studies. After graduation, he began a 10-year career with ABC, which led him from New York to Los Angeles. There, Icenogle fully pursued his passion for music, with his work on The Ellen DeGeneres Show opening doors for him to become a full-time producer and composer.
UI students heard about this musical odyssey during Icenogle's return to campus, which also included reading Plum to patients at UI Stead Family Children's Hospital. "When I talk to students and fans, I always share with them the mantra by which I live, which is: 'What is it you want? What are you waiting for?'" says Icenogle. "Put yourself out there, and you'll become the person you dream of being."