Iowa's Ignacio Ponseti revolutionized clubfoot treatment with his gentle, nonsurgical approach. Now his successor, UI doctor Jose Morcuende, is on a lifelong mission to bring the Ponseti Method to the rest of the world.
One morning this past December, a small group of doctors from Japan and China huddled around a mop-haired boy inside University of Iowa Hospitals & Clinics. Just a few days away from his fourth birthday, Gavin Thomason had spent his short life hobbled by clubfoot, the most common musculoskeletal birth defect, but one doctors back home had struggled to correct. Frustrated by a lack of progress and fearful for their son's future, his parents had been driving weekly from their home in upstate New York to Iowa City—an 11-hour, 750-mile trip—for treatment.
It wasn't some novel surgery or advanced technology that brought the Thomasons and the trio of international physicians to the UI. It was the expert hands of pediatric orthopedic surgeon Jose Morcuende (01R), the world's leading practitioner and teacher of the Ponseti Method. Recognized as the gold standard for clubfoot treatment by global health organizations, the nonsurgical and highly effective method was developed 70 years ago by Morcuende's mentor, celebrated UI orthopedic physician Ignacio Ponseti (44R, 07DSC). Morcuende, like the late Ponseti, has made it his life's work to spread the low-cost method around the world as director of the Ponseti International Association.
Video: John Emigh
Gavin Thomason, a 4-year-old boy from upstate New York, receives clubfoot treatment at the UI Hospitals & Clinics.
The visiting doctors leaned in to watch Morcuende carefully manipulate Gavin's feet, which hooked inward and downward—clubfoot's signature malposition. Morcuende's hands seemed to work independently while he explained how he was adjusting the child's malleable foot bones and ligaments, like a musician fine-tuning his instrument. "These muscles are like rubber bands," Morcuende told Chinese doctors Ze Renhao and Zhou Xiaokang, who were in Iowa for a two-week fellowship to learn the Ponseti Method firsthand.
When Gavin began to fuss, Yutaka Kinoshita—a Japanese physician on a nine-month fellowship at UIHC—pulled from his pocket a bag of origami stars his son had made for patients and gave a handful to Gavin. Morcuende told the observers that while the adjustments aren't painful, the stretching can be momentarily uncomfortable. "It's OK, my friend," he told Gavin in his Spanish accent while the boy inspected the paper trinkets. "You are doing so well."
After Morcuende had finished his manipulations, longtime clinic nurse Maria Miller (06MSN) wrapped cotton bandages from Gavin's toes to his thighs and applied plaster, which the doctor molded to fix the feet into position for the coming week. Like orthodontics for teeth, casting incrementally moves the feet outward toward normal alignment over six to eight weeks.
This was Gavin's sixth round of casting, which for most young patients who undergo the Ponseti Method in infancy would mean that they were nearing the end of the process. But Gavin's case was cause for more trepidation. Because he was nearing preschool age and had already undergone several failed treatments, he faced a steeper road to a normal childhood. The good news was that the road—all 750 miles of it—had brought him to Morcuende.
---
PHOTO COURTESY PONSETI INTERNATIONAL
A young Ignacio Ponseti is pictured at the UI in 1943. The orthopedic surgeon had developed his nonsurgical method for treating clubfoot by the 1950s, but it would be decades later before the rest of the medical world embraced it.
The genius of the Ponseti Method lies in its simplicity. For much of the 20th century—and, in some cases, even today—doctors turned to risky surgeries to cut, reposition, and reattach the ligaments and tendons of clubfoot patients. But in the 1940s, Ponseti began researching the long-term outcomes of former UI patients who had undergone surgery to correct their clubfoot as children. What the young orthopedic surgeon found was disheartening: The patients faced a lifetime of chronic foot problems because of scar tissue and stiffness from surgery.
"Ponseti looked at 24 patients and found that they had the feet of elderly people, even though they were in their early 20s," says Tom Cook (87PhD), director of global operations for the UIHC-based Ponseti International Association. "They were arthritic, they were stiff, and they were painful. He said, 'There must be a better way.' That's when he set out on a mission to develop a nonsurgical alternative."
The son of a watchmaker, Ponseti learned precision and patience while repairing timepieces in his father's workshop as a teenager in Barcelona. In spring 1936, Ponseti took his final medical school exams at the University of Barcelona the day before the Spanish Civil War broke out. Enlisting as a medical officer in the Loyalist Army, Ponseti spent the three-year war tending to the wounded, including those suffering from bone fractures. As Barcelona fell to Francisco Franco's troops in 1939, Ponseti fled Spain with a group of 40 injured soldiers, whom he guided through the Pyrenees Mountains to safety in France. Ponseti went on to practice general medicine as a refugee in rural Mexico, then arrived at the UI in 1941 as an orthopedic resident under Arthur Steindler, the renowned head of the department.
"It was the parents and the internet who really spread the method more than the doctors. Doctors were relatively resistant. If it was some new kind of surgery, they would have been jumping around. But because it was just plaster casts, it was too simple." - Jose Morcuende
Soon after Ponseti joined the UI faculty in 1944, he turned his attention to clubfoot, a perplexing congenital condition that affects one in every 750 babies and is twice as common in males. Why the debilitating deformity manifests itself in pregnancy remains unknown even today, though experts now believe genetics play a role.
Studying stillborn cadavers in his laboratory, Ponseti formed a keen understanding of the developing foot. By 1948 he had devised a non-operative approach, which he began using to treat his young patients. Ponseti found that by performing a series of gradual manual manipulations held in place by casts, and then by retainer boots, he could take advantage of the natural elasticity of babies' feet to achieve the same results as surgery, minus the risk and long-term problems. Ponseti published his first clubfoot paper in 1963 demonstrating that his early patients had flexible and pain-free feet. Later studies found that the Ponseti Method was more than 95 percent effective in treating clubfoot.
But even as Ponseti healed thousands of children, trained nearly 200 residents and fellows, and published more than 140 papers over the course of his career, the rest of the world was slow to follow. It wasn't until the 1990s—when the internet took off and Ponseti published a book titled Congenital Clubfoot: Fundamentals of Treatment—that word began to spread. A grassroots network of parents began championing the Ponseti Method online, and families increasingly sought the nonsurgical treatment for their children. As a result, parents and doctors flocked to Iowa to meet with the semi-retired Ponseti, who went from treating about 10 clubfoot patients a year to 66 in 1999.
About that same time, another young orthopedic surgeon from Spain would become Ponseti's most fervent and driven disciple. Jose Morcuende was a Madrid native who had read an inspiring article in a medical journal in the 1990s and wrote to its author, Ponseti, to ask if he could work with him in Iowa. Morcuende admired Ponseti's vision to heal the world's children and eventually joined the UI orthopedics faculty. Together they took on the biggest obstacle in the way of the Ponseti Method's acceptance beyond Iowa: the status quo.
"It was the parents and the internet who really spread the method more than the doctors," Morcuende recalls. "Doctors were relatively resistant. If it was some new kind of surgery, they would have been jumping around. But because it was just plaster casts, it was too simple."
---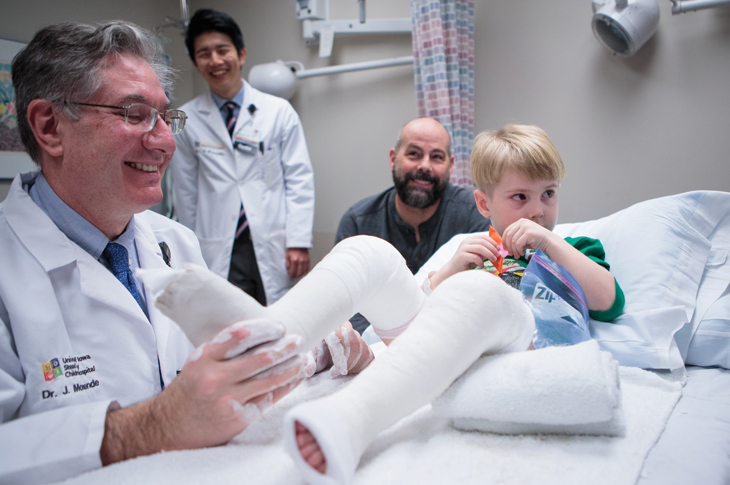 PHOTO: JOHN EMIGH
UI pediatric orthopedic surgeon Jose Morcuende molds the cast of clubfoot patient Gavin Thomason while father Glenn Thomason and visiting physician Yutaka Kinoshita look on.
When Theresa Thomason first heard the word "amputation," she knew it was time to change course. Gavin's mother had been working with orthopedic specialists in New York from the time an ultrasound revealed clubfoot midway through pregnancy. After Gavin was born six weeks premature in 2014, doctors taped his feet into position using what is called the French Method. But within days, the baby's delicate skin turned black and blue, and treatment was abandoned. Later, doctors tried casting—though not the Ponseti Method—but the plaster would inevitably slip and Gavin's tiny feet would wriggle loose. Eventually doctors snipped his heel cords to loosen the foot's tension and make realignment easier, but Gavin's feet swelled to the point where he was unable to wear retainer boots.
Despite his physical limitations, Gavin was an energetic kid who was determined to keep up with his older siblings. He learned to walk on the outside of his feet, his toes pointed almost behind him, and when he was just 2, his parents discovered that he could throw a ball with uncanny accuracy, even if he couldn't run with it.
The Thomasons consulted with other local and regional hospitals. One specialist talked about using anesthesia to make casting easier, while another raised the prospect of bone surgery. Theresa's tipping point came when a surgeon discussed inserting pins in Gavin's feet or even—to his mother's dismay—amputation.
"He wants to ride a bike; he wants to play sports. He saw [Kinnick Stadium] today and said, 'Can I go play football there?' My husband said, 'Sure, when you get your casts off.' This is a life-changer, because he's a kid who's going to want to take on the world." - Theresa Thomason
Theresa and her husband, Glenn, had heard about the Ponseti Method, so they researched the UI online and connected with the clinic. Soon, they were packing their vehicle for Iowa City each week for Gavin's appointments with Morcuende. "We wanted to try to give it a shot, no matter how we had to get here," Glenn says.
It was a grueling couple of months for the parents, who have six children between them. But Gavin's mother says it's worth any temporary hardships. "He wants to ride a bike; he wants to play sports. He saw the football field today and said, 'Can I go play football there?'" says Theresa, referring to Kinnick Stadium. "My husband said, 'Sure, when you get your casts off.'
"This is a life-changer, because he's a kid who's going to want to take on the world."
---
Several years ago, a pair of Nigerian medical students on an outreach trip in a rural part of their country encountered a child with clubfoot crawling through a village. The 7-year-old boy, named Rilwan, had been disowned by his parents at birth and cared for by his grandmother. Unable to walk upright, Rilwan made do by scurrying about in the dirt on his hands and knees, where large callouses had formed.
Like many children born with clubfoot in the world's poorest regions, Rilwan was effectively an outcast. In countries lacking education and medical resources, clubfoot is often blamed on things like evil spirits, ancestral curses, or even lunar eclipses. In the worst cases, clubfoot can be a death sentence, says Tom Cook, who helps coordinate Ponseti International's overseas efforts.
"In developing countries particularly, if your feet are folded over and you can't walk or carry water or collect firewood or work in the garden or walk to school, you've got a pretty miserable life," Cook says. "You're stigmatized. You'll never be able to get a job or be a productive member of society. If you're lucky, you'll end up in an orphanage. If you're unlucky, you'll end up in the river. In some remote areas of India, when kids are born with clubfoot they're tossed in the river and 'returned to the river goddess' because of the evil spirit they've brought upon the village."
Video: John Emigh
See the Ponseti Method's global impact.
Since its establishment in 2006, Ponseti International has worked with countless children like Rilwan and established a vast network of doctors and clinics to reach them. Cook, a UI professor emeritus of public health, works alongside Morcuende to spread the Ponseti Method, with a special focus on developing nations, where 80 percent of the world's clubfoot cases are found. They've made multiple trips to help open clinics and train doctors in Nigeria—the country with the largest number of people living in extreme poverty—where Cook estimates there are just 500 orthopedic surgeons for a nation of 200 million people. By comparison, the U.S. has about 25,000 orthopedic surgeons for a population of 325 million.
Globally, nearly 200,000 children are born each year with clubfoot, and an estimated 1 million children have a neglected clubfoot deformity. The numbers are daunting, but Ponseti International has made headway using a "train the trainers" approach in which doctors who are taught the Ponseti Method then mentor others back home. The hope is that by 2030, 4,000 strategically placed Ponseti practitioners around the world can each treat 50 new patients a year—providing care for each of the 200,000 babies with clubfoot.
To date, Morcuende has trained 121 international doctors who have visited Iowa City for two-week fellowships, and hundreds more on 191 trips to places like China, Pakistan, and Central America. All told, Cook estimates that more than 1,000 doctors in about 75 countries now use the Ponseti Method thanks to Morcuende's training.
Hector Moreno and Rodrigo Yanez, orthopedic surgeons from Ecuador and Chile, are among the doctors who have trained at the UI in recent months. They say what impressed them most while shadowing Morcuende was his bedside manner. "The most important thing is how Dr. Morcuende involves and encourages the family, so they feel comfortable and positive with the treatment," says Yanez. "Sometimes doctors will do the casting but don't feel connected with the patient and family. I think that's amazing."
It was another compassionate Ponseti devotee, orthopedic surgeon Olayinka Adegbehingbe, who reversed the course of Rilwan's life in Nigeria. The medical students who discovered the boy in the village that day connected him with Adegbehingbe, who had studied in Iowa under Ponseti and Morcuende years before. Remarkably, Adegbehingbe corrected the boy's feet with just five casts. Today, Rilwan is attending school and back living with his father, says Cook, who often shares the story as a hopeful example of the organization's impact.
Because of Ponseti International and doctors like Adegbehingbe—one of the key evangelizers of the Ponseti Method in Nigeria—the West African nation now has 79 clubfoot clinics, and a third of its orthopedic surgeons are trained in the Ponseti Method. Like Rilwan, thousands of other Nigerian children have a chance to thrive.
As Adegbehingbe is fond of saying: "How do you eat an elephant? One bite at a time."
---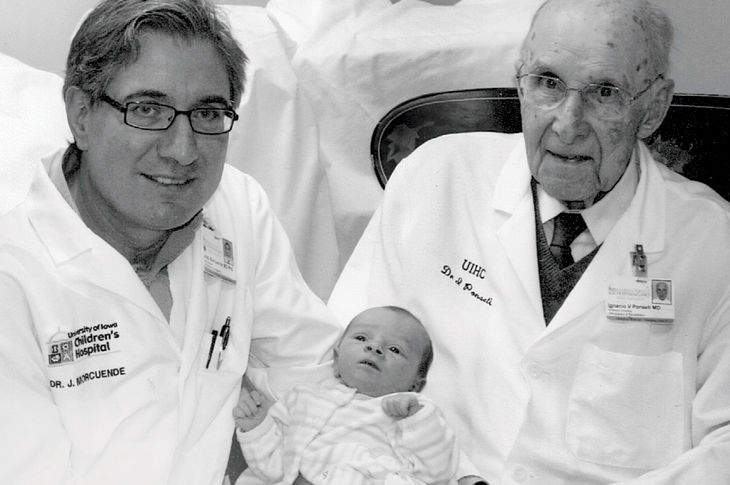 PHOTO COURTESY PONSETI INTERNATIONAL
Like Ignacio Ponseti, UI pediatric surgeon Jose Morcuende came to Iowa from Spain for orthopedics training and found his calling healing children born with clubfoot. Here, Morcuende is pictured alongside his mentor and a young patient in the later years of Ponseti's life.
In 2007, the UI hosted the first-ever international symposium for clubfoot, which brought hundreds of medical experts from more than 40 countries to Iowa. Ponseti spoke to an enthusiastic crowd of peers, including representatives from the World Health Organization, Centers for Disease Control, and National Institutes of Health. Participants at the symposium reached a consensus to recognize the Ponseti Method as the standard of care for treating clubfoot globally.
That night, Morcuende sat down with the 93-year-old Ponseti, who was still basking in the glow of it all. After 60 years of his work largely being brushed aside, it was a vindicating moment. Morcuende vowed to his mentor that he would continue the mission to bring the method to the world after Ponseti was gone.
"He felt he accomplished what he was supposed to accomplish in his life," Morcuende says of Ponseti, who worked in the clinic and continued to see patients until his death two years later at age 95. "My role is to expand that on a global level and to take the method to every country so that every kid, everywhere, can be treated properly."
That includes 4-year-old Gavin, who returned from New York in January for a final casting. Physical therapy and a graduation to a night brace soon followed.
After the Thomasons logged more than 10,000 miles on the long highways from New York to Iowa City, Gavin's feet now point forward—the same direction his parents can finally look. "He'll be running, walking, playing in the yard—things we couldn't see a year ago," says his mother. "Now there's a light at the end of the tunnel."
---
A Fellowship Focus
Although the Ponseti Method is today recognized as the simplest, least expensive, and most effective approach to correcting clubfoot, it can be a challenge for many families to access treatment close to home.
A new UI training program aims to change that. Lawrence and Jillian Neubauer of New York have established a UI fellowship that will teach more orthopedic surgeons across the U.S. to use the Ponseti Method.
The Neubauers' daughter, Piper, was born with clubfoot in 2010 and underwent initial treatment in New York. When they were told she would require surgery, the Neubauers sought out a second opinion and, through their research, learned about the Ponseti Method and the UI's clubfoot clinic. In gratitude for Piper's successful treatment by UI physician Jose Morcuende (01R), and with hopes of helping many more children like her around the country, the Neubauers pledged $400,000 to create the new program.
The Neubauer Fellowship will bring orthopedic surgeons from across the U.S. to Iowa City to train under Morcuende. For physicians who currently treat clubfoot patients, it will be a chance to hone their skills to improve outcomes for their patients. The fellowship will also help doctors establish new clubfoot clinics as part of their practice.
According to the UI-based Ponseti International Association, about 10 babies are born each day in the U.S. with clubfoot. To address that need, the UI hopes to train at least one physician from all 50 states through the new fellowship.
"It's surprising that given the understanding of science today, coupled with the fact that this treatment is both relatively painless and extremely inexpensive, that this methodology is not used more extensively across the country, let alone around the world," the Neubauer family said in a statement. "Our goal is to have as many practitioners as possible trained by Dr. Morcuende, to benefit directly from his mentorship and to study the exceptional model of care that he has built at the UI."
Today, Piper is an active 8-year-old who plays soccer, climbs trees, and dances circles around her parents. "Not every family has the means or the flexibility to travel to Iowa for treatment," the Neubauers added. "By increasing the number of physicians across the country practicing the Ponseti Method, hundreds more patients can benefit from this treatment each year."