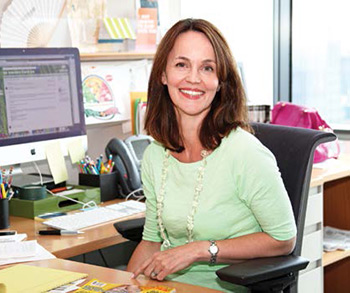 PHOTO: allie kircher/cosmopolitan
Leslie Yazel, 93BA, who became executive editor of Cosmopolitan this past spring, brings Iowa pride and practicality to the famed women's magazine distributed in more than 110 countries worldwide.
Fun, fearless, female.
The motto for Cosmopolitan not only describes its readers, but also the woman who now helps lead the iconic magazine.
During her journalism career, Leslie Yazel, 93BA, has chatted with Academy Award-winning actress Kate Winslet in Texas, watched Airbus planes being built in France, and reported from New York Fashion Week. This spring, she began her biggest adventure yet as the new executive editor at Cosmopolitan, the world's largest women's magazine. She previously served as a reporter or editor for some of the nation's most-recognized magazines and newspapers, such as the Wall Street Journal, Washington Post, Glamour, and Maxim.
At Cosmopolitan, which boasts a staff of 50 in New York and a monthly circulation of three million, Yazel oversees the features team, fielding story pitches, making assignments, collaborating with the creative director, and supporting the editor-in-chief.
The Des Moines native took an interest in journalism from a young age. "The Des Moines Register landed on our doorstep every morning, and I thought it was a miracle that all the news of the world was right there in print," she says. "Plus, I was always a curious person."
While still a UI undergraduate, Yazel worked for the Daily Iowan and was also hired as a correspondent for the Register. In fact, she always imagined herself working at a newspaper, but says she couldn't pass up the opportunity at Cosmopolitan. "I like to work at places with strong women," she says. "Cosmo is very much about female empowerment, and that spoke to me."
In recent months, the magazine has focused more on careers, health, and money to discuss issues important to young women in a fun and engaging way. "We're a print magazine in a world of Twitter," says Yazel, "so we must stay relevant to readers who are accustomed to reading what they want, where they want."
This year Cosmopolitan nabbed its first National Magazine Award, edging out GQ and Money in the personal service category. Yazel plans to continue producing content that makes a difference in the lives of women everywhere—and to remain cognizant of her Iowa roots.
"So many publications, including Cosmopolitan, are based in New York," she says. "I feel it's a little bit of my mission as a proud Iowan to remind staffers that we're writing for readers all over the country."