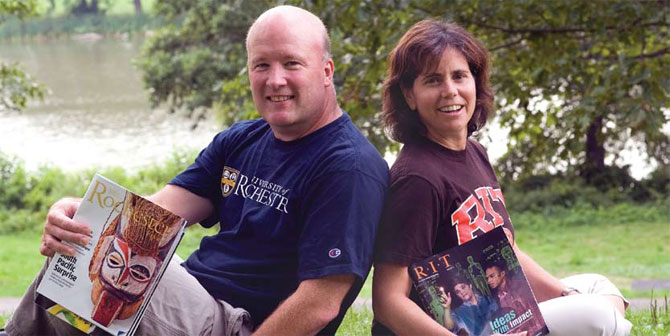 PHOTO: A. SUE WEISLER/ROCHESTER INSTITUTE OF TECHNOLOGY
Dinnertime banter at the Hauser-Mozer home resembles that of any American family—talk of homework, sports practices, and weekend plans.
Only, the conversation here might quickly turn into a brainstorming session. That's just what happens with two alumni magazine editors at the table. This past winter, Scott Hauser, 86BA, 89MA, finished his 50th edition of the University of Rochester's Rochester Review, while his wife, Mindy Mozer, marked her fifth issue of the Rochester Institute of Technology's (RIT) university magazine.
When Mindy joined her husband in the world of university publications last year, their respective campus communities were intrigued. Hey, have you heard about that editor couple? Do you think they fight over stories? Luckily, there's no such drama for Scott and Mindy, whose universities are so different that they aren't in direct competition. Instead, they lean on each other for support and advice.
"I talk to Scott about what to do when I don't have enough letters to the editor, or how he might approach a story," says Mindy, who left the newspaper industry for alumni magazines. "He has helped me tremendously."
Scott and Mindy met in the early 1990s at the Iowa City Press-Citizen, where the two were beat reporters. Mindy eventually got promoted at the paper, Scott left for a job with the UI's news service, and they had no plans to leave Iowa City. But in 1998, Mindy received an offer she couldn't refuse from Rochester, New York's Democrat & Chronicle newspaper. The couple felt grateful when Scott landed a job of his own as associate editor at the Rochester Review.
In her time as a newspaper editor, Mindy survived three rounds of layoffs, increased workload, and too much missed time with her family. When she spotted the magazine position, she wasn't sure she wanted a job like Scott's. But after much deliberation, she made the move in June 2010. Turns out, it's the best career decision she's ever made. Both she and Scott, who has been the Review's editor-in-chief since 2001, appreciate jobs that allow them to be creative, thoughtful, and explore interesting ideas together. Plus, the shared experience has allowed them to grow closer.
"I don't think either one of us understood the stresses we were under when we had different jobs," Scott says. "Now we speak a little more of the same language."