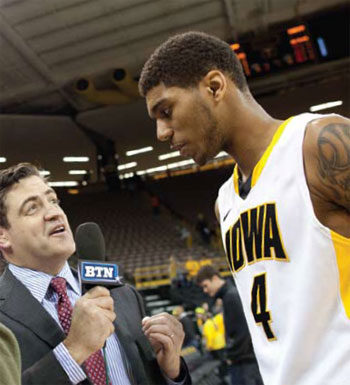 PHOTO: BILL ADAMS/UNIVERSITY COMMUNICATION AND MARKETING
With time ticking away on the clock, Roy Devyn Marble decided right then and there that he wasn't going to let this one get away.
In the final minutes of the Hawkeyes' February 1 game against Minnesota, Marble drilled a three-pointer, following it with a thrilling one-handed slam dunk in the face of Golden Gopher player Ralph Sampson III. The "monster jam" move tied the game with only 1:37 left.
Talk about a playmaker. Talk about Hoop Dreams.
Iowa went on to defeat Minnesota 63- 59.
"I had a business meeting tonight, and I took care of business," Marble told the Cedar Rapids Gazette during the post-game press conference.
Marble's incredible drive to the basket made such an impression that his dunk became a finalist for the national 2012 GEICO Play of the Year, an honor determined by fan votes through the company's Best of College Basketball Facebook page. As this magazine went to press, results were being tallied to determine the winner.
Fans voting on Facebook expressed their admiration for Marble's thrilling showmanship with comments like: "Marble, Marble, MARBLE!!" and "Dev Marble all the way!!!"
Without doubt, Marble's performance in the Minnesota game proved a highlight in a rollercoaster men's basketball season peppered with ups and downs. Fellow Hawkeye standout this year and senior Matt Gatens supplied his own moment of glory when he recorded an astounding 33 points in the Iowa victory over the Wisconsin Badgers, a win that was one of four season victories over top 50 opponents and inspired Hawk fans to spill from their seats and swarm the court. For that effort, Gatens was nominated for ESPN's Capital One Cup Impact Performance of the Week.
Later, in the first round of the Big Ten Tournament in Indianapolis in March, Gatens let loose with a three-pointer and a breakaway dunk that turned the game around for the Hawkeyes. Iowa went on to beat Illinois 64-61, the team's first win in that event since 2006. But another downturn came when No. 1 seed Michigan State defeated No. 8 Iowa 92-75 the next day.
Still, the Hawks ended the season on a high note with success in the NIT Tournament. In the first round, Iowa emerged with a 84-75 victory over Dayton—the first postseason win for the Hawkeyes since 2003—that created a level of thunderous excitement unseen in Carver-Hawkeye Arena for years. Freshman Aaron White delivered a stellar performance with a career-high 25 points and 11 rebounds.
Iowa then traveled to Oregon to face the Ducks in the second round, where, despite a thrilling offensive performance, the Hawks fell 108-97.
In the end, the Hawkeyes could be proud of an 18-17 winning record and much to look forward to next year.