Kimberly Stack Basler's family establishes a research fund and names a room in Holden's breast health center in her memory.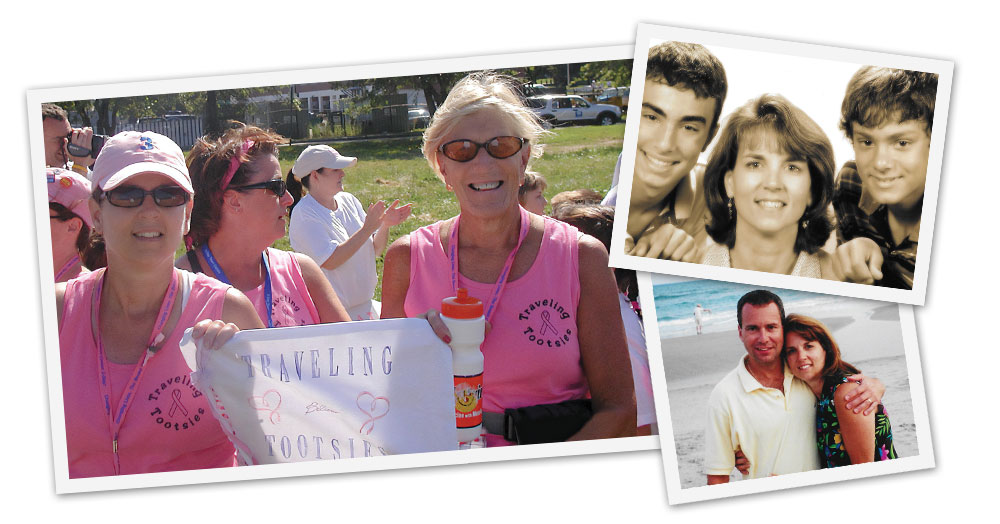 PHOTOS COURTESY MARK BASLER
CLOCKWISE FROM LEFT: Kimberly Basler and Anne Kelty at a breast cancer walk in 2006, Kimberly with sons Nathan and Andrew, and Mark and Kimberly Basler
Kimberly Stack Basler (83BM) is remembered by her loved ones for her selflessness. Whether it was caring for family and friends in times of need or through her community volunteerism, Basler put others first.
"She was always so positive and had a smile and hug that could heal most anything," says her husband, Mark Basler.
Kimberly was diagnosed at age 44 with a disease that, in the end, couldn't be healed. After a four-and-a-half-year battle with breast cancer that eventually metastasized in her hip, the mother of two died in 2010 in Chelmsford, Massachusetts.
Today, Kimberly's family honors her enduring spirit through its support of the University of Iowa's Holden Comprehensive Cancer Center. Her father, Iowa alumnus Philip Stack (63BA), and his wife, Anne Kelty, became passionate champions for cancer research after Kimberly's death. The couple established the Kimberly A. Stack Basler Breast Cancer Research Fund at Iowa in 2016, and most recently, after Philip died in 2021, Anne and Mark made a $50,000 gift to name an exam room for Kimberly in Holden's breast center.
The breast center, which opened in May 2022, makes cancer screenings, diagnoses, and treatments easier and less stressful for patients by bringing together providers who specialize in the disease. The center is home to a team of breast surgeons, genetic counselors, medical oncologists, and radiologists who had previously worked across the UI Health Care system.
Although Kimberly underwent treatments in Massachusetts, her family knew it would be particularly meaningful to her to support cancer research at her alma mater. The Schaumburg, Illinois, native, who studied music at the UI and played piccolo in the Hawkeye Marching Band, would don her Iowa sweatshirt on football Saturdays and play the Iowa Fight Song for her family. Kimberly was a PTO president and aerobics instructor who rarely missed the sporting events of her sons, Nathan and Andrew. During her cancer fight, she endured two surgeries, chemotherapy, and radiation treatment, but the disease never took away her love of life and her ability to touch the hearts of others, says Mark.
Today, Kimberly's giving spirit continues to burn bright through Holden's mission. "The amazing research work that the breast health center does is so important to Anne and me, and we were so happy to participate in supporting the center and remembering Kim in this way," says Mark.
Do you know your risk for breast cancer?