The acclaimed singer-songwriter returns to campus for a fall welcome concert.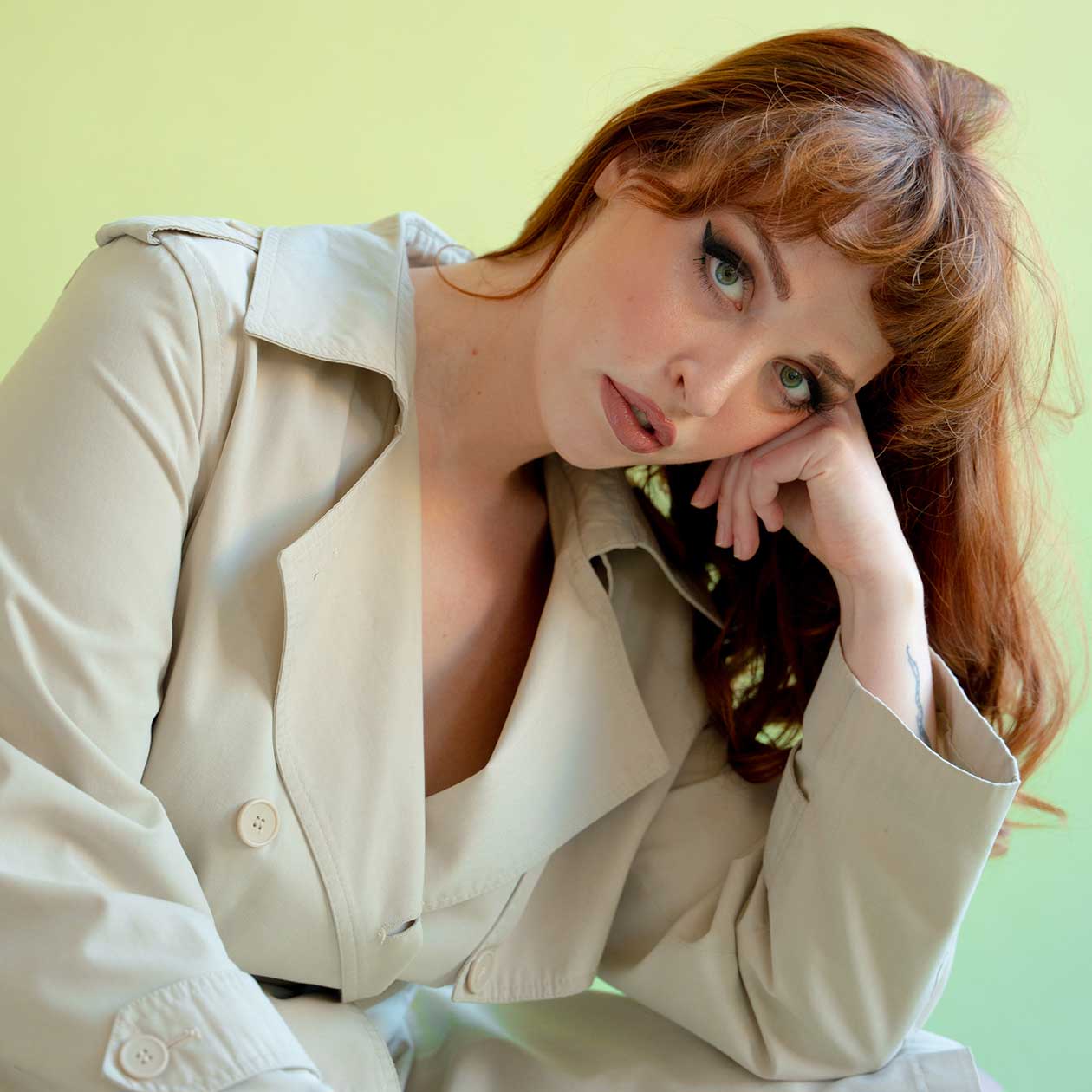 PHOTO: Mary Mathis
Vinton, Iowa, native Elizabeth Moen began writing songs as an undergraduate at the University of Iowa. Since launching her career in Iowa City, Moen has shared the stage with artists like Hozier, Lake Street Dive, and Ani DiFranco.
Inside the cozy confines of The Mill, Elizabeth Moen (16BA) found her calling. After performing cover songs at the venue's open mic nights as a University of Iowa undergraduate, Moen soon was booked to play her own songs for a sold-out crowd of friends from campus and the community. That 2016 concert suddenly brought Moen's future into focus.
"To express something that personal to other people and have them connect with it, it's just a different layer of connecting that feels really special," says Moen, who's from Vinton, Iowa, and now lives in Chicago. "Once I experienced that at that show, I was like 'Wow, I want to connect like this all the time.'"
Seven years later, the UI French graduate returns to Iowa to help kick off Hancher's 51st anniversary season Aug. 25 with a free concert outdoors. Iowa Magazine recently spoke with Moen—who has toured across the U.S., Ireland, Italy, and France—about getting her start in Iowa City.
What does this season-opening opportunity at Hancher mean to you?
It's huge. As an Iowa student, I thought it was a such a cool event before I even started to write music. I never fathomed getting to be a part of it.
What are your favorite Hancher memories?
One of the first shows I saw was the Broadway musical My Fair Lady [in 2007] with my dad. I remember thinking it was so cool. Also, when Hancher was redoing the acoustics for its new auditorium several years ago, I got to go on the stage and sing and play guitar. They were using me as an example of what a singer-songwriter would sound like in there. It was special to play to an empty Hancher and be on that stage.
Watch a video of Moen and Living Thing performing "Studio Apartment" at the Englert Theatre. (Please note, this performance includes explicit lyrics.)
How has the Iowa City music scene influenced your music and career?
There are so many different genres and a lot of bands that come and go through Iowa City and some bands that stick around. There's a lot of great folk music that comes out of Iowa, a good punk scene, and a great jazz scene. There's a lot happening, but it's also pretty insular and small. Everyone is involved in each other's projects and going to each other's shows. It's a very supportive and tiny but mighty community.
How did you first connect with Hancher executive director André Perry (08MFA), who wrote the bio for your 2022 album, Wherever You Aren't?
He helped me with my first show at The Mill back when he was booking their shows. I think he saw my drive and passion for the local scene, and I was an assistant booking agent at The Mill for a little bit. He's such an important figure in the live entertainment world, not just in Iowa City, but around the country. He's part of so many important projects—and having someone like him believe in my music was huge.
What impact has Iowa City's support had on your career?
It's so important to feel like other people believe in you. The way people like André, my friends in Iowa City, and my family believe in me—it really helped me believe in myself. I didn't really believe in myself at the beginning, and that's why it took so long for me to write a song. I didn't think I was good enough to write a song or to sing a song I wrote in front of other people. The encouragement I felt through their support was the catalyst. Feeling that kind of support in my community that I have in Iowa City helped me get out of that 'Oh, I could never…' headspace.
What inspired you to create a covers EP, For Arthur, of the late Arthur Russell's music, which was released July 28?
I was on a walk in Chicago and his song "That's Us/Wild Combination" came up on an algorithmic playlist. I liked it so much that I clicked on his [music] and his Wikipedia and saw that he was from [Oskaloosa,] Iowa. It meant a lot to me that something I sincerely loved and felt compelled by was from a place near where I was from. I just wanted to honor him and the Iowa roots. All the Bandcamp proceeds go to One Iowa, an LGBTQ organization, in his name.
Watch a video of Moen performing "Headgear." (Please note, this performance includes explicit lyrics.)
What direction do you think you'll take your next album?
There are so many different things I want to write about. I think the last album (Wherever You Aren't) was about growth and processing a certain chapter of my life of some not-so-great relationships. I'm now in a very healthy and happy relationship for maybe the first time in my adult life—so maybe the next record is happy. Writing a happy song is a lot harder than writing a sad song. I'm excited to push myself to write a happy song that isn't bad and not just about relationship stuff.
What do you hope people take away from your live show?
I hope they feel something that they needed to feel. Whether it's to process with a sad song or to feel happy and experience live music with a friend, I hope they do that. Or if they felt something that they were surprised they needed to feel and felt that—that's great too. I just hope people walk away feeling fulfilled.