Here's what you had to say about the stories in Iowa Magazine.
Sensational Season
Thank you for the article chronicling the 1969- 70 Hawkeye basketball season ["Peace, War, and Basketball," spring 2020]. It brought back lots of memories. I was a first-year law student at Iowa in 1969-70 and remember that season well. I was an Iowa State University graduate and a member of its men's varsity basketball team from 1965 to 1969, so I was not an Iowa fan when the '69-70 basketball season got underway. However, since Iowa's Tom Schulze (70BA) and I played together on Des Moines Roosevelt High School's 1965 state championship team, I went to every Hawkeye home game that championship season. By midseason, I was an enthusiastic fan. I had never witnessed a more high-powered offensive machine at the collegiate level.
Three things stand out to me about that 1969-70 team: First, the Hawkeyes scored baskets so quickly that, when I tried to keep score in my program during the games, invariably Iowa would score before I could credit an opponent's basket, and I would have to ask a friend, "Who just scored for Iowa?" Second, I remember that Adolph Rupp made his Kentucky players go to the locker room at halftime of the Iowa-Notre Dame Mideast Regional consolation game, because his players were shell-shocked by the Hawkeyes' huge halftime lead over the Irish. After all, Rupp's team had barely survived Notre Dame two days before, and now the team that lost to Jacksonville (Rupp's next opponent) by a point was trouncing the Irish. Rupp didn't want his players to get too psyched out by watching any more of the Iowa-Notre Dame game. Third, I agree that if Iowa had beaten Jacksonville, the Hawks could have gone on to beat UCLA and win the national title—and this admission is coming from a former Cyclone player and current Cyclone fan.
The 1969-70 season was truly a great year for Iowa Hawkeye basketball and its fans. Thanks again for the memories!
Tom Kreamer (72JD)
Leawood, Kansas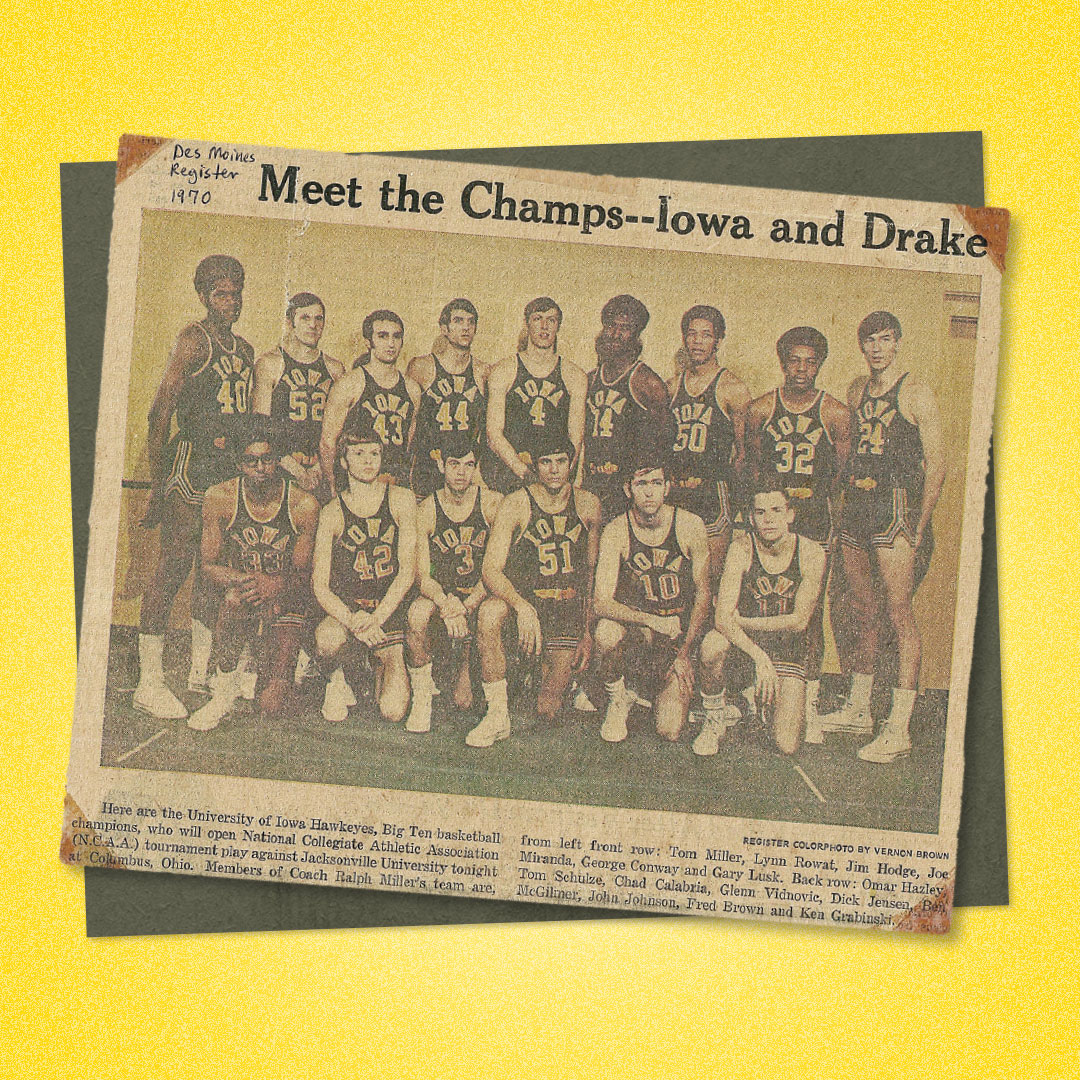 CLIPPING COURTESY MARY WINDER
A clipping of a 1970 article about the Hawkeyes in the Des Moines Register
Jim Snyder's excellent article, "Peace, War and Basketball," completely captured the 1970 Hawkeye team.
We would go to the Field House, and if you sat high enough in the stands, huge steel beams might block your view. You had to almost sit in the lap of the person next to you to see the other end of the court. Crowds were so loud that the old building shook. Fans would stomp their feet and the decibels were deafening. We occasionally felt particles from the ceiling fall during the game.
How many points would that team have scored with a 3-point line? Our fans got to the point we knew the Hawks could outscore anybody. Defense be damned.
Five friends and I made the trip to Columbus, Ohio, to see Iowa's heroic effort against those two Jacksonville 7-footers. The Hawks had no fear and came oh, so close! In the consolation game, the Six Pack showed the spirit of champions when it shot the lights out with a 75-point half against Austin Carr and Notre Dame. Toward the end of the game, the legendary Adolph Rupp walked into the arena with his Kentucky team. He did a visible double-take when he looked up at the scoreboard. You could sense Rupp must have been saying to himself, "Glad we're not playing those guys."
One final note: As a TV journalist, I shot film of John Wooden's final game in 1975 in San Diego. Wooden was a great coach, but I have no doubt Ralph Miller would have given UCLA a much better 1970 championship game than Jacksonville. A lot of us who flocked to Iowa games in that 1969-70 season honestly believe the Six Pack would have taken one of Wooden's national championship trophies and brought it back to Iowa City.
Jon Janes (70BA)
Topeka, Kansas
I was a sophomore in 1969-70 and dreamed of being a college basketball player. Our house in Quadrangle Residence Hall played in the finals for an intramural championship against a team that mainly included football players such as Dennis Green (71BS) and Kenny Price. I played and coached the Quad team. Fred Brown watched for a couple minutes, then left. Herschel Epps (73BGS) flatly swung his right elbow rebounding. It landed against my front teeth, and I was out of the game until the second half. We lost.
My greatest experience in college was the second half of the Big Ten basketball season. I remember the Field House stands were full by 7 p.m. when the games started at 7:30 p.m. The Hawkeyes were a great shooting and passing team, and the crowd loved every minute.
Kirk Carter (72BS)
Monroe, Iowa
I will always remember the deafening noise inside the Field House. I was only 11 years old at the time, and my oldest brother was attending the UI. We enjoyed attending a couple games, as that was a huge treat at that time. It is hard to imagine how many points this team would have scored per game with a 3-point line! The Hawks were amazing moving the basketball and making shots. The Miller Six Pack was the best Iowa TEAM ever!
Gary Zittergruen (86MA)
Waverly, Iowa
---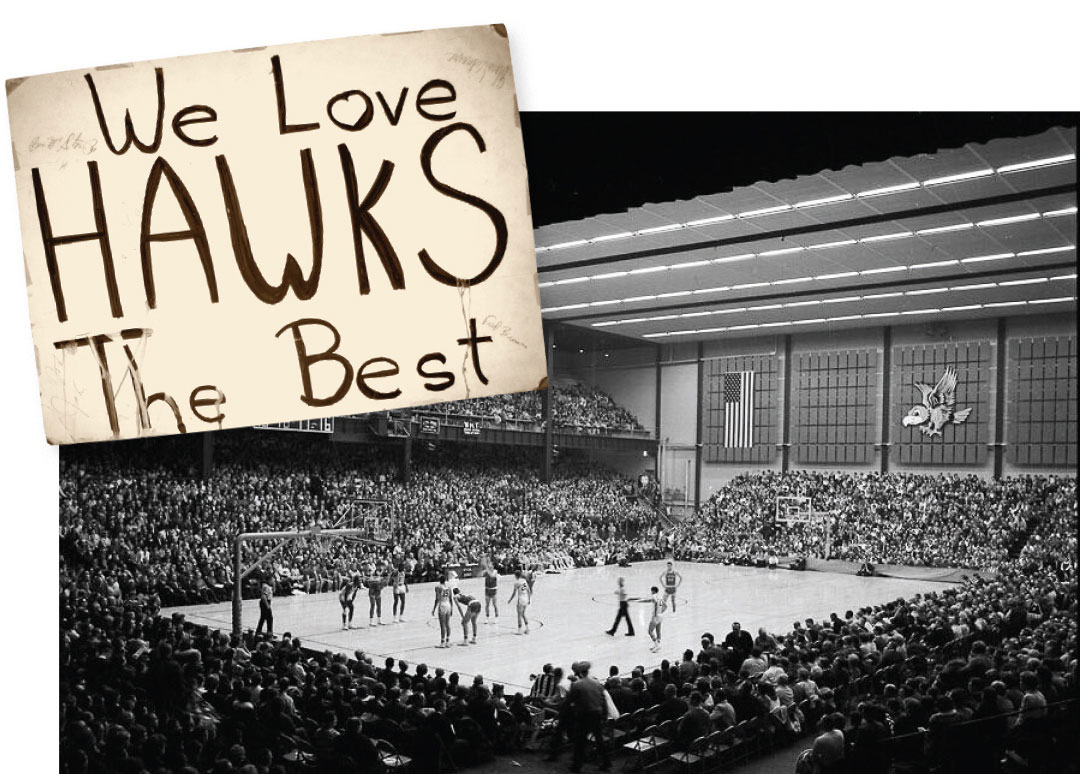 FIELD HOUSE PHOTO: UI LIBRARIES UNIVERSITY ARCHIVES; POSTER PHOTO COURTESY MARY WINDER
Fan Encounter
I created a handmade poster in 1970 when I was in junior high school. It read "We Love Hawks the Best," and there is a heart for the "o" in the word "Love." My mother took a few of my friends and me to meet the bus at the old Field House where the Iowa Hawkeye basketball team was dropped off after an away game. They flew in that evening. I remember it was dark and very cold.
Several of my friends also made posters. We waited and waited in the cold. My mother wanted to take us home, but we begged to stay. The bus finally arrived, and our little group cheered and waved our posters. I'm sure the players were tired, but they were quite gracious to us. Several of the players signed my poster: John Johnson, Glenn Vidnovic, Chad Calabria (70BBA), Ben McGilmer, and Fred Brown. I still remember how excited I was! I kept that poster on display in my bedroom for many years.
Mary Hyman Winder (77BS)
Troy, Kansas
---
Forward March
Here I lie on my couch wearing my Hawkeye sweatshirt, with tears in my eyes over Jack Emptage's story ["A Dream Within Reach," spring 2020]. I moved to Minnesota 50 years ago from Le Mars, Iowa, to take a job with the old St. Paul Dispatch. I finished my journalism degree at the UI in January 1970.
In rearing our kids in the early 2000s, I became a high school marching band mom to both, so what fun I experienced in seeing the Hawkeye Marching Band article about a young man from Minnesota. Great article on a determined, hard-working, inspiring, and successful UI student! Congrats to him and his wonderful parents.
The UI REACH program sounds great. I'm proud to be an alum of the institution offering it. Great work, Iowa—the state and the university.
Betsy Becker Carlson (70BA)
New Brighton, Minnesota
What a beautiful story and what a courageous and wonderful young man. He more than deserves to wear the black and gold uniform with all the pride that goes with it. Hail to Emptage and his stamina to accomplish what many of us take for granted, and hail to the Hawkeye Marching Band!
Roger Ringnalda
Clarion, Iowa
A Watchful Eye on Space
Your article in the spring 2020 edition of Iowa Magazine pertaining to TRACERS ["Space's Storm Chasers"] is an exceptional piece of journalism. Although I will never be considered well-versed in computer usage, I am aware of the necessity for satellite communication systems and the potential challenges that come with it.
Articles like this discuss a topic of much importance. Many people surprisingly overlook the potential for disruption by solar weather in our technological age, but it is an area that deserves more attention than it has been given.
In addition to highlighting the contributions of University of Iowa astrophysicists, the piece did a wonderful job of identifying the impact of the geomagnetic storm on the "Victorian Internet" in 1859 and the need for ongoing research. Although this occurrence may only merit an asterisk in the history of electronic communication, its relevance to the development of safeguards is most significant.
Joseph Tortorich
Chicago