Through University of Iowa REACH—one of the few programs in the country to provide a full college experience for students with special learning needs—Jack Emptage had the opportunity to achieve his goal of joining Hawkeye Marching Band.
Jack Emptage created musical instruments out of cardboard and wires as a child and received his first guitar at age 2. He could hardly wait to begin formal piano lessons in second grade and quickly picked up the baritone, harmonica, steel drum, mandolin, and ukulele.
"Jack was always looking to either draw or play or make an instrument," says his mother, Leslye Emptage. "That's always been his passion."
Academics were another matter, though he persevered through high school and enrolled in the University of Iowa's Realizing Educational and Career Hopes (UI REACH), a two-to four-year certificate program at the College of Education for students with intellectual, cognitive, and learning disabilities. UI REACH offers students with unique learning needs like Jack a personalized Big Ten college experience to prepare them for independent living.
At Iowa, Jack turned his intense drive and determination toward the goal of becoming one of the first UI REACH students to join the Hawkeye Marching Band. Years of preparation culminated in a 15-minute audition on the baritone in April 2019 at Voxman Music Building.
Video: JOHN EMIGH
Follow UI REACH student Jack Emptage on his journey to achieve his dream of making the Hawkeye Marching Band.
For the next three months, Jack checked his email twice daily to see if he'd march for the black and gold. Adam Miller, Jack's advisor and a senior program specialist for the UI College of Education, says: "You could tell he was waiting on the edge of his seat."
Then, on July 8, 2019, while on a break from bagging groceries for his summer job at Jerry's Foods in his hometown of Edina, Minnesota, Jack received his answer.
Launching Pad
The possibility of Jack becoming a Hawkeye—let alone an active member of the marching band—seemed slim only a few years earlier. Despite his natural talent for music, Jack struggled in school. "He had to work harder to keep up," says Leslye. "He had to put in an inordinate amount of effort."
Jack's tremendous work ethic and infectious enthusiasm helped him realize his lofty goals. In fourth grade, Jack attended a pop music concert performed annually by high school seniors. "He saw it and said to me, 'That will be me someday, Mom,'" recalls Leslye. "He worked really hard on it, made the top band, and was in the pop show as a senior."
Proud of how Jack hit his stride once he became involved in band, Leslye and her husband, Bill Emptage, set out on a nationwide search for a continuing education opportunity that best suited their eldest son. That's when they discovered UI REACH.
Former Iowa Lt. Gov. Sally J. Pederson founded UI REACH in 2008 after making the tough decision to send her son with autism to a transitional program in Illinois because no options existed at the time within the state. In 2006, she worked with the Board of Regents, State of Iowa, to conduct a feasibility study that showed a regional need for a UI program.
Now 36, Pederson's son Ronald recently celebrated 10 years at his job, lives independently, and has served alongside his mother as an advocate for UI REACH, sharing his personal story to reassure anxious incoming students and their parents at orientation. "To be away from home but in a supervised environment allowed him to gain so many new skills and confidence in his ability to be independent. It really helped launch him," says Pederson. "It pleases me to no end that others benefit from a similar program with UI REACH."
An Integrated Approach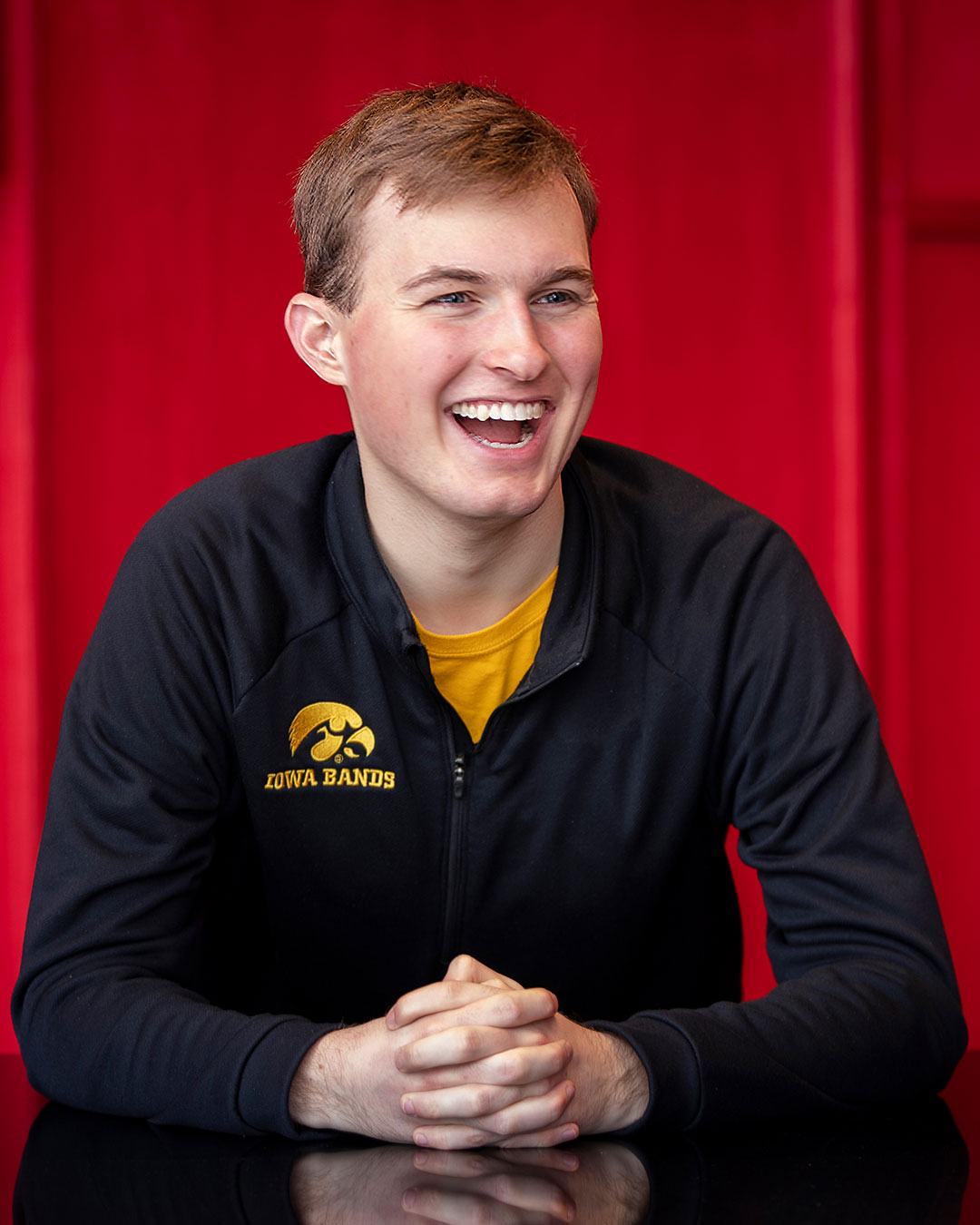 PHOTO: JOHN EMIGH
Jack Emptage
UI REACH is one of the oldest programs at a major public university—and one of only two in the Big Ten—to incorporate academics, student life, career development, and life skills into a dynamic college experience for students with disabilities. "For a long time in our nation's history, services were segregated and persons with disabilities were not in the mainstream," says UI REACH Director William Loyd Jr. "For me, it's like a next chapter in the civil rights movement for people with disabilities to get their rightful place at the table. I was sold on the fact that this is a great opportunity not only for people with disabilities, but for an institution of higher learning to open its gate of inclusion."
Inclusion means UI REACH students can take advantage of the same benefits of college life that other Iowa students enjoy, such as residence hall living, arts and athletic events, University Counseling Service and Student Disability Services, and more than 500 student organizations. Traditional Iowa students interested in careers in special education, recreational therapy, or speech-language pathology also work with UI REACH students to hone skills and form friendships. A student organization called RAYS of REACH, which recently raised nearly $10,000 in scholarship funds for UI REACH participants, helps foster interactions among Hawkeyes of all abilities.
UI REACH's integrated approach was especially important to the Emptage family. Says Leslye: "We wanted the real college living experience—all the stuff people remember and laugh about when they're older and go to reunions—balanced with an academic program that challenged Jack, but also gave the structure and support to make learning enjoyable."
New Beginnings
On his first visit to Iowa City for a campus tour, Jack decided the UI and the downtown area were the perfect size to manage on his own. "I can see myself here," he told his mom. Leslye could, too, although she admits feeling the same trepidation most parents do when a child is about to leave home. Jack applied and soon was accepted into the UI REACH program. In fall 2016, the Emptage family drove five hours south to Iowa City to drop off Jack at Stanley Residence Hall for orientation and his first week of classes. After a meal, Jack said his goodbyes and watched the family vehicle depart down Clinton Street toward the interstate. "He looked scared," says Leslye. "When I got home, I cleaned my closets because I had a lot of nervous energy. My house never looked so good."
Jack, now 22, remembers his first year in UI REACH as a challenging time of immense growth. "As a freshman, I would call my parents every night," he says. "It helped me overcome my homesickness."
"There's a general tendency for people to lower the bar for students with learning differences and assume they're not going to get to the bar. One of the biggest challenges was keeping the bar high." —Leslye Emptage
Jack also had a support team of more than a dozen special education experts to help him manage the transition. Before classes started, he met Miller—his UI REACH advisor for the next four years—who walked him through his daily schedule and showed him how to use the Cambus. Every day, Jack walked down the hill to the Lindquist Center to study core academic subjects and develop practical life skills. From 8:30 a.m. to 4:30 p.m., Jack took classes with other UI REACH students on subjects ranging from expressive writing to personal finance before participating in evening social activities. The group played dodgeball at the Field House, watched movies hosted by the Campus Activities Board at the Iowa Memorial Union, or went shopping at Coral Ridge Mall. Back at Stanley, his UI REACH-trained resident assistant helped Jack adjust to his new roommate.
By spring of his first year, Jack became involved in University Band and Guitar Club. Jack taught himself the mandolin in less than a month to enrich the sound at gigs he played at The Mill. He made friends outside UI REACH, demonstrated he could keep up with the demands of a regular performance schedule, and took the first steps toward his biggest dream yet: taking the field at Kinnick Stadium as a member of the Hawkeye Marching Band.
Vocation Inspiration
In the second year of the UI REACH program, students explore career options in their interest areas ranging from child and pet care to food service and hospitality. UI and community partners such as the Iowa Hawk Shop and Veterans Affairs Medical Center provide experiential learning opportunities in the form of internships. "Jack is such a social person, so the career team really took into account his people skills and his desire to interact," Miller says about finding the ideal internship for Jack.
In addition to taking UI REACH classes, Jack began working three days a week at the Coralville Marriott Hotel and Conference Center. For the past two years, he has helped set up banquets, work the front desk, stock the marketplace, and greet hotel guests. Jack soon became such a valued member of the team that his supervisor nominated him for the Iowa Lodging Association's 2019 Heart of the House award, which he accepted in Des Moines in front of hospitality workers from across the state—and one very proud mom. "Being an intern at the Marriott has inspired me to go for a career path in hospitality," Jack wrote about his paid internship in the UI REACH e-newsletter, "and I really hope to work at Marriott in Minneapolis after I leave UI REACH."
Growing Season
About one-third of UI REACH participants stay for a third year, though Loyd says that number is rising as the program continues to introduce new growth opportunities for third- and fourth-year students. The choice was an easy one for Bill and Leslye, who saw their son thrive as he became more acquainted with campus life and dove deeper into his interests. "The real joy for Jack is he has a love of learning again, because he can pick the things he's excited to learn about," says Leslye. "He started off being very socially active, and I think that's only grown since he's been at Iowa. He's doing what many adults wish they could do if they could go back to college."
Like most third-year UI REACH students, Jack moved to Mayflower Residence Hall for apartment-style living. He learned to cook and clean, develop a financial budget, and navigate public transportation to his internship in Coralville. A community college prep class Jack took his second year inspired him to take his first traditional college courses at the UI. "I like them more than my REACH classes," he says, "because they are more my interests and they challenge me to push myself harder."
In a course called Great Musicians at Voxman Music Building, Jack immersed himself in the life and works of American ragtime composer Scott Joplin. An Art and Visual Culture class at Art Building West introduced Jack to 17th century Spanish artist Diego Velázquez and his painting, "Las Meninas," considered one of the most important works of Western art. "I wanted to do my project on someone I had never heard about, so I'd actually be learning something, instead of relying on something I already know, because that wouldn't be much fun," says Jack. "I read ahead deliberately, so I wouldn't fall behind."
Leslye appreciated the UI REACH program's flexibility in helping Jack rise to new challenges. Despite Jack's strengths in music and the arts, past K-12 instructors often presumed he wasn't interested in honor band and other growth opportunities for which he was qualified. "There's a general tendency for people to lower the bar for students with learning differences and assume they're not going to get to the bar," says Leslye. "One of the biggest challenges was keeping the bar high."