Its students recently learned about Kinnick's legacy—and what it means to be a Hawkeye.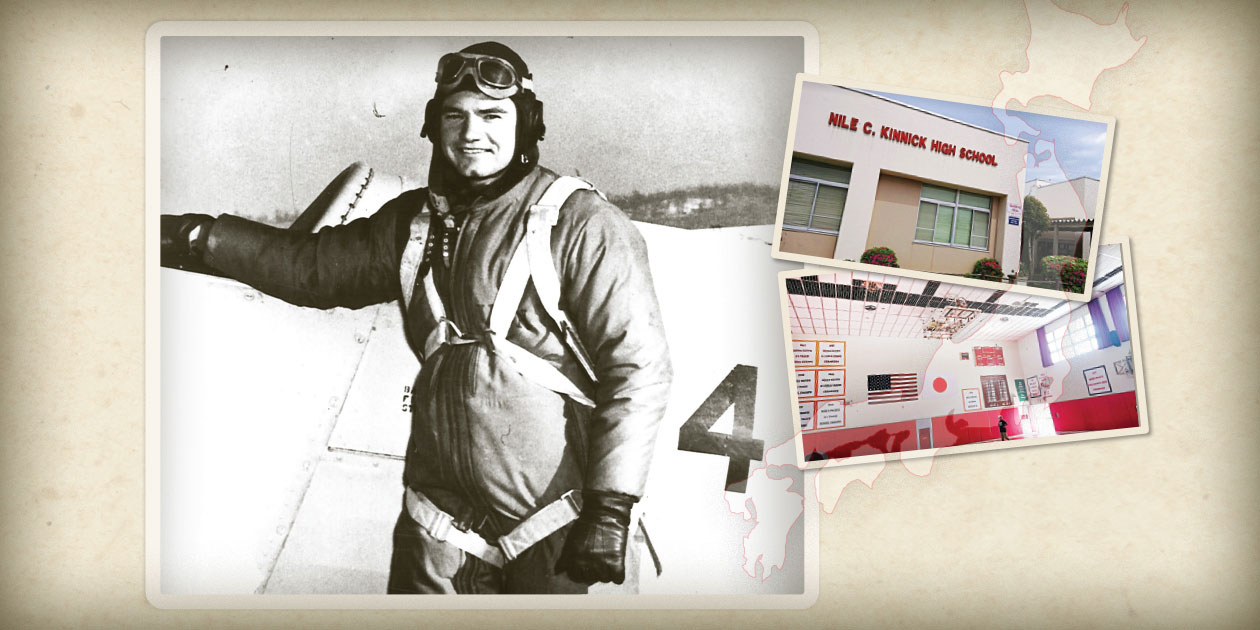 PHOTOS: UI LIBRARIES SPECIAL COLLECTIONS; GOOGLE IMAGES
Six thousand miles and an ocean away from Kinnick Stadium stands another tribute to Iowa's esteemed gridiron and military hero.
Nile C. Kinnick High School overlooks Tokyo Bay on the U.S.'s Yokosuka Naval Base in Japan, about 30 miles southwest of Tokyo. The school is named for Nile Kinnick (40BA), an accomplished student-athlete at the University of Iowa who won the Heisman Trophy and was pursuing a law degree. Kinnick put that dream on hold to serve as a Navy fighter pilot in World War II and died in 1943 when his plane crashed into the Caribbean Sea during a training mission.
Kirk Kluver, UI assistant provost and director of admissions, recently visited Kinnick High School—which serves the families of active duty military and Department of Defense civilians—to share more about the Ironman's life and opportunities available to students at Iowa. "This is a state that has produced a president and lots of famous people, but no one is more respected and revered in the state than Nile Kinnick," Kluver told prospective students.
Some of the students may be eligible for in-state tuition rates through the Home Base Iowa program, which assists qualified veterans, their spouses, and dependents with educational and career opportunities. Kluver says Iowa already has received applications from Kinnick High School Red Devils ready to become Hawkeyes. "I joked that the only issue Iowans would have is that their school colors are red and white," he says.
To help honor Kinnick's memory at the school, the UI donated copies of The Way of Nile C. Kinnick, Jr. by retired Iowa teacher Mark D. Wilson (69BA, 78MA) to the library. The school also has photos on display of Kinnick in Navy and football uniforms that were donated by his father in 1962, as well as a print by Iowa artist Sean Thompson that Greater Kansas City Iowa Club leader Andy Ostlund (96BA) presented during a business trip in 2014.
The school officially was named for Kinnick in 1990, although yearbook records indicate it was known as Kinnick High School as early as the 1959-60 academic year. Alumni include Mark Hamill, the actor known for portraying Luke Skywalker in the Star Wars movies.
As the mission on the school's website states, "Our hope is that our student body emulates [Kinnick's] commitment to service, academics, and personal growth." Perhaps Kluver's visit also inspires students to follow Kinnick's footsteps to Iowa.